By Gadjo Cardenas Sevilla
Apple's avowed "hobby," the AppleTV, just underwent a revolution of sorts.  Apple TV 2 is one fourth the size of its predecessor, it has the innards of an iPad and has lost the the large hard drive and the ability to buy content (only rentals for now) and it runs Netflix natively all for a cheaper $119 price of admission.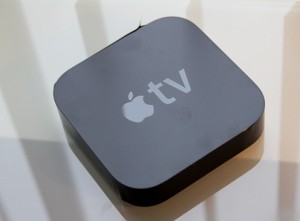 Now running on a modified version of Apple iOS and Apple's A4 processor, the diminutive, second generation AppleTV has been simplified in both form and function. The squircle shaped puck has trimmed down substantially, it no longer has a hard drive for storage (it does have 8GB NAND flash for the OS and cache) and also gone is the component video connector.
To hook it up, simply connect the power supply (AppleTV 2 is rated at 6W, way down from the previous version's 48W consumption), then plug in the HDMI connector to your HDTV. Hook it up to your wired or wireless router and you are good to go.
Aside from the miniaturization and scaling down of the AppleTV's physical form, Apple has also simplified the menu system and how you can enjoy content on the device. Previous AppleTVs could download and save files to the hard drive. With the new model, TV shows and movies can only be rented but not bought. Nothing is stored on the device's memory except for whatever is needed for streaming. This makes the AppleTV 2 a perfect device for users looking into Netflix TV and movie streaming.
For $119 for the Apple TV plus $8.00 monthly subscription for the Netflix service and whatever bandwidth you consume, you have a streaming on-demand video solution that makes sense provided the content that Netflix offers is compelling enough for users.
Netflix aside, the new Apple TV is a pretty decent entertainment hub for the home. SD rentals start at just $3.99, and HD rentals start at $4.99. You have 30 days to start watching, and once you begin, you can watch as many times as you want in 48 hours. The AppleTV can also use AirPlay to play content stored in nearby Macs, iPods, iPads and iPhones.
You also get a few of the requisite features found on the earlier Apple TV including linkups to YouTube and Flickr, the ability to play photo slideshows from your connected PC. iTunes is also automatically linked so you also can play music from the AppleTV.
Designed around simplicity and ease-of-use, the Apple TV is ideal for users already invested in Apple's iTunes ecosystem and those looking into a relatively affordable way to access Netflix. Rental fees seem fair and the scope of content has grown substantially but we're not keen on the 48 hour limit.
iOS's beauty is its touch interface and there's just no way to replicate that effectively on an HDTV, even if you use an iPad or a Magic Trackpad remotely, it will be a bit of a pain to communicate with the screen.
All the sleek simplicity of swiping, pinching and double-tapping is lost to the more mundane and archaic task of  pressing buttons on the remote controller. It is also surprising that as an iOS device, the AppleTV isn't included in the app model. We see the potential of having, say a CBC or CNN app that interfaces directly with videos from these networks. Another glaring omission is the inclusion of a web browser into this super-connected device. A simple version of Safari on AppleTV would be great for quick searches and random web surfing when there's nothing on to watch.
These annoyances  aside, the Apple TV is a well-designed and super simple solution that  should satisfy users who want more out of their home entertainment systems plus it is an easy-in to the Netflix streaming option, that is if you are fine with the 720p resolution cap for video output.
Rating: 4 out of 5