By Ted Kritsonis
The Nokia C7 is a smartphone that arguably looks and feels better than some of the highly-acclaimed handsets out there, but the operating system it runs on just continues to lose its lustre, which makes this phone a bit of a conflicted device to consider.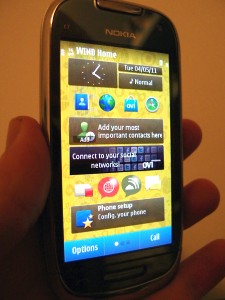 We use the term "conflicted" because the C7 comes out at a time when Nokia has already made a deal with Microsoft to replace Symbian with the Windows Phone 7 operating system on future Nokia smartphones. There hasn't been a set date on when that marriage will actually bring a device to market, but it is a done deal, and with that, the likelihood that Symbian will be around long-term.
The other reason we point this out is because the C7 is very much a close relative of the Nokia N8, which launched only months ago. The build of the phone is similar, and we very much appreciated the metallic finish and durable materials used to make the phone, but the layout is also very much the same. The C7 uses a 3.5-inch (640×360) AMOLED display that is clean and crisp, and a capacitive touchscreen that is definitely more responsive than previous Nokia handsets.
The usual specs are here — Wi-Fi, Bluetooth 3.0, FM radio, a built-in FM transmitter, GPS and a pentaband radio. Not to mention that Nokia's Ovi Maps is possibly the best free GPS application preloaded on a phone because of how much it functions like a typical GPS unit. The impressive camera the N8 had has been transferred to the C7, where the 8-megapixel sensor isn't quite as impressive as the speed and quality with which the rear camera performs. Photos are impressive with the C7 as well, so kudos to Nokia for yet another solid smartphone camera. The front-facing camera is VGA-only for video calls.
On the software side, the interface is the same as other recent Nokia handsets. You get three homescreens to plant up to six widgets each, so there isn't anything new to report there, either. Nokia especially touted the C7 as a social networking-friendly phone, based largely on the integration provided on the main screen. Indeed, when we first looked at the main screen, we couldn't miss the widget in the middle of the screen that implored us to "Connect to your social networks!"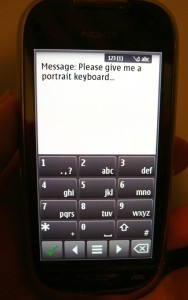 Pluralizing that proved to be a bit misleading because the only options we had to add were Facebook and Twitter. And the integration is really only just pulling down updates from both sites, which is actually not as in-depth as some of what the other platforms offer already. To call the C7 a "social networking" phone is not entirely accurate based on our testing, but the lack of options is only one reason why.
The other has to do with the rudimentary keyboard. It's inexcusable at this stage of the game to have a smartphone running on software that doesn't offer a portrait QWERTY keyboard onscreen. Social networking, of course, is almost equal parts updates from contacts and your own updates posted for everyone else to see. Even though tweets are less than 140 characters, the keypad is still a chore to use to just accomplish that task.
It continues that way for text messaging as well. Threaded texting is here and it looks fine, but again, Nokia should've already rectified the keyboard to better reflect what consumers are accustomed to using now. An update to this is set for this year, but it hasn't come yet, and it may not matter as much with Windows Phone 7 waiting in the wings.
Web browsing is decent, multitasking is nicely managed and the Ovi Store has more apps than some might realize. The hardware of the phone itself is also nothing to sneeze at, with solid components under the hood, including battery life that lasts longer than other more notable smartphones.
Even with all this in play, the C7's launch in Canada comes at an odd time. Do you opt for this or wait until Nokia and Microsoft bring the former's excellent hardware with the latter's impressive OS? We figure that Symbian fans will make an easy decision to stick to what they like, but those on the fence may prefer to wait until something potentially better comes along.
The decision, naturally, also comes with a cost in mind. WIND Mobile is offering the C7 for $350 without a contract, which really isn't bad for a capable phone that isn't shackled to any terms.
Of course, it also wouldn't hurt to get the phone for no money at all, like in the contest we're running here at WhatsYourTech. Enter to win and you could be good to go without paying a dime.