By Tim Teatro
Without knowing it, almost everyone has used Linux at one time or another. It's everywhere from TVs and TivOs to the worlds most powerful supercomputers. Google's Android is Linux, most web servers run Linux, most not-so-smart phones run Linux.
So how about trying it on your desktop computer? You'd be worried that it's complicated, right? You'd be wrong.
Thanks to the efforts of tens of thousands of volunteer contributors and commercial backing from companies such as Canonical and RedHat, Linux provides a simple and complete desktop experience that will shock and amaze. And put your wallet away. Linux is free and open source software.
For the uninitiated, Linux is a sophisticated operating system; that's the software part of a computer that bridges the gap between the user and the hardware. Although most people use Windows and some use Mac OS, there is a growing trend towards Linux on the desktop.
For stepping a toe in the water, I'm going to recommend that we use a particular brand of Linux called Ubuntu. Aside from being very well supported, Ubuntu has a convenient Windows installer (code named Wubi) allowing you to try it out without making and serious changes to your computer's software. If you don't like it, just uninstall as you would any other program.
To start, head over to the Wubi installer page and download it. If you're having problems with the .exe not working, click here to download a working installer. Then, follow the installation instructions provided in the Wubi guide.
For the impatient, here's a brief overview of the install process. When you double click on wubi.exe, you'll come up to a menu that asks you for some details (FIG 1). Fill it out (or leave the defaults) and then click next. You can 'next' you way through the rest.
Once you restart your computer, you'll now have the choice to boot into Linux (Ubuntu) or Windows: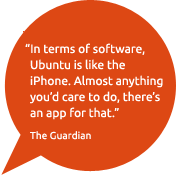 Once you've booted to Ubuntu and on the desktop, you'll no doubt want to know what to do. I'll leave you to explore, but I'll give you some direction. Click on the applications menu in the upper left and check out some of the default software. The Ubuntu features page will help you sort out what everything does. It can be a bit overwhelming because Ubuntu not only comes with an operating system, but also with a full suite of software.
Although Ubuntu comes with a very well designed set of default software, you now have access to tens of thousands of software titles (most of them for free) via the Ubuntu Software Centre. For example, one of the first things I do is install VLC media player. Simply click on the software centre icon under the applications menu, search for vlc and click install. Ubuntu will take care of the rest.
Those who are into graphics, design and publishing will want to check out The Gimp, Inkscape and Scribus. Do think about giving Ubuntu Studio a try. If you love to design presentations, try the JessyInk plugin included with Inkscape.
When you do run into problems, you'll find where Linux shines. Go to the Ubuntu forums. You'll be shocked at how friendly and helpful the community is. Open source software can be truly wonderful that way.
I'll leave you there to explore. The depth of Linux is not something you can be quickly and simply understood. You'll have to live with it and use it and understand the concept of open source software. It's not necessarily for everyone, but for those of you who dig it, there's a lot more to see.