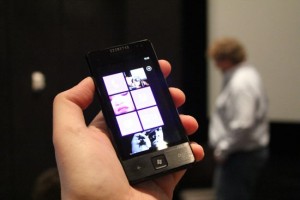 At the Windows Phone VIP preview today, Microsoft revealed a number of new handset makers building Windows Phone 7 devices and highlighted some of the newer features coming to their smartphone OS though the new Mango revision.
Microsoft's Windows Phone OS rose in importance when it recently announced that Nokia would become a handset partner.  Since Nokia has long been considered a major player in the mobile space even if its Symbian OS has taken some flack for not being as innovative as newer operating systems.
Fujitsu, Acer and ZTE corp now join Nokia as well as LG, Samsung and HTC among others as Windows Phone handset manufacturers which should enhance the range of carriers and handset choices for the future.
The hardware was half the news, the Mango revision to the Windows Phone 7 OS announced today hopes to bring a slew of new functionality in the hopes of attracting new users and getting converts from competing operating systems.
Some of the notable new features in Windows Phone 7 Mango include:
• Threads. You can toggle between messages, chat up, and Windows Live Messenger, all in the same conversation
• Groups. Contact groups Tiles custom Live turns to see the latest statuses and quickly send a message to an email or instant message to the entire group, directly from the Start screen
• Better integration with social networks. Twitter and LinkedIn contacts are integrated into the card and can include up Mango check-in, also have available one nine facial detection software that makes it easy tagging your photos or posting them on the Internet
• Linked inbox. More email accounts in a secure inbox, conversations are organized so you can view the most recent mail
• Hands-free messaging. Built-in speech-to-text and text-to-speech, which allows writing messages and chat hands-free
• Connect App. By connecting and integrating applications on their search results in Windows Phone Hubs, including Music and Videos and Pictures, applications are visible when and where needed.
• Live Tile's improved. You can get updated information without requiring applications to be open. Live Tiles are now more dynamic and can store more information.
• Multitasking. Applications can be rotated quickly and at the same time, others may run in the background, while retaining the performance and battery duration.
Internet Explorer, microsoft's mobile browser, will also receive some updates including.
• Internet Explorer 9. The power of a PC browser-based IE9 support for HTML5 and support for hardware acceleration
• Recognize local (Local Scout). Providing local results and recommendations for nearby restaurants, shops and suggested activities, present in a user-friendly guide
• Bing Windows Phone. More ways to search the Internet, including Bing Vision, Voice and Music Search, so that decision making is easier
• Quick Cards (Quick Cards). When searching for a product, movie, event or place we provide a summary and relevant applications.
During the product launch, Microsoft showed a comparative browser test between an iPhone 4, a BlackBerry Torch, an Motorola ATRIX Android smartphone and a Windows Phone running IE9. This test showed IE9 running noticeably faster than the competition in loading pages and sequences.
Windows Phone 7 Mango update is expected to roll out 'in the Fall.' So, Whats Your Tech? is Microsoft's new and improved mobile OS or any of the new handset makers in the mix good enough reason to try out this new smartphone OS?