Water resistant, dust-proof and scratch proof. No, this isn't the latest Casio G-Shock watch, it is Motorola Mobility's diminutive mobile marvel, the DEFY Android smartphone.
Smaller than your average smartphone, the Motorola DEFY is considered to be more of a tablet accessory that can be used as a full featured phone while serving to supply 3G Internet data to a WiFi enabled Motorola XOOM, a BlackBerry PlayBook, an Apple iPad or any of the new tablet devices now appearing in stores.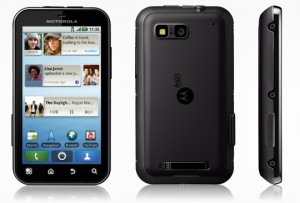 We've been seeing an emerging trend with smaller smartphones coming to market, which also coincide with parallel tablet releases. The HP Veer is a small Palm Pre-type device that's an ideal pairing to HP's TouchPad tablet. Sony Ericsson's Xperia Mini line of munchkin-sized Android phones will go well with their proposed tablets coming later this year. HTC and Samsung have also been known to release undersized handsets in different markets and guess what, they're selling tablets too.
The Motorola DEFY ($30.00 with a three year plan from TELUS or $329 outright), however, is much more than a pint-sized phone with sidekick aspirations. It is also one of the toughest and most resilient personal electronic devices in the market today.
The 3.7″ inch screen, for starters,  is sealed with Corning's scratchproof and impact resistant Gorilla Glass. The DEFY is also swathed in protective polycarbonate and rubber that seals-in all the important openings such as the headphone jack and the microUSB port.
A perfect smartphone for the sporty set or practical yet clumsy people, the DEFY has been photographed soaking with the suds in a glass of Heineken or scrolling stock quotes to goldfish while partially submerged in water.
Encased in a dull yet sturdy rubber shell, the DEFY is grippy and gloriously smudge and fingerprint resistant. It feels tough and serious without looking like it was created by Soviet tank designers.
Despite this, it is a completely functional Android smartphone running Motorola's persistently connected MotoBlur skin. It is also an extremely capable handset, managing calls, SMS and e-mail just as well as any of its larger counterparts. The hands free speaker is frighteningly loud for such a small phone.
Then, there's its size. Tinier than most touch-enabled smartphones in the market, yet with a perfectly acceptable 3.7″ inch screen (similar to the Motorola Milestone), the DEFY is good for games, mobile web and even quick typing.
It also offers 6.8 hours of continuous talk time which means that while Motorola kept the enclosure small, it used the higher capacity battery found in its larger models. A great feature considering a lot of people will buy the DEFY for its wireless hotspot capabilities.
The DEFY also comes with a 5MP camera with LED flash and a GPS for good measure.  Motorola has taken some of its knowledge and experience in building tough push-to-talk handsets and two-way radios and really built a solid, austere yet likable Android smartphone that stands out even as it is designed to serve as a mere adjunct for tablet-toting users.
The DEFY, however, isn't perfect.
It ships with Android 2.2 Froyo, which is a bit long in the tooth now that most new Android smartphones are rolling out with version 2.3 Gingerbread. With Motoblur draped all over the user experience, there's no telling if and when a software upgrade will be made available. A deal breaker if you want the latest and greatest that the Google OS has to offer.
It also lacks a front-facing camera, a feature considered standard in 2011 handsets. Still, the disappointments are few when you realize that the DEFY is setting a new standard in build quality and size.
While many manufacturers are racing to build bigger smartphones with 4.3″ inch screens resembling tablets, it is great to see a company like Motorola buck the trend with a mini-smartphone that's anything but dainty yet is reassuringly capable.