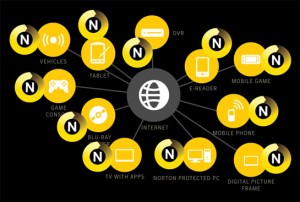 Understanding the ever evolving nature of  electronic security, Norton has taken the leap forward to bring its antivirus and anti-malware technology to smartphones, tablets and other non-traditional devices. Now marking its first year, the Norton Everywhere initiative brings new partners and possibilities.
Norton by Symantec recently marked the one year anniversary of its Norton Everywhere "Beyond-the-PC" initiative by introducing new partnerships and product updates that help deliver Norton protection across locations, devices and digital experiences.
Since consumers are increasingly interacting with smartphones, tablets and devices other than their notebooks or desktops to communicate, conduct business and for work or pleasure. These new devices have opened up vulnerabilities and potential for phishing, identity theft and the stealing of personal information on these devices.
Norton is announcing partners including OneWifi, Hi-Tech Sound, The WiFi Company, KDDI Corporation and T-Mobile Austria, all of which are leveraging Norton mobile solutions to protect their customers wherever they go. Additionally, Norton is announcing updates to Norton Mobile Security and a new mobile application for Norton Online Family users.
Norton Mobile Security 2.0 Beta is now available as a free 21-day trial download on the Android marketplace. Norton Online Family To Go Beta is now available in all English speaking countries as a free download on iTunes or the App Store. Availability on the Android Market is also planned in the coming weeks.
Key highlights from this announcement:
·         Norton DNS protects users who click on unsafe or inappropriate websites and provides a safer, more reliable, and faster Internet experience by using Norton Safe Web technology to deliver a variety of basic protection services like blocking phishing sites as well as known infected websites to prevent accidental downloads of malware and spyware.
·         Norton Mobile Security for Android 2.0 Beta now features antiphishing technology to protect users who access email on their smartphone, as well as a feature that allows users to block unwanted calls and texts.
·         Norton Online Family To Go is a new mobile application that allows parents using Norton Online Family to view their children's online activities and manage each child's "House Rules" from their iPhone, iPod touch or iPad, with other OS support planned this year.
For up to date coverage of software and computers, follow our PC/Mac channel