By Mark Orton
I like DVD's.  I like to wander the video store and check out what's available, read the descriptions, watch the trailers being played and just immerse myself in a world of entertainment.  This to the chagrin of my wife who makes her choices in minutes and can never understand why it takes so long to select a movie.   But it's my video version of the library.  Unfortunately the experience is hard to come by now as the major players like Blockbuster are leaving the marketplace, leaving a few neighbourhood stores.  They too are becoming few and far between as more and more people turn to downloading and video on demand services.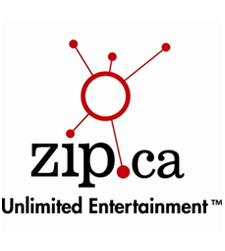 Having read the hype (good and bad) surrounding the new Netflix in Canada and Tim Teatro's articles on his experiences with the product,  I searched  for an alternative that would give me, at least to some degree, the physicality of a DVD.
That was Zip.ca.
As an incentive to try the service, there is a 30 day free trial, which provides for three DVD's out at one time with an unlimited number for the month.  Normally the package would cost you CAD 24.95 plus tax.   Registration is simple and when your account has been set up you are ready to go shopping.   And the list is long.  More than 82,000 selections, covered in 25 categories including Canadian.   If you are a television fan, there are more than 9,000 selections including classic BBC series to modern day Canadian productions like Warehouse 13 and Flashpoint.  Quite frankly you can lose track of time scrolling through the selections.  Or you can use the shortcuts provided including what's new, most popular and recommendations. There is also an easy search using titles, actors and directors.
When you find a movie you like, simply hit the zip button and it's placed on your Zip list ready for delivery.  The suggestion is to maintain a list of 20 movies to allow for regular delivery. Watch for 'Hidden Gems'. These are ones that are not new releases that have been highly rated by other members and are ready to be shipped.  I suspect that padding the list with 'Hidden Gems' provides some breathing room because it looks like it seems to take time to get new releases.  I'm well into the 30 day free trial and have asked for several new releases from the past three months but so far in three shipments I haven't seen any.   In order to maintain a regular delivery schedule, Zip will send you an e-mail when your list becomes low encouraging you to add more choices.  They also send regular updates on the status of shipments and returns.
One plus to the service is no due date and no late fees.  No longer do you have to scramble to get the movie back to avoid paying a penalty.  You basically control when you want to watch it.  The service works on the principle that when you return the DVD they send you another one.
Shipping is free both ways. And while I have read other customer's complaints about poor shipping mine has so far been consistent. Selections which come from one of four locations in Canada have arrived within two days of being shipped and returns have taken the same amount of time.
In addition to the mail order service, Zip also has kiosks in locations in Ontario and Montreal at Metro supermarkets.   The process is relatively simple.  Select a movie, pay with your credit card with prices starting at a dollar a day plus HST and take your selection home.  You can rent a maximum of three movies at a time.  While selection is limited it does give you access to top new releases.
Is the mail order service worth it?   With a free 30 day trial, there is no downside.   If you don't like it, simply cancel it before the free period ends.  If you do like it, you can choose from a number of packages available ranging from CAD 5.95 all the way to CAD 49.95.   Zip.ca has designed packages to fit any lifestyle which can be changed as circumstances dictate.  I like the service and plan on continuing after the free trial period ends.  It's a win-win situation.  I get to continue to browse the virtual shelves and read about the movies and view trailers all in the comfort of my home.  And my wife, well she is just happy she doesn't have to wait while I make a decision.