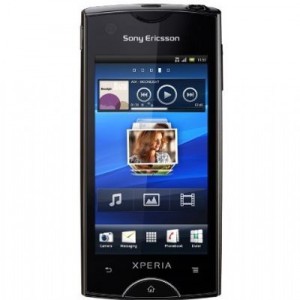 By Ted Kritsonis
At a launch event in downtown Toronto last night, Sony Ericsson and Telus came together to unveil and launch the Xperia ray, an Android smartphone with a smaller footprint that may turn out to be a hit with female consumers.
Unlike the latest array of Android smartphones that outdo each other on screen size, processing power and form factor, the Xperia ray isn't really a device that will play in that tit for tat game. The device is actually a bit small by Android standards, with a 3.3-inch touchscreen that stretches into more of a widescreen when tilted to landscape.
Overall, the phone is just 9.4mm thin with an aluminum frame and scratch-resistant glass display. On the inside, it runs on a 1GHz processor, Android 2.3 Gingerbread, and comes with an 8GB microSD memory card (the ray can handle up to 32GB). The 8.1-megapixel camera uses Sony's Exmor R sensor to capture better photos in low-light conditions.
As expected, Wi-Fi, Bluetooth and assisted GPS are included here, along with Mobile Bravia Engine, which is wrapping up some of the best technology of Sony's Bravia TVs and bringing it to the phone.
Video Unlimited access will be included here, which is Sony's video on-demand service where users can rent or purchase shows and movies directly to the handset. The 3D Sweep Panorama is a feature that allows users to capture panoramas in 3D and then display them onto a 3d-enabled television.
Music includes TrackID for recognizing music from the FM radio app or from another source. The xLOUD feature is meant to enhance the music you have stored on the phone to make it sound more dynamic.
A full list of the specs is listed here, though not all of these are going to be available in Canada.
The diminutive size of the phone may be more popular with women than with men. It's small enough to fit in just about any purse or pocket a woman can throw it in, and typing on the smaller screen is invariably easier for girls too. Men might lament the smaller screen size and difficulty in typing quickly on a thinner onscreen keyboard.
There was no mention of Sony's impending buyout of Ericsson at the event, as the deal has yet to be finalized.
Telus will be the exclusive carrier of the device starting today at $49.99 on a three-year contract or $379.99 contract-free.