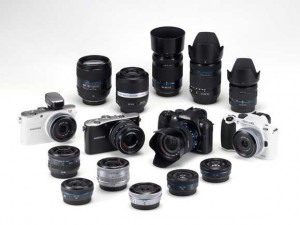 By Gadjo Cardenas Sevilla
The digital camera offerings today are staggering. We have everything from cheap point and shoots to mirrorless interchangeable lens (ILC) cameras and a mind-boggling range of DSLRs.
It is safe to say that there are no bad cameras today but there is something for everyone. For users who want multiple lenses and the flexibility of shooting various conditions, here are some tips in building a digital camera kit for most needs.
Smart photographers will tell you to invest in lenses and not bodies. Lenses are the critical component in making the right shot while camera bodies are the parts that undergo the most wear and tear and are usually replaced every couple of years.
Once you have chosen a system (i.e. Canon, Nikon, Sony) choose a body that can deliver for the type of photography you need. Large megapixel counts don't mean anything if you aren't printing larger format, 10 megapixel is great for most 17″ x 22″ prints.
The speed or frames per second performance of a camera, often a huge feature, only really applies if you are taking mostly action shots or are a wedding photographer who needs to capture thousands of shots. For most users 3-5 frames per second performance is more than enough.
Lenses to consider
Sadly, the kit lenses in most camera bundles aren't fantastic. Made of plastic and often of middling quality glass, we try to avoid having to buy the stock lens and would rather buy the body alone. The kit lenses will work fine for general use but the beauty of interchangeable lenses is that users aren't limited to only one lens.
The lenses we do buy include a fast fifty or an inexpensive 50mm lens. Both Canon and Nikon have great options for this lens which is a prime lens that doesn't zoom and requires photographers to move back and forth to get the right shot.
The beauty of a 50mm lens is that it is fast, wide open for maximum light and ideal for crisp details in portraits, low light photography and detail focused shots like food, products and macro. A good prime lens also makes it possible to take photos in natural light which many find preferable to the sometimes harsh quality of direct flash lit photos.
Most of the dreamy food shots we see from magazines and websites are shot with similar prime lenses which we find to be good street photography lenses because they are compact and can allow quick photos that capture the mood.
The fast fifty doesn't zoom and it forces photographers to compose better shots, it is the first lens anyone should get with their new body. It is an inexpensive yet extremely useful lens to have.
Zoom lenses range in price and how far a distance they can cover. Most photographers will be fine with a 18-200mm zoom lens, a 50mm prime and the kit lens which covers 18-55mm  or similar. For those who need more zoom for bird photography or landscape there are up to 300mm zooms.
One way to determine which lenses or even cameras to add to your kit is to study photos that inspire you or that you would feel you'd like to take. Many photography websites and even Flickr.com list the information pertinent  to the photo. Derived from EXIF information, you can tell what lens, camera, setting, flash and other information that can be used to shoot similar type photos.
Other accessories
A good tripod with the ability to carry the weight of your camera and the heaviest lens is critical to getting great shots specially when dealing with low light situations, studio portrait shots and landscapes.
For taking indoor photos or better outdoor photos like portraits, an external flash with its own battery is a must. Flash units that can be controlled by the camera's built in flash as a slave are ideal for expanding the system. Some photographers use various flashes in tandem to get the right lighting.
These are just some of the basic components of a digital camera kit that should cover most general photography needs.
More stories: