Pocket printers sit in an interesting spot in the market. On the one hand, they have a nostalgic feel, harkening back to the days of Polaroids. On the other, they appeal to the youngest generation who loves snapping candid or posed photos and printing them right on the spot so they have a small, shareable print they can use to decorate their locker, notebook, or even phone case.
There are only a few top players in the space, given the competitive nature of the photography business as well as the somewhat novelty aspect of the category. But there are several models you can find for at, under, or around $150.
HP Sprocket Select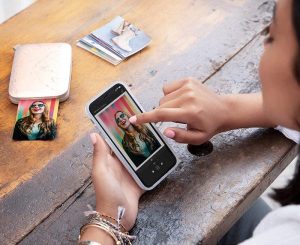 One of the newer models in the Sprocket line-up, the Select prints tiny images from the app on an iOS or Android device to Zink paper with adhesive backing. It connects to your mobile device via Bluetooth after which you can select the photos you want to print from your library (or take a new one), tweak it as desired, including adding frames, text, and stickers, then print. Voila! You have a cute little 2.3 x 3.4-inch photo. The Shared Print Queue means multiple people can connect their devices to the same printer at once and the images will print one by one, in the order they are received. While stock is limited on these, you can find one for about $140 through shops like Amazon.ca.
Polaroid Hi-Print Pocket Printer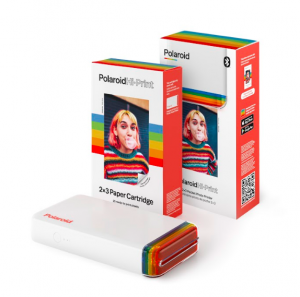 It's no surprise that the brand that started the concept of instant prints would be involved in this modern-day iteration. Polaroid's Hi-Print uses dye sublimation to create fade-proof, credit card-sized (2 x 3-inch) self-adhesive prints. Working with an Android or iOS app and all-in-one cartridges, heat helps seal the image in under a minute. Select the photos you want to print wirelessly from a smartphone or social media account. You can also edit the photos, including adding filters, overlays, frames, text, and stickers. Each paper cartridge has a colour ribbon and 10 sheets and is sold in pairs. The battery will run for up to 20 prints after which you'll need to recharge. You can find it from retailers like Best Buy for $140; a cartridge with 20 sheets of paper is $24.
Fujifilm Instax Mini 40 Instant Camera
Combining the ability to print photos on the fly with a device that actually takes the photos as well is this instant camera, which both snaps digital images then spits out physical prints. The all-in-one device uses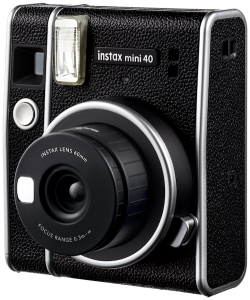 Instax Mini instant film that comes in the form of a Contact Sheet. The camera has an auto exposure feature that will sense the light level and optimize the shutter speed and flash to ensure the best possible photo. Once you have taken a photo of friends or a selfie using the Selfie Mode, you can print the photo from the unit. The camera, which is designed as an homage to analog cameras of yesteryear, is available at retailers like Henry's for about $140.
Fujifilm Instax Square SQ1 Instant Camera
If the Instax Mini 40 is designed to appeal to an older generation who will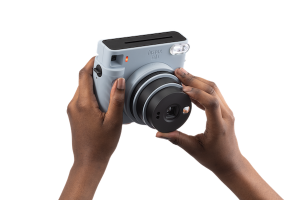 appreciate the throwback style, the Square SQ1 is made for the newer, Instagram-loving generation. It, too, functions as both an instant camera and printer but focuses on prints that are 1.5 times larger than those that come from Instax Mini cameras. It uses instant film and includes the same automatic exposure and one-touch selfie mode as the Mini 40, along with a built-in selfie mirror. It's slightly over $150 at $160 at retailers like Staples, but for the extra bucks, you get slightly bigger photos at 3.3 x 2.8 inches. Plus, it comes in some cool colour options, like Terracotta Orange.
Kodak Mini 2 Instant Photo Printer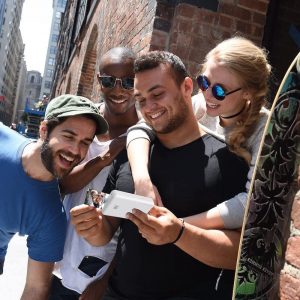 A list like this could not be complete without an entry from the company that spawned the term "A Kodak Moment" with its popular advertising tagline from back in the day. Indeed, Kodak has thrown its hat into the pocket printer ring with the Mini 2, which uses Zink (Zero Ink) technology paper, just like the HP Sprocket, so you get the paper and built-in ink in one. Get 2×3-inch prints and connect it to your phone using Bluetooth or Near-Field Communication tap technology. It works with the Kodak Mini Shot app. Via retailers like Amazon.ca, you can pick one of these up for about $124.
Fujifilm Instax Mini 11 Camera
A third entry from Fujifilm, it's no surprise since the company is a leader in the instant camera market. This device is designed for younger users and, like the others, combines an instant camera with an instant printer, in one. Available in a bunch of pastel colours, it offers automatic exposure and selfie mode, too, but in a much smaller package. The best part? You can grab one for about $90 from a retailer like Indigo. It's the perfect gift for a teen/tween.