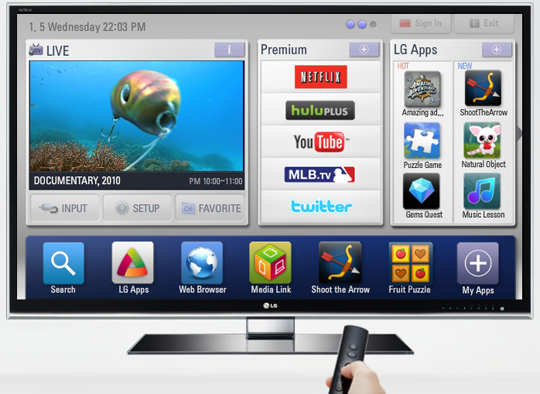 By Gadjo Cardenas Sevilla
Today's content is consumed in three screens. TVs are the first, computers are the second and smartphones are the third. SmartTVs are starting to combine all three into the ultimate content hub.
Blending successful ingredients such as Internet connected HDTVs and app-focused smartphones and tablets into SmartTVs could either be the next great thing or a bumbling and expensive Frankenstein's monster.
The promise of SmartTV is the best video technology combined with the unlimited possibilities offered by mobile applications and Internet connectivity.
This means that not only will users enjoy the usual cable TV offerings; they will be able to jump into applications like Facebook, Twitter and various other services while watching their favourite shows.
There are several vendor-specific SmartTV implementations like LG's NetCast, Panasonic Viera Cast, Sharp's Aquos Net+, Toshiba Places and Samsung's SmartTV just to name a few. There is no overall standard, which is confusing to the consumer.
We tested the Samsung's flagship PN64D550 64" Plasma 550 3D HDTV which offered access to the Internet via WiFi, a remote control that doubled as a QWERTY keyboard and access to YouTube, Netflix and various other Internet video services right on the device.
Samsung showed why it leads the pack in this area since it carefully integrates its smartphone OS success with its HDTVs.
Conveniences include being able to look up actors and directors on IMDB (Internet Movie Database) while watching a movie; the ability to scan through Facebook and Twitter feeds during a football game to see what is trending as well as directly renting movies from Zip.ca or Netflix through their installed applications.
While SmartTV manages to bring the TV, Internet and app worlds together into one experience, it is easy to get lost.
The ultra large screen is definitely a plus but the miniscule keyboard is hardly the best way to navigate the sizeable amount of content.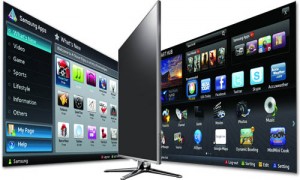 Also, not all the apps work as  expected as there aren't yet SmartTV standards. Then there's the requirement of constant and fast Internet access which does have an associated cost. We also  prefer devices like tablets for navigation, something Sony has already done by enabling a universal remote controller in its tablet, navigating SmartTV's and all the content they provide will be much easier.
Industry-wide standards and simpler user interfaces are what SmartTVs need to become truly brilliant.