By Ted Kritsonis
In spite of RIM's troubling times, the company's BlackBerry Messenger (BBM) service remains highly popular, and is arguably one of the last bastions of loyalty keeping some consumers from defecting. Apple created iMessage as an answer to BBM, but how well does it stack up?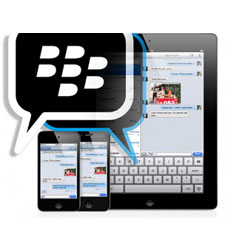 BBM is so pervasive on BlackBerry handsets that it's more likely a user would use that than simple text messaging. In fact, it's highly unlikely that two BlackBerry users would ever use SMS messages, preferring instead the simplicity and depth that BBM offers. Messages are secured through RIM's proprietary network, and the ability to create groups adds a level of privacy that even third-party apps aren't able to achieve.
While BBM gives the impression that it's largely integrated into the BlackBerry's functions, its existence as a standalone app means it works separately in its own right. For starters, exchanging PINs means that no phone numbers need to be swapped — a feature women love, in particular — adding another layer of privacy and security to the process. But because it acts independently, you have Twitter and Facebook-style features that let you update your status, change profile photos and broadcast what music you're listening to. The instant messaging 'feel' of the platform also means you can indicate whether you're available or away from your phone. And a nice perk to all this is that BBM doesn't incur a character limit on messages.
Despite a lack of developer support and enthusiasm for the BlackBerry 7 OS, there is a BBM API that developers can use to tap into elements of the platform. This can include games, social networks or other tie-ins that bring people together.
Apple's iMessage, introduced only with October's iOS 5.0 update, looks barebones by comparison. It's also not a standalone app, but rather an addition to the iPhone's existing Message app. Unlike the green word bubbles used for sending text messages, iMessage communication is in blue. And instead of trading PINs, Apple designed it so that it immediately detects the sender and recipient as iMessage users. This applies to any iPhone user running iOS 5.0 or later.
Since its part of iOS, iMessage can also work with the iPad and iPod touch whenever both have Internet access, but because there is no phone number attached to the contact, you usually need the other person's email address to send messages. You can even start a message on an iPhone and finish it on your iPad, for example. You can also move a conversation to email or FaceTime, if you want.
Like BBM, iMessage will tell you when a message has been delivered and read by the recipient, as well as when they're typing one back to you. Plus, you can share locations and contacts, but unlike BBM, you have to do that through the Maps and Contacts apps.
The problem with iMessage is that these extra features aren't necessarily easy to find, whereas BBM readily integrates them. There may even be iPhone users who don't realize that iMessage is altogether separate from texting, since the former uses data while SMS messaging uses the voice network.
But that's part of the reason Apple probably designed it that way. Using iMessage is really no different than texting, so there is no real learning curve. BBM, on the other hand, is a method of communication that is renowned in its own right.
In many ways, a key difference between these two is that BBM is actually part of BlackBerry's very identity, while iMessage is rarely mentioned as one of the iPhone's core features. Even though iMessage was touted as Apple's answer to BBM, it doesn't necessarily compare that well. Third-party apps like WhatsApp and LiveProfile seem to be more like BBM — and they are cross-platform too.
But iMessage is also still in its infancy, and future updates and upgrades might lead to a more mature messaging experience that could not only usurp BBM, but also bring something new to the table as well.
-30-