It took the mainstream media sometime to catch on to the Occupy protests.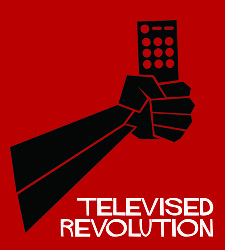 But the participants – protestors, activists, observers on Wall Street or across Canada – became their own media. They were documenting the events long before TV crews did, using some off-the-shelf media technology and some innovative new wireless gear.
They knew full well, as the famous musician and beat poet Gil Scott- Heron sang many years ago, that "The revolution will not be televised."
He rapped about the superficial, corporate and commercial agenda to which TV adheres and contributes, and he bemoaned television's numbing affect on civil society – or uncivil, for that matter.
Sadly, he did not see how the media – both mainstream and alternative – reacted to the protests on Wall Street and the Arabic revolution; Scott-Heron died early last year.
(Although best known for 'The Revolution…', he composed and recorded many other powerful songs, including 'We Almost Lost Detroit' and 'Winter in America'. Check out this online portrait of the man, or any other of the many online tributes to him.)
They'll all tell you, his music lives on, and his message more relevant today than ever: "The revolution will not be televised," he sang. "The revolution will be live."
In fact, it's live-streamed, man!
During the height of the protests, and for two or three months afterwards, a website called Global Revolution TV became one of the main video hubs for the Occupy Wall Street movement.
Featuring live video feeds from New York and dozens of other cities hosting Occupy protests, the site helped transform how protests are covered and observed.
Hundreds of citizen journalists and videographer activists contributed to the site, providing live video streams of activity as it happened – even as the Occupiers were being evicted, Global Revolution TV had coverage!
(Ironically or suspiciously, your choice, Global Revolution TV itself has now been 'evicted' – the site seemed 'off the air' with its Brooklyn studios shuttered.)
But one of the site's co-founders, Vlad Teichberg, clearly defined and described its intent: "This project started officially with the beginning of the New York occupation, although similar versions of this project have been done in the past for other actions and revolts," he said. "People think of Occupy Wall Street as like an American revolution. It has its roots, though, in the Arab Spring. Obviously it inspired a lot of things."
Other sites provided coverage, as well, such as The Other 99 and OakFoSho, empowered by companies like Ustream, Livestream, Beet.TV and Teradek
Teradek puts out a device called the Cube; Global Revolution apparently had about ten of the devices, which mounts on a small videocam or digital still camera and uses 4G wireless feeds to stream the content directly to Livestream, a privately held Web company.
Teradek's battery-operated device uses H.264 encoding to deliver high quality HD video, and its built-in connectivity is used to move the video across Wi-Fi, cellular or Ethernet networks in real-time.
Activists and alternative media sources were in some ways on their own, even when armed with such high tech gear.
It seems the 'rules' for covering a revolution are not that well known.
Yes, there are such rules!
Even before Occupy or the Arab Spring, a series of 'Ten Tactics' for turning information into action was published online. Such tips have been incorporated into rights advocate workshops and alternative media training sessions.
Across Canada, too, alt media workshops and tech awareness sessions for activists have and are being held to build on the movement and capitalize on new media technologies that empower the individual.
So now, the mainstream media has surely caught on: Time Magazine named 'The Protestor' as its 'Person of the Year.' Wired, in its current issue, waxes about the power of new media in a protestor's hand.
The issue states: "A crowd's power is amplified by the fact that now its members can never really get disconnected."
So, maybe Gil was wrong? Revolutions are being televised, or streamed, or Tweeted. But his lyrics still contain relevant warnings.
Folks "in the street looking for a brighter day" should still worry about the same kind of commercial and corporate machinations that he first cited.
They tie us to the Internet, they listen to us on social networks, they track us using mobile devices.
Can't be disconnected? Think again.
From the streets of London to the subways of San Francisco and beyond, the capability is surely there to shut down telecom systems and disconnect the users from one another.
Scott-Heron sang, "The revolution will not be right back after this message…"
It might not be back at all.
-30-
submitted by Lee Rickwood