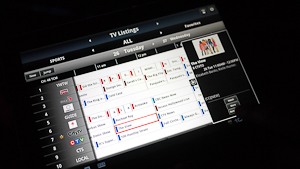 Text and photos by Gadjo Cardenas Sevilla
Toshiba Canada revealed new apps that work with their HDTV's to use tablets and smartphones as wireless controls for your home theatre system.
With the HDTV, cable boxes, Blu-Ray players, DVRs and consoles galore, many home theatre setups are like monsters, hard to figure out and hard to control. Toshiba Canada revealed a series of Android and soon iOS enabled apps that centralize control of your living room entertainment systems on tablets and smartphones.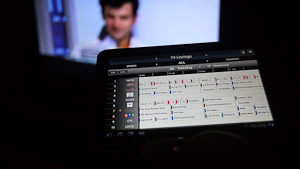 Demoed yesterday at a back-to-school product event, I saw how a tablet could replace the clumsy cable remote and onscreen menu many of us have to suffer through.
Running on a tablet or possibly a large-screen smartphone, you can search for your shows, put aside your favourites, set alarms and reminders and even gather information about a show's actors, directors and writers on the fly.
Navigation is fluid and intuitive and there's always an option to run a search. Since the solution is WiFi based, there's also no need for line of sight which is a common issue with IR based remote control solutions.
More than just a remote, the Toshiba apps transform the tablet into a mouse and even a keyboard for text input and navigation for SmartTV functions. All this is done through WiFi and uses the  new Toshiba 3D LED HDTV as the nerve centre for all these devices.
Turning tablets into remote controllers is nothing new, Sony's tablet debuted last year with an IR port that made it capable of changing channels and controlling components, Toshiba's really pushed the envelope on functionality by integrating advanced TV guide functions and allowing users to control various other connected devices.
For many long-suffering cable subscribers who have the hardest time navigating their cable box menus looking for shows, the fast and attractive TV Guide app from Toshiba makes a lot of sense, even for the most unruly home theatre set-ups.