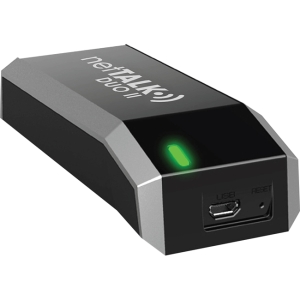 The netTalk Duo Wi-Fi is a successor unit to the original VoIP device that offers free calls to all of Canada and the U.S., with an extra incentive being that this one doesn't have to plug into a computer or router to do its job.
Like rival VoIP manufacturers and providers, MagicJack and Ooma, netTalk has a very similar premise. Sign up, install the software, pick a phone number and get free calls in Canada and the U.S. (you can also call long distance at "competitive rates"), plus voice mail, call waiting, call forwarding, call display and other features. And if that wasn't enough, you can take it with you on your travels and use it just about anywhere.
Portability and placement are the two major factors with this device when compared to the previous wired model that had to be plugged into a router. The built-in Wi-Fi receiver essentially allows the unit to be deployed anywhere in the home, though this isn't always a good idea when multiple devices are sharing bandwidth from the same home network. Luckily, netTalk included an Ethernet port for wired connections.
For $74.99, you get the Duo Wi-Fi unit and a one-year subscription to all of the aforementioned services. That means no monthly bills, no contracts and no limits on where you can use the unit. Renewing after the first year is over costs $39.99 for another 12 months of service.
The phone number you choose is limited to what area codes netTalk offers. In the Toronto area, 416 and 905 aren't available, and neither are 514 in Montreal or 604 in Vancouver, for example. Also, like other VoIP services, you will need to set up 911 emergency service by inputting your address, so that if you ever need to call, dispatchers know exactly where to send help, otherwise you could inadvertently be calling authorities in another city or country.
Another nice addition that might be worth the money is the $10/month long distance add-on that offers unlimited calling to 60 countries. It's a good deal, except the catch is that most countries are for landlines only. Just 12 countries include calls to mobile phones, and unfortunately, the U.K., Australia and all of Europe aren't included. On the bright side, China, Hong Kong and India are.
A workaround to this, in case you want to talk to someone specific from another country, is to get them a netTalk Duo device (Duo-to-Duo calls are always free, no matter the distance or location) or use Skype (or something similar) to keep costs down further.
The instructions suggest setting up the unit through a computer first to test the connection, but this is a non-starter if you have a Mac. For whatever reason, the Duo Wi-Fi doesn't support Macs directly, just like its predecessor didn't. That matters less, however, because you can just as easily set it up by connecting it directly to a router using the included Ethernet cable, and a power outlet so that it actually turns on. The included software appears to only work on Windows PCs, which may complicate setting up the unit, but you should still be able to manage.
Once you're up and running, call quality is good, though susceptible to traffic on the home network. If you have someone streaming Netflix and another person downloading a big file, it could impact how well the call is on both ends. In this respect, the Duo Wi-Fi falls short of the Ooma Telo, but the Telo is more expensive and can only go wireless when you buy a separate adapter that adds to the overall cost.
That said, you can also expect the Duo Wi-Fi to offer better performance if you plug it in directly to the router via Ethernet. When using it on Wi-Fi, the further you are from the router, the more the unit is at the mercy of the router's range and the bandwidth running through the home network. So, unless you need to use this in a separate room in a house, try a wired setup with a cordless phone for some level of mobility.
Still, at the price and the flexibility it offers, the Duo Wi-Fi is definitely ideal for a student going away to school or a small business owner in need of a cheap and affordable business line that covers two countries for free. Android and iOS apps will add to the functionality of the device by letting you use the service on smartphones and tablets as well.