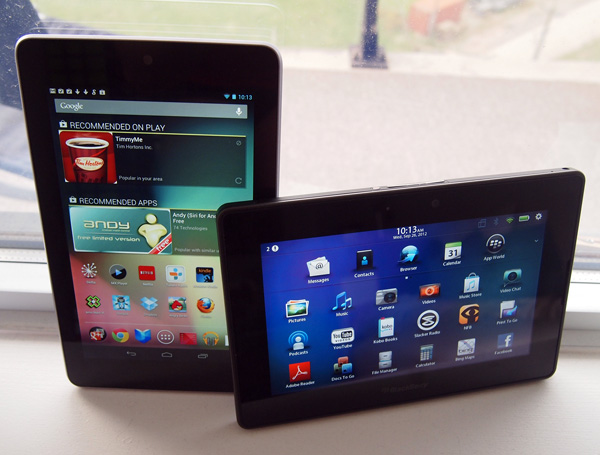 Apple's iPad may own the tablet market, but the title for the 7-inch form factor is very much up for grabs. Within that category are a few tablets that are priced just right for consumers, and Google's Nexus 7 and RIM's BlackBerry PlayBook are in the thick of that race.
The Nexus 7 is a hot item these days. For weeks after it launched in July, you were hard-pressed to find it in stores or available online. Consumers were able to buy it directly from Google, so there was at least a purchasing alternative. And it's easy to understand why the device was so sought after. At $209 for the 8GB version and $259 for the 16GB, the price is almost certainly right for what you get.
On a spec sheet, it might seem like the Nexus 7 is missing a lot of things. No rear camera, no memory card slot and no cellular data option. But those are things you may not miss all that much if you use this wisely — though the lack of a memory card slot may sting if you want to pack in media content into it.
What it does have is a 720p HD display, an Nvidia Tegra 3 processor, Android 4.1 Jelly Bean and a 4325mAh battery that keeps the tablet going for between 8-10 hours on one charge. And because it was designed by Google (and manufactured by Asus), there is a lack of bloatware pre-loaded on the unit. With Google services heavily integrated into the Nexus 7, Google Play also offers up the best the platform has to offer.
All in all, it's a nice package of goodies, and the fact Android can be open to unique connections and setups — like a PlayStation 3 controller or USB accessories — makes it all the more compelling. True, the screen may be HD, and it may not have the kind of sharpness the iPad has with its Retina display, but it's still great to look at for anything you do on it.
The reason why the Nexus 7 works so well is because it mixes good specs with a user-friendly interface on a great operating system. It also helps that Google is likely selling these at a loss to hit the low price point, but that doesn't make a difference in the device's performance anyway. The best part about all this for consumers is that this can be both an entry point the tablet market and an alternative to the iPad or other Android tablets. And yes, it could also be a preferred option to the BlackBerry PlayBook.
The PlayBook isn't new, though the 4G LTE version is. But that's not the comparison here. The Wi-Fi-only PlayBook is almost 18 months old now, and it has come along a fair bit since its awkward launch last year. The 32GB PlayBook is now just $149.99, while the 64GB is $219.99. The 2.0 update to the operating system made it a more complete device, but it's arguable that it's true potential may not come until it's upgraded to BlackBerry 10 in early 2013.
That's still months away, and under the circumstances, the PlayBook should be able to stand on its own. Can it, when facing off against a polished and relatively inexpensive tablet that carries some unique advantages that consumers will care about?
This is a tricky question to answer because it's subjective. Consumers like having a variety of apps to choose from, even if they may not use many of them. In that respect, the Nexus 7 has a distinct advantage. It has Netflix, Kindle, Firefox, Dropbox, TuneIn, a large number of games and better quality apps covering all the categories. The PlayBook's big bugaboo is that it can't match that offering. None of those aforementioned apps are available on the PlayBook. Instead, only obscure alternatives or workaround apps are offered for these in BlackBerry App World.
There's no Kindle, but there is Kobo. There's no Firefox but there is SimpleBrowser. Netflix has so far refused to support the PlayBook, but Flix, an app that allows a user to stream Netflix from a PC on the same home network, is available for $3.99. TuneIn is nowhere to be found, but at least BlackBerry Radio fits the bill with 50,000 radio stations.
What App World lacks in popularity, it sometimes makes up for with functional apps that do the job with little to no fanfare. The Nexus 7 doesn't have that problem, but it also doesn't have the depth as a business-friendly tablet that the PlayBook does. On the flip side, trying to stream media from a network drive within the home network is very difficult to pull off with the PlayBook, while there are apps that do it seamlessly on the Nexus 7.
And let's not forget that the PlayBook is capable of running Android apps too. Well, sort of. This doesn't mean all Android apps will run, and even the ones that do had to have been converted to run in App World first. A workaround called "sideloading" requires an app called DDPB be installed first. This is basically like unlocking the constraints of the operating system and letting a whole slew of Android apps run on the tablet. Tech savvy users will like trying this, but the average consumer might not bother.
In essence, both of these tablets have certain things the other doesn't. Any comparison of similar devices is likely to reveal that, but the key in the case of these two tablets is that they're both worth the money. The overall value add, however, insofar as each tablet's offerings and prospects, has to be measured by what you actually want the device to do. That may be a no-brainer, but it should be noted that the chasm between these two is not quite as wide as some would think.
Even so, the Nexus 7 offers more variety and convenience because some major service providers that consumers may already subscribe to are supported. This is a big selling point, but it also helps that Jelly Bean is slick, powerful and easy to use — even more so than the PlayBook's OS. But if you're a user that wants something that can do basic tasks and offer something secure and unique for small business, the PlayBook can be a good investment.