A Ryerson University professor is being honoured for his work in what's called context-aware computing, and for the tech tools and apps that his company is developing, apps that can provide relevant information to mobile users while promising them full control of their privacy.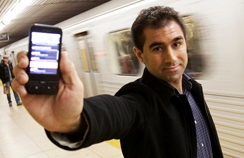 Dr. Hossein Rahnama is now on a prestigious list of the world's top innovators under the age of 35, published by the Massachusetts Institute of Technology (MIT) Technology Review magazine.
Rahnama's cool new tool is called Flybits; it's a patent-protected computing engine that seeks to understand a user's needs and intentions, based on physical context and location, pre-defined preferences and situational needs.
The technology he's developed can create specific geographical areas with intelligent processing almost anywhere the app and user go; the app then proactively provides helpful information about where the user is (or where they can go from there).
It speaks to the difference between searching for something or someone from your desk, and searching for something where you actually are.
Your PC may not care at all where that desk is; it will give you basically the same information no matter what.
But the Flybit network does care.
It customizes itself based on location, no matter where you are – and so it brings added functionality in public spaces like tourism destinations, college campuses and educational settings, as well as public transit systems.
In an airport, for example, Flybit-equipped smartphones recognize the location, context and intentions, and deliver real-time, personalized information about that space – perhaps about parking, flight times, gate directions, or nearby dining options.
The app easily shifts to become a shopping concierge when the same user visits a mall, and it becomes a transit assistant when they hop on the subway.
Because the patent-protected Flybits engine works to understand the user's intentions (using artificial intelligence techniques and algorithms), it can respond to users who may have particularly unique and personal requirements, such as folks who are blind, or suffer from low vision.
So Rahnama is working with official sat the CNIB (the Canadian Institute for the Blind) and GO Transit to develop and test accessible smartphone apps and mobile services based on his product.
But regardless of its application, Rahnama says that personal information gathered or stored by the app is always kept confidential and private. Flybits adheres to the principles and guidelines of Privacy by Design, a program developed in Ontario and promoted globally by the province's Privacy Commissioner, Dr Ann Cavoukian.
Rahnama was selected as a member of the 2012 TR35 by a panel of expert judges and the editorial staff of Technology Review, who evaluated more than 250 nominations from around the world.
"I'm very honoured to be recognized among my distinguished peers as part of the TR35," said Dr. Rahnama. "Flybits technology is changing how people use their mobile devices and helping them to address the issue of information overload by understanding their surrounding context and respecting their privacy. I am proud that this redefinition of innovation is emerging from Ryerson in Ontario."
The TR35 recognizes the world's greatest young innovators, spanning biotechnology, computer and electronics hardware and software, energy, the Web, and nanotechnology, among other emerging fields. Past winners of the award have included Google founders Larry Page and Sergey Brin, Facebook creator Mark Zuckerberg and Jack Dorsey, creator of Twitter.
All of the TR35 winners for 2012 will be featured in the September/October issue of Technology Review and online.
"We are extremely proud of Hossein's well-deserved recognition by MIT's Technology Review. This is a great example of an innovative entrepreneur who applies his academic research not only to teaching and helping students, but also in pursuit of economic opportunities," said Sheldon Levy, president of Ryerson University. "One of our goals as a university is to create an environment where our graduates can stay in Toronto and compete in the global economy. Hossein's success demonstrates that by connecting our best, brightest and most passionate innovators to each other and to business, we can create an environment of unparalleled experiential learning and world-leading innovation."
Flybits is a spin-off of Ryerson University, supported by the Digital Media Zone with the participation of MaRS Innovation. The company is headquartered in Toronto, with a location in the United Kingdom.
-30-
submitted by Lee Rickwood