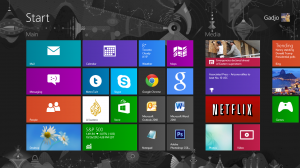 By Gadjo Cardenas Sevilla
The desktop you know and love will never be the same again.  Behold Windows 8, Microsoft's bold new direction in personal computing.
Windows 8 is launching today and it brings the most revolutionary change to the Windows platform since, well since Windows 95. Replacing the icon and folder based desktop paradigm with touch-friendly and interactive Windows 8 Live Tile interface, the new OS lives between two worlds.
Windows 8 will run the majority of legacy Windows 7 and earlier applications, it even has a desktop mode but this isn't what it looks like. The Start Menu, which has long been the way users drill down to their applications and files, is all but gone.
The main interface is now called the Start page and it features various squares and rectangles which are links to applications and files.
These Live Tiles are not dormant but active and are often flipping and pulsing with new information, updated weather, news items, messages. Derived from Windows Phone, the look and feel of Windows 8 favours touch based screens from tablets and ultrabooks over the traditional mouse or trackpad setup in most Windows PC's.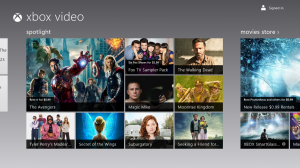 That is why manufacturers are coming out with very creative Windows 8 PCs which have touchscreens and which can double as desktops or tablets. Microsoft has even created its own device, the Windows Surface tablet which it designed and developed in-house to give users the optimal Windows RT (runs on ARM) experience.
The User Experience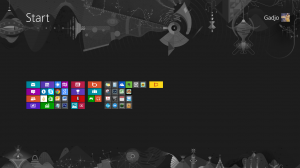 I installed Windows 8 via the online Microsoft Store link. Download and installation was straightforward and took roughly three hours (I started downloading at 2:45 a.m., few hours after the link went live).
My ThinkPad has a faster SSD drive, which might have made installation a bit faster.
The increase in speed and performance is quickly palpable and very welcome. I think it is totally worth the $45 investment.
I also saw that battery life increased by around 15-20 per cent which is amazing on a heavily-used one-year old notebook. Wake from sleep times are also much improved, making my notebook feel almost as snappy as a tablet.
Loading websites on Internet Explorer felt breezy and just moving around the OS opening apps and multitasking felt and looked peppy.
Microsoft has managed to streamline the code and speed things up while apparently reducing the size of the OS, which is remarkable.
Windows 8  also solved a lot of problems with system resources, which means you can now theoretically open various applications, windows and programs and they won't choke the system or sneakily run in the background more than they have to.
Windows 8 is also the most content- focused OS we've seen. It ties directly into Xbox and its varied music, movie and game markets.
Microsoft has a good selection of offerings that it developed for Xbox but can now offer to Windows 8 devices of every size.
Users even get the option to use their Windows 8 device as a secondary screen to whatever is running off XBox through the innovative XBox Smartglass app.
I think I will likely consider a hybrid tablet/ultrabook device  in the future over a standard notebook unless that notebook has a touchscreen.
The PC  game has really changed.