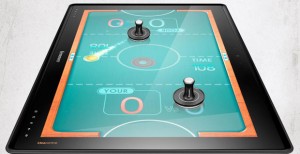 By Gadjo Cardenas Sevilla
2013's International CES is now history. We look back at some of the displays that defined this year's biggest consumer tech show.
While 2012's CES (Consumer Electronics Show) was all about tablets and Ultrabooks, 2013 was all about displays. From the aggressive push to make Ultra HD televisions a household name a number of manufacturers introduced some very large, very stunning and very expensive 4K and Ultra HD sets that feature four times the resolution of 1080p HD video, the current standard. The theme of innovation in displays extended to LG's glare-free OLED curved display that slightly wraps around giving users a more immersive viewing experience.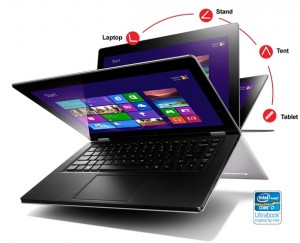 The focus on displays at CES 2013 extended to Ultrabooks and the new 'convertible' segment which merges the tablet form factor with QWERTY-keyboard enabled Ultrabooks.
The choices this year were wide and varied. ASUS revealed its TAICHI notebooks which have dual-LCD screens, one facing the user and the other replacing the notebook's rear case.
Use case for a dual-screen notebook is that it is a tablet when closed and a notebook when open. ASUS says the TAICHI is ideal for running presentations on the spot with the PowerPoint running on one side of the screen and the notes
Lenovo's IdeaPad Yoga Ultrabook, which now features both Windows RT and Windows 8 Professional versions, has a screen that can flip all the way back, turning an 11-inch or 13-inch notebook into a somewhat heavy multi-touch tablet. Other manufacturers also showed notebooks that spin, flip, twist and slide into tablets.
Speaking of Lenovo, they also launched one of the most intriguing products at CES 2013. The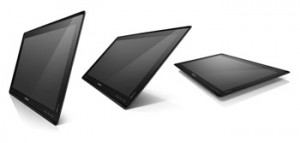 IdeaCenter Horizon Table PC .
This is a 27-inch desktop running Windows 8 that can be laid flat on a surface and used as a table-PC.
The intriguing thing about the Horizon is that it offers 10-finger multi-user input making it ideal for games as well as various tabletop applications.
A Table PC is nothing new, Microsoft has shown off its Surface Table PC for years, except  it was expensive. Lenovo's Horizon will be sold for $1700 which makes it a viable device for offices, schools or any organization that can leverage a huge table PC.
Display sizes also loomed large in the smartphone releases of 2013. Last year, CES marked the debut of the Samsung Galaxy Note, the 5.3-inch 'phablet'.
One-year-later  and the Galaxy Note I and II are two of Samsung's best selling products with over 12 million units sold.
Chinese manufacturers like ZTE and Huawei released some very competitive Android smartphones designed to compete in the larger smartphone market.
Huawei's Ascend Mate  6.1-inch Android smartphone will be released in Asia initially, but it looks very competitive in the Phablet space.
Same with ZTE Grand S which aside from being billed as the "World's Thinnest Smartphone," with its svelte 142-69-6.9mm dimensions. The ZTE Grand S, also an Asia-first model with a 5-inch display.
Sony's new flagship smartphone, the Xperia Z,  its largest yet at 5-inches, features a drop-dead gorgeous display with many of the technologies and features coming from their Bravia HDTVs which is a perfect example of  display technology really going full circle from the big HDTV screens to today's popular mobile devices