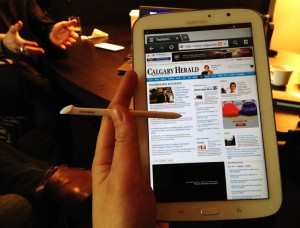 By Gadjo Cardenas Sevilla
The arrival of Samsung's Galaxy Note 8 tablet is expected to shake up the mini tablet market ruled by Apple's iPad mini and the Google Nexus 7. 
Samsung's first Android tablet was the Galaxy Tab and that was a 7-inch tablet clumsily running a smartphone OS on a larger device. Since then, Samsung's bombarded the marketplace with Android devices in every conceivable screen size.  When it came out with the Samsung Galaxy Note 'Phablet' with a 5.3 inch screen, many dismissed it as an oversized smartphone.
The Note, however, was quite successful and Samsung didn't waste any time putting out the Note II as well as rehashing its poorly selling 10-inch tablets into the Note 10. Samsung's 7-inch tablets, the Tab 2, the Tab 7.7 and  Tab 7.0 Plus didn't exactly fly off the shelves despite some price drops.
This could all change with the Galaxy Note 7 which takes the, specs, look and feel of the Galaxy Note II and puts it into a larger device. The Note 7 is a reasonably slim and light device, it is designed to compete with the lighter and thinner iPad mini and last year's big tablet story, the Google Nexus 7. Both of those tablets  continue to sell well and the iPad mini is even starting to outsell the larger 10-inch iPad.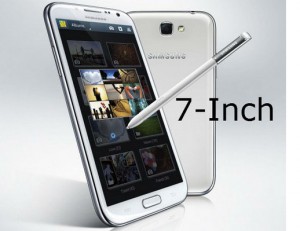 The 7 to 8-inch form factor seems to be the sweet spot for many users. The devices are relatively cheaper, more portable, great for one handed usage and are similar to pocketbooks or small magazines except that they are actually powerful portable computers.
They also compete directly with standalone eBook readers since they are around the same size and weight.
Samsung hopes that it can replicate the success it has enjoyed with the Galaxy S 3 smartphone, which briefly eclipsed the iPhone 5 in sales, as well as the Galaxy Note and Note II which have gained quite a following.
Proprietary Samsung features and the Nature UX overlay running on top of Android have the added benefit of using the Wacom stylus for precise input. This will differentiate the Note 8 from the iPad mini and the Nexus 7 which are traditional tablet designs without stylus and digitizer features.
If it follows the Note II, the Galaxy Note 8 should have an expandable microSD slot for additional memory. This is a feature that's lacking with both the iPad mini and the Nexus 7 and gives users the option of adding more storage cheaply.
The pricing or availability of the Galaxy Note 8 hasn't been announced but these are two key factors that will come into play. The mini tablet market is already an exciting segment and now has more choices than ever with Samsung's latest Note.