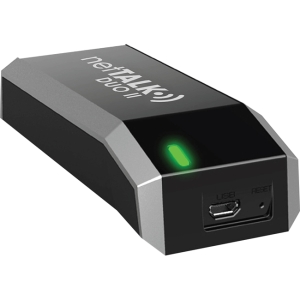 If there's one service that isn't worth paying the full cost from traditional providers, it's a landline phone number. NetTalk announced recently that users could now port their existing landlines over to a NetTalk Duo device for a flat fee and use the device as their home or business line.
Number porting over to VoIP providers isn't new, as we detailed what the process was like with the Ooma Telo last year, but it does mark the first time NetTalk is able to do the same. For the one-time fee of $29.95, you can start the process of porting your number over to your NetTalk account, though you should check first to see if your number has availability by going to the website's checker.
For those of you who have a NetTalk unit, you already know that your first year of service is included, which is standard when you buy a Duo unit, and it's $39.95 for a full 12 months of service after that. The cost of service is separate from the one-time porting fee, so once you've paid that, there's no need to "renew" the porting.
Just beware that if you've ported your number and decide to not continue using the NetTalk service, your number could be assigned to someone else unless you renew or take your number over to another provider. The number porting FAQ explains some of the processes and answers some of the basics.
Basically, the process involves informing your landline provider after you get the unit and set it up with a NetTalk account. NetTalk gives you a temporary number to use until the process is complete, which may take up to three weeks. If you have a DSL Internet connection coming in through that landline, make sure to ask your provider to switch it to a "dry loop" connection. Dry loop means that the Internet can still come through the phone line without affecting the loss of the landline. If you don't, the number could be ported over and the Internet connection severed completely, leading to a whole other call to customer service to fix the problem.
When all that's over, your NetTalk Duo becomes your landline's replacement. You can try connecting the Duo to the main phone cable coming into your home, and then use a phone jack splitter to then plug in a second phone cable directly into an actual phone. And, of course, the Duo would connect to the router (wired or wirelessly, depending on the unit you have) to gain Internet access. Doing that would route the phone signal throughout the home's phone lines. A less tedious option is to use cordless phones that have a main base (connected to the Duo) and satellite units that connect wirelessly to the base that you can place throughout your home.
NetTalk does include services you would've otherwise paid extra for, adding to the incentive to make the switch. You get voicemail, call forwarding, call display, directory assistance and 911 (you have to set this up online), all included at no extra charge. As is also standard, calls to all of Canada and the U.S. are included in your service, regardless of whether you're calling a landline or mobile. If you want to call other countries, you either pay a long distance rate (pretty competitive) or you can try a monthly long distance plan the company offers that covers a number of countries. These are very similar no matter which VoIP provider you go with.
All in all, it's an impressive set of features for the price. Although the NetTalk Duo (which includes the first year of service) is $74.99 and the porting cost is $29.95, it would pay for itself in as little as two or three months when compared to the cost of a landline. The $39.95 renewal fee for every 12 months after that is also peanuts compared to a traditional landline.
That said, NetTalk's service isn't quite as reliable as Ooma's, at least based on our experience with both products. NetTalk has proved capable, and is certainly a good option for the travelling student or business user, but the Ooma is a more stable option for home or small business offices. It's true that NetTalk does offer more features for less, particularly since you need a $9.99/month Premier package with Ooma to get free calls to the U.S. But the number porting process is really the same for both, so there isn't one advantage from one or another when it comes to that.
If you still have a landline and want to save money, porting over your number to one of these two will undoubtedly help do that.