The new Samsung Galaxy Camera is a real head-turner, especially the slick white one.
Even total strangers will come up and ask, 'What's that?' if your experience using it is anything like mine.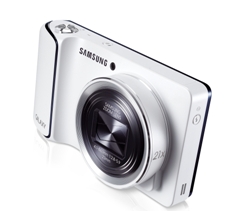 The stylish shape, full size and bright colour make the EK-GC100 a real eye-catching device.
But turn it around, and show them the huge crisp touch screen with the 'start page' showing, and the oohs and ahhs just won't stop.
You can surf the 'Net, listen to music, schedule an appointment, send and receive messages, record a voice memo, run apps and more with the GC100; it is a handheld portable computer after all, powered by a very capable quad-core processor and the latest Android Jelly Bean operating system. It's a connected camera, too, with Wi-Fi, 2G/3G and Bluetooth wireless functions, as well as a wired HDMI and microUSB connection.
In shooting mode, the Galaxy's lens fully extends automatically, delivering a 21x zoom capability that's akin to a 23-483mm 'wide-to-super zoom' lens on a conventional 35mm camera.
There's a convenient shutter button right on top of the camera (that when pushed halfway will help put your shot in focus before pushing all the way to take the shot (photos can also be taken using voice commands, by the way). A pop up flash appears at the touch of a button, as well.
Photos can also be taken by tapping the touch screen in one of three basic modes:
Auto, in which the camera detects its surroundings and adjusts its settings (including shutter speed or exposure time, aperture and sensitivity) to take the best-looking shot it can.
The Smart mode lets you pre-select one from among several templates, or photo styles, to apply to your shot. There's 'Action Freeze' for example, with a fast shutter speed to stop fast movement in a crisp, clear shot. Or the 'Night' selection, which slows down the shutter (and up the ISO or sensitivity rating) to capture a good shot in low light (a tripod or very steady hand is recommended, because of the long exposure time and slow shutter speed).
More adventurous Smart selections include 'Best Face', which lets you take a number of shots, say, of a group of friends, then pick the best expression or face on each one to create the final photo. The camera's processing power is helpful here, as the final composited shot has to be processed before it's ready.
Likewise, with 'Panorama' there's some processing needed in the unit before the final shot is ready.
In this case, a very wide shot like a scenic landscape can be photographed by holding the shutter button down, and panning the camera from one side on the scene to the other. Not only will the Galaxy camera superimpose a grid line on the touch screen to help guide your motion, it's a dual axis guide that looks both side-to-side, and up-and-down, to help you create a very impactful superwide panoramic shot (actually, several shots 'stitched' together almost seamlessly).
(You can pinch and swipe the panorama shot on the touch screen, as you can all images, and see it in very fine close-up detail as well as with its full dimensions.)
No matter what kind of shot you take or setting you choose, chances are the digital image will be very good, thanks to the camera's big 16.3 megapixel backside-illuminated CMOS sensor; it can capture a huge 4,608 x 3,456-pixel image.
Especially with the third major shooting mode, called Expert.
This is the fully manual mode; here you will find controls over every main camera feature and photographic tool. Shutter speeds (from 1/2000 of a second to 16 seconds) affect not just the duration of exposure and incoming light, but also how motion is captured or blurred in the photo. There are aperture settings from F2.8 to F8 available; they, too, affect the amount of incoming light, but also the depth of field or focus in your image. Controls are available for ISO settings and camera sensitivity, as well as EV for image brightness.
It's by understanding and using the power of these controls that full creative control over an image can be achieved.
Using them is fun, too, as Samsung designers have re-created a traditional film camera look and feel here, putting on the Galaxy touch screen some great graphic representations of old 35mm camera dials, knobs, indicators and even lens-mounted ring controls that seem to turn on-screen as you chose your settings. You can even see your shot get darker or brighter, on-screen, as you change some settings.
That LCD screen, by the way, is really nice: about 4.8 inches, with 720 x 1280 pixels packed in at a 300 ppi density, capable of reproducing some 16M colours on its 16 X 9 surface. Browsing through a photo album is a visually joyful process with the touch screen's swipe and scroll features, not to mention its glorious image reproduction.
The camera comes with a number of apps pre-loaded, with more available online from both Samsung and third party developers.  The on-board apps helps with photo sharing and camera connectivity, such as an Instagram app that lets users quickly upload a shot to their own album or share with friends. There's also an app to store your shots in the cloud, with Dropbox access and storage space being offered.  Local storage is supplemented with a microSD card slot, for up to 64 GB on-board (the camera comes with 8 GB internal storage)
There are some serious photo manipulation and video editing apps to enhance your creativity, and a couple that are just plain fun to use, like the Paper Artist app: take a photo, engage the app, and use your finger to add or subtract painterly artistic effects in real-time.
With all it has going for it, the Samsung Galaxy Camera does have a couple of drawbacks: first, it is a larger, heavier and bulkier digital camera than might be expected. This is not the device you will slip into a normal shirt pocket to carry around; it weighs more than 10 ounces, or some 300 grams!
In my case, I'm still hoping to find a digital camera that truly acts like a 35 mm film camera: pull it out and shoot, quickly. The Samsung power button operates in a couple of modes: power up, and wake up.
Power up from a cold start (pushing firmly) can take several seconds, and you often have to watch a short branding video from Samsung before being able to take a shot!  In wake up mode, the unit will start faster and get you to camera mode faster (but that seems to depend on how you shut it down previously, or how long it has been in a sleep mode).
The same power button, somewhat disconcertingly, is used to revive the unit, should a major software or hardware glitch be encountered. I did see a 'camera failure' warning a couple of times while testing this unit, a state in which the lens was left extended, even while the power was off and no functions were working.
Those issues aside, this is a very capable digital camera, with plenty of 'computerized' options for automatic or manual mode photo/video-taking and creative image-making.
Now, as eye-catching as the camera itself is, the list sticker price can be a little eye-popping: roughly $1,000 dollars! Of course, the manufacturer, its dealers and even online shopping destinations price it at much less: I have seen the EK-GC100 listed for less than $500.
At that price, a few more oohs and aahs are understandable.
-30-
submitted by Lee Rickwood