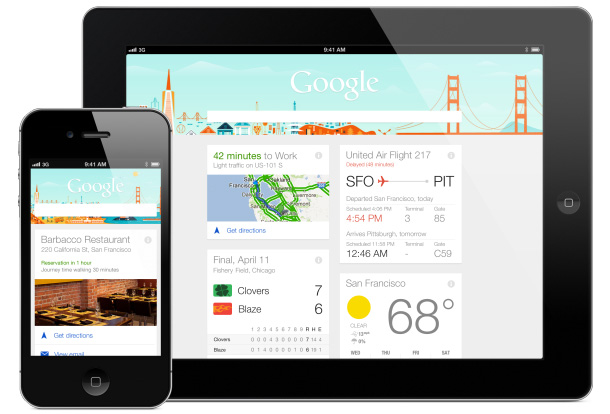 Google released an update today to its Google Search app for iOS devices that brings Google Now, the personal assistant suite that was initially introduced with Android devices last year.
Google Now is a combination of personal assistant, voice activation and predictive search was first unveiled as an answer to Apple's Siri voice assistant, which makes its presence on the iPhone all the more intriguing. Unlike Android, however, Now won't work natively on iOS devices and will require first logging in with your Google account. Still, Google maintains that the gist of the functionality is untouched and should work just the same.
The other caveat is that it will only work within the Google Search app, meaning there is no way to pull it up like you would on an Android device, which only requires swiping up from the home button. The likelihood of this changing seems remote, given that iOS is a closed operating system and Apple ultimately approves app submissions and updates that affect its core features.
Now works using cards that appear and flip to show new information that can range from the weather to your favourite sports teams scores. The iOS version supports 22 of the 29 cards from the Android version, and covers a fairly wide range of information you might want to know in one swipe. It does require a data connection and to also leverage the location-based features of the iPhone or iPad, so going to Settings>Privacy>Location Services and then sliding Google to "On" will do the trick.
Searching by voice has long been a staple of the Search app, so there is nothing really new there, except that it's been enhanced within the flexibility of Now, so search queries pull up information relevant also to the cards you have.
With this move, it appears Google Now is becoming a bigger deal for the search giant, and may integrate even further with other Google services, like Maps, Gmail and Google+ to name a few.