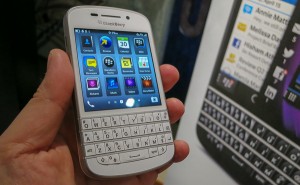 Text and photos by Gadjo Cardenas Sevilla
At long last, the type-friendly BlackBerry Q10 is finally available in Canada. The Q10 merges the BlackBerry 10 OS together with the best  tactile keyboard on the market.
This is the smartphone that the BlackBerry faithful have patiently waiting for. A true successor to the Bold flagship devices that have become the choice of the enterprise and  many productivity and messaging oriented users.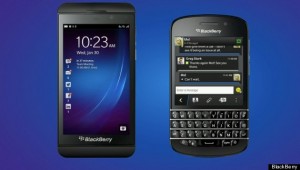 The BlackBerry Q10 features a 720×720  3.1-inch super AMOLED display that is multi-touch enabled. Many of the native apps for the larger BlackBerry Z10 have been repurposed for the smaller screen.
BlackBerry representatives said that it shouldn't take much for developers to port their Z10 applications to the Q10.
The BlackBerry Z10, released last February, and the Q10 share the same 1.5GHz dual-core processors, 2GB of RAM, 16GB of storage space but also feature microSD expansion, NFC chips for (Near Field Communications) as well as 4G-LTE connectivity and 8 megapixel cameras.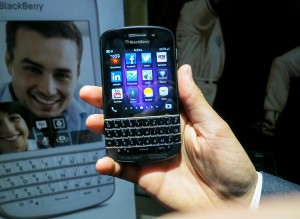 The Q10 offers all the keyboard shortcuts that users are familiar with. It was demonstrated to have predictive text capabilities and a learning feature that remembers user's most used words.
Typing commands directly on the keyboard also triggers specific functions. You can type "Call Mom," and the Q10 will ring up your mom's number .
The BlackBerry Q10 will be available through most of the carriers in Canada. Rogers has the exclusive white colour for a limited  time.