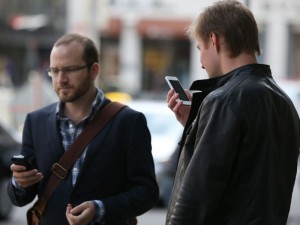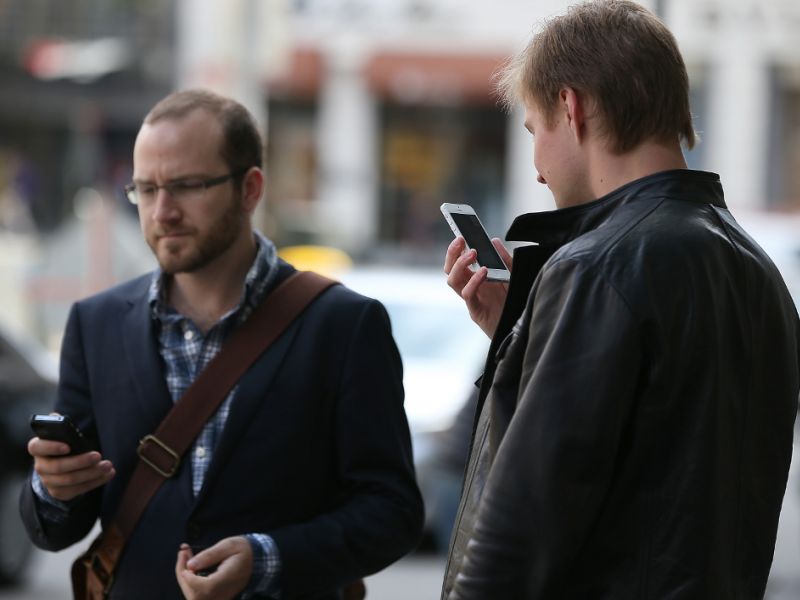 Now that two-year contracts have essentially become the norm before the new wireless code of conduct goes into effect in December, the incumbent carriers have released their latest voice and data plans. Are they cheaper than they were under the old three-year terms, or still more expensive than they should be?
To lend further credibility to the price structure, the carriers have hammered home the message that fees are comparable — if not better — than what U.S. carriers like AT&T and Verizon offer south of the border. Convenient messaging, especially in light of the recent rumours suggesting that Verizon would take a run at acquiring new entrants Wind and Mobilicity and enter the Canadian market.
But is there truth to that message? Are prices, in fact, fairer and cheaper than they've traditionally been over the last few years? Let's take a closer look.
This chart looks at what the incumbents now offer for shared data plans, meaning that at least two users can share the same data pool, or one can use it on two devices (a phone and tablet, for instance). Note that these plans start at a base cost of $55 for any top end smartphone ($45 for "Lite" phones) and include unlimited nationwide talk and text, voicemail and caller ID to go with the shared data. What you'll pay for all that plus the data bucket is spelled out for you below.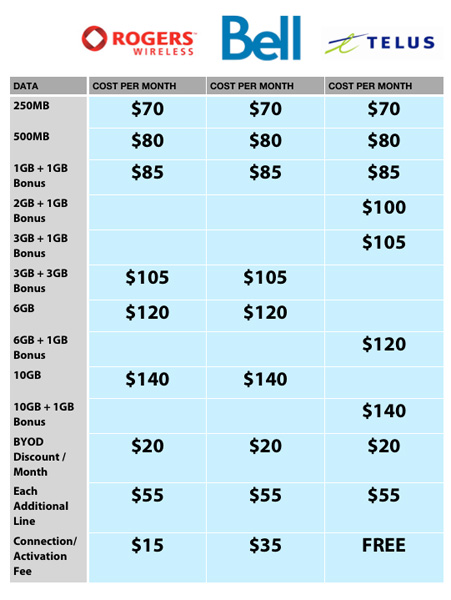 Of all those plans, the cheapest one offering 250MB is obscenely expensive at $70. At that price, it should be at least 500MB. Rogers and Bell offer 3GB with a bonus that doubles the data to 6GB, which is plenty for most users, but still not cheap at $105 + tax per month. If you already have your own unlocked phone and you're off-contract, you could save $20 per month and pay $85 + tax instead. Again, better, but not great.
If you plan to share that data pool with another user, be it your spouse, sibling or someone else you can add to one monthly bill, it does save you from paying for two single users at the same upfront cost. In the case of the 3GB $105 plan mentioned above, the savings would amount to almost $50 per month, since it would be a combined $160 for two shared devices rather than $210 for two single user accounts. Now we're talking.
But not every user is in a shared situation, and the savings only matter if there is a second person to add. This is great for families, but does nothing for the solitary user who still has to pay a lot for service every month. The plans for single users don't change as far as the airtime, data and costs go. The one main difference is that you can't get the bonus data.
It's also obvious that the incumbents seem content to just float the same prices and not undercut each other too severely. Their claim that they're in line or cheaper than AT&T or Verizon is actually true, with prices either identical or slightly cheaper than what the two major U.S. carriers currently offer to their subscribers. However, this only was the case after consumer pressure forced them to cut prices to fall in line with the two giants south of the border. Incidentally, this was also around the time the rumours about Verizon entering the Canadian market picked up steam. Coincidence?
You also need to keep in mind that the BYOD savings only apply to shared plans, not the cheaper ones that limit airtime and features. For example, Bell has a $55/month plan that offers 300 Canada-wide minutes, plus voicemail and caller ID with 500MB of data. That bill will cost the same regardless of whether you're on contract or you come in with an unlocked phone. If you have a history with your carrier, this is the time to negotiate a better deal outside of the plans and packages posted on their website.
To pay $105 for 3GB of data, even with all the Canada-wide airtime, seems terribly high. Since 2008, when the iPhone first launched here, the carriers have alternated on offering 6GB plans for $30/month. That would be $20 cheaper than what the 3GB plan costs, assuming, of course, that the carriers would offer such a generous bundle with all that airtime. No, instead, a 6GB plan with unlimited talk and text is $120 across the board, meaning the data itself is $65. Why the $35 discrepancy? In a scenario where there was a base cost of $55 for a top smartphone, plus $30 for 6GB of data, and $20 off for bringing your own device, the final tally would be $65 + tax every month. That plan would blow everything on that chart out of the water.
Except the irony in these plans is that while the carriers acknowledge that subscribers are using more data (and demanding more of it), they don't actually encourage using more. At these prices, it's hard to imagine many users being thrilled about paying over $100 per month just to be able to stream more when on the go. It just seems disingenuous to highlight promising user trends on consumption, only to then stifle them by raising prices everywhere — and in unison.
Any way you look at it, prices may be in line with the top U.S. carriers, but the comparison is really one of overpriced plans on both sides of the 49th Parallel. On the other hand, it was expected that prices would go up in response to the move to two-year plans. If you have an unlocked phone or want to buy your phone outright — and you've been with your carrier for a long time — do your homework and look to negotiate a better deal with them.