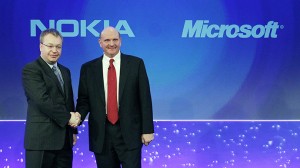 By Gadjo Cardenas Sevilla
Microsoft just bought Nokia's devices business for $7.2 billion. While Microsoft gains its own smartphone manufacturing subsidiary, the deal effectively ends Nokia's reign as a smartphone maker.
The Deal
Microsoft is buying "Nokia's cell phone unit for 3.79 billion Euros ($5.0 billion) and spending another 1.65 billion Euros ($2.18 billion) to license Nokia's patent portfolio for a total of 5.44 billion euros ($7.17 billion)," as per a report on AllThingsD.
The People
The deal will also allow Microsoft to absorb various Nokia employees including CEO Stephen Elop, a former Microsoft VP, who will now step down and  become VP of Devices and Services. Nokia Chairman Risto Siilasmaa will serve as interim CEO. After Microsoft CEO Steve Ballmer steps down in 12 months, Elop is considered one of the front runners for the CEO spot at Microsoft
If everything works out as planned,  32,000 employees will be absorbed by Microsoft including 4,700 in Finland. Sadly, a takeover of this magnitude will inevitably sacrifice thousands of jobs and it is possible that 56,000 Nokia employees will not expected to transfer to Microsoft.
Microsoft's Gain
Patents and one of the most storied and formidable talent pools in mobile as well as the global brand recognition that Nokia has built during the past twenty years as pioneer in cellular phones and smartphones. Microsoft essentially becomes a true 'devices and services company,' and is no longer just a software giant.
Nokia's Gain
Nokia gets to focus on building cellular equipment  as well as developing its Here navigation solutions, and can take the money earned by the sale of the devices to pay back long suffering investors, partners and employees. Sadly, its days as the global mobile powerhouse are now over and Nokia and its brands like Lumia and Asha simply become products in Microsoft's stable.
The Future
It is all up to Microsoft now. On one hand they now own the marquee Windows Phone brand which has been selling 80 per cent of devices. They might lose the support from Samsung and HTC  moving forward just like how Dell and LG abandoned Windows Phone after the first generation of devices came out.
Microsoft has no option for failure now. As the no. 3 mobile platform, they need to innovate and push even harder to create more impressive products and experiences in order to compete with Apple and Google. It will be an uphill climb but Microsoft seems to be committed to the long term.