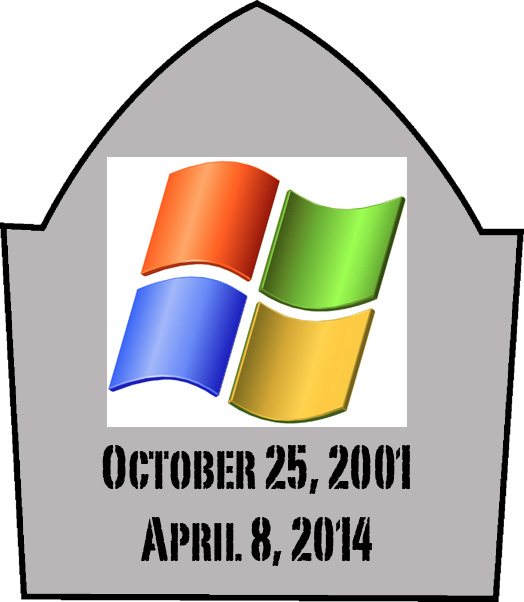 After the longest run of any operating system Microsoft has ever produced, Windows XP will basically be laid to rest  today, April 8, meaning that no further patches, updates or support will be forthcoming from the software giant. For users still clinging to the aged OS, upgrading to Windows 7 or 8 has become the only option, more or less.
XP has had a good run — one that probably long exceeded the expiry date Microsoft executives could have imagined when it launched to market back in October 2001. Since then, XP's successors have slogged to unseat it from its perch. Windows Vista was an unstable and faulty follow-up that proved disastrous for the company, while Windows 7 fared much better, now accounting for the most users at 47%, according to NetMarketShare.
Surprisingly, XP is in second at 30%, with Windows 8/8.1 collectively behind at 10%. Vista is but a footnote at 3%, while all combined Apple Mac OS X versions come in just shy of 8%.
Part of the reason for XP's longevity is the fact it was both the most stable — and the most targeted. Microsoft patched and updated the OS regularly in what became a cat-and-mouse game with hackers. It went through three service packs, which were practically operating systems unto themselves, and was used by as many as 400 million people at its peak. The worst viruses and malware have propagated through XP because of the significant number of users still running it, especially in countries like China, where resistance to upgrading to a newer version of Windows is still high.
It's that focus on security that has Microsoft prodding consumers to upgrade. After April 8, XP becomes a vulnerable target, particularly to cyberattackers looking to exploit whatever holes they can find (and they will find them). Since Microsoft won't be readily patching these things, it could get ugly. Businesses and government institutions who haven't migrated over to Windows 7 or 8 have negotiated for extended support, but that's not an option for consumers. Nor is it for small businesses that probably couldn't afford it.
Windows 7 would seem to be the best option because it more strongly resembles XP, and stays true to staple Windows features like the Start Menu. According to Microsoft, Win7 will continue to get security patches and updates until 2020, whereas non-security bug fixes are supposed to end in January 2015. Windows 8.1 will get full support until 2018, with extended security support until 2023. Of course, these deadlines may be fluid if adoption of Win7 continues to be high, much like it was for XP seven years ago.
It's no secret Microsoft is trying to sway consumers and businesses over to Win8, given that it's new and flashy and works on more than just computers. With tablets now running it, and Windows Phone integration expected to improve, there is a mobile element at work there. The problem is that going from XP to Win8 is not going to be possible on a number of computers and workstations for consumers and businesses, alike. The hardware requirements are quite different, which means that it may not only be a matter of upgrading the OS — it might also mean buying new machines, altogether.
To help figure out the best route, Microsoft does offer an Upgrade Assistant that will assess a PC's system to see if it is capable of running either Win7 or Win8.
If you're running an older computer and it's not compatible, don't be too surprised. The hardware requirements between XP and Win7 or Win8 are years apart, but if you want to keep using a PC, you will be safest by moving away from XP and using one of the other two.