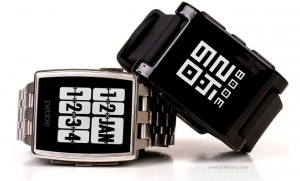 By Gadjo Cardenas Sevilla
Pebble's smartwatch has a great head start in the wearables game. Not only are their devices cross-platform, users can access various apps and applications from their app store.
Pebble is the most successful Kickstarter project to date and the one product that's widely available. The hardware itself is pretty simple, low-powered eInk display and a few multi-functional buttons, the Pebble can run various applications, synch with smartphones as well as send push notifications.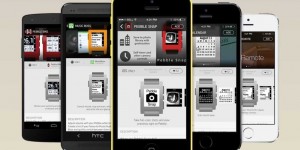 Pebble users need to install the latest Pebble firmware as well as download the Pebble App Store into their mobile device. The Pebble App store curates apps and watchfaces, it also acts as a control panel for the watches.
The new online app portal makes it easy to browse apps, segregating them into categories like Daily, Remotes, Games, Notifications, Tools and Utilities, Fitness, and Watchfaces. The Pebble apps will let you do things like track user's workout, manage your music, and even control your thermostat right from your wrist. Pebble said it will curate its app store, presenting "best apps" and "new apps" in each category.
I was able to find various watchfaces and even weather apps that could push the latest weather information to my Pebble watch. There are also apps that integrate with existing services like Yelp or Foursquare allowing you to use the Pebble as a way to check-in when in a venue.
The new app store comes after Pebble  released a software development kit late  last year for creating Pebble apps for iOS and Android.
As for the watches, Pebble sells the original plastic Pebble watches and the new Pebble Steel. The former start at $150 and come in a  variety of colours. Pebble Steel costs $229 and has a more premium finish and bracelet but with the same functionality and specs as the original Pebble.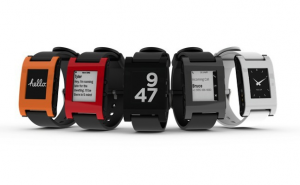 Aside from providing a platform for developers and creating an app ecosystem for users. Pebble's avantage over proprietary smartwatches from Samsung, Sony and others is that the devices will work with iPhones, Android devices and even BlackBerry 10 and Windows Phone (curiously, the Pebble evolved from a smartwatch designed around BlackBerry.
Functionality seems more fleshed out for iPhones with a better overall degree of control and user experience than for Android. Windows Phone and BlackBerry integration is still very preliminary and basic. Pebble seems to know where to focus its attention.
While Pebble had a great head start in the smartwatch game, its monochrome display looks dated compared to the colourful OLED displays we're starting to see.
While newer wearables sport colour, flexible displays and the ability to interact with the screen instead of buttons. The Pebble advantage right now is relatively affordable pricing and a thriving ecosystem of apps and developers.