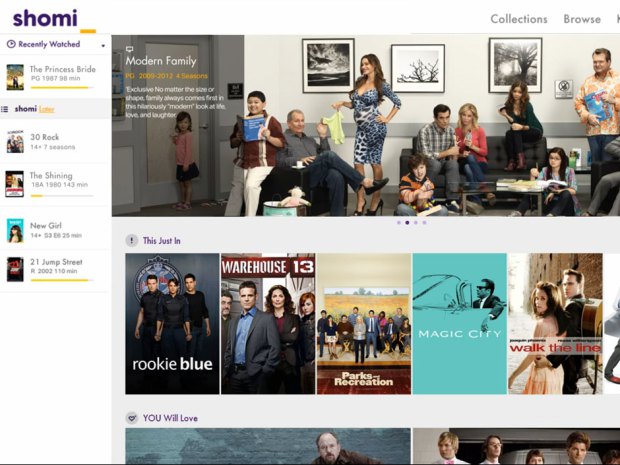 Now that Rogers and Shaw have teamed up and unveiled a new streaming content platform they're calling "Shomi", it will inevitably be compared to Netflix, which already has a significant presence in Canada.
But competition requires playing on the same field, and in this case, Rogers and Shaw are playing it safe. Shomi is only going to be available to their respective subscribers as an add-on for $8.99 per month. This experiment has already been tried before with Rogers' On Demand and Shaw's Global Go, both of which are still active and operating for subscribers. Both companies have indicated they won't be shutting them down, and it doesn't appear they'll be merged into Shomi, either.
Shomi's initial catalogue will include 1,200 movies and 340 TV shows, and be accessible on a number of devices, ranging from smartphones and tablets, to game consoles and set top boxes, like the Apple TV and Roku. The advantage, from Rogers' and Shaw's point of view, is that they already have the Canadian licensing and content rights to a significant pool of content that air on channels they own, like CityTV, Sportsnet and FX Canada, among others. Shaw's hold on Global, Showcase and Food Network, among several others, may also factor in.
It's not known how much was spent to secure this initial content, but it's safe to say tens of millions were splurged, if not more. Rogers and Shaw, both representing the old way of content delivery, are banking on the fact they can sway content creators and broadcasters to go with them in the long run over Netflix, which has been one of the most disruptive forces to that old business model.
Hence, why shows like Chicago Fire, Modern Family and Shameless — all of which aren't available on Netflix Canada — will be there to stream on Shomi. By plugging in gaps Netflix hasn't been able to fill, the idea is that Shomi could be a very viable complement to Netflix, not necessarily a full replacement. The general feeling by the brain trust behind this move seems to be that cable subscribers who already pay $8/month for Netflix would be happy to shell out another $8.99 for Shomi access.
The eventual plan is to open Shomi up to non-subscribers, but it's not clear what the climate or criteria would have to be to make that happen. As is, limiting it to subscribers seems to be aimed at building loyalty and proving that the old guard can play ball with new technologies and delivery methods.
It's obviously too early to gauge Shomi's performance and viability, but there is a technology element that Rogers and Shaw will have to recognize. VPN (virtual private network) services are in abundance, and having foreign IP addresses can easily access Netflix's U.S. and British catalogues, as well as other popular streaming services like Hulu Plus that actually have many of the shows and movies Canadians might be looking for.
There's also the economic element as it relates to cord-cutting. Still far from being a flood, it is a percolating trend that has largely been fueled by the increasing cost of subscribing to traditional cable services. The "package" and bundling system is not only broken, it's become borderline extortionate, forcing consumers to accept channels they have no interest in to gain access to those they do.
The third element here is original content. Netflix's success in this regard so far should be viewed as a mere trickle at this point, but it has the potential of exploding in a big way. Shows like House of Cards and Orange is the New Black have already paved that road, and new ones coming up should keep moving that forward. A $1-$2 monthly increase to subscribe is already coming for Netflix up here, and it's inevitable that there will be another within the next few years, but that money is apparently going to be used to fund original content.
Shomi will have about 30% Canadian content, which is great to see, except homegrown productions will have a hard time competing for eyeballs with well-funded projects south of the border. In other words, Canadian content exclusivity isn't enough of a trump card to woo consumers over when they already have Netflix. Subscribing to a VPN service for less than $9/month would open up other Netflix catalogues and offer American shows otherwise not available here.
Content is king, as they say, and the flexibility and depth of Shomi's offering down the line will reveal just how much the new service catches on. The limited beta to their respective subscribers is clearly a testing ground to see if the market can bear to spend another $9/month when they're already paying $100, on average, for cable.
The fourth consideration is bandwidth. Rogers and Shaw can't continue to justify offering lower bandwidth at a higher cost with Shomi getting such a big push. All content streamed on the platform counts against the monthly cap, so the irony of paying overage fees for bandwidth used to stream video from Shomi isn't going to be lost on consumers. It's not exactly building loyalty and improving brand image when you charge $9/month for a streaming service, only to then charge again when a monthly bandwidth cap has been passed, in part because of that same service.
The jury's out on how Shomi might actually impact or engender change in the way Rogers and Shaw handle their cable businesses, but the long reach of any good streaming service is such that their Internet and mobile businesses may be affected as well.
The CRTC (Canadian Radio-Television and Telecommunications Commission) is already leaning toward mandating a $30/month cap for basic cable and an a pick-and-pay model that would see consumers only pay for the channels they want. Time will tell how that all works out, but it seems Rogers and Shaw can see the writing on the wall, and hope that Shomi will show them the money they're about to lose.