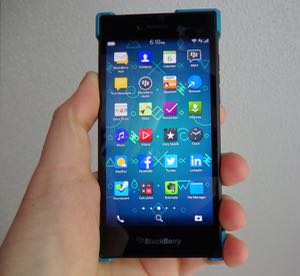 By Gadjo Cardenas Sevilla
BlackBerry set out to create a new smartphone designed around the needs of busy entrepreneurs. It is called the Leap.
With a focus on long battery life, the ability to run BlackBerry 10.3 and all its messaging and communication features effectively, plus an understated yet functional design, the BlackBerry leap is the successor to the Z10 and brings many features introduced with the flagship Z30.
In terms of styling, we get a basic looking device that's made out of rugged polycarbonate with a rubberized texture. This sis a multi-touch device that relies fully on a software keyboard which is both fast, intuitive and easy enough to use.
The predictive text feature, which guesses what word you're trying to type before you complete it, is elegant and can cut the time it takes to compose or respond to messages.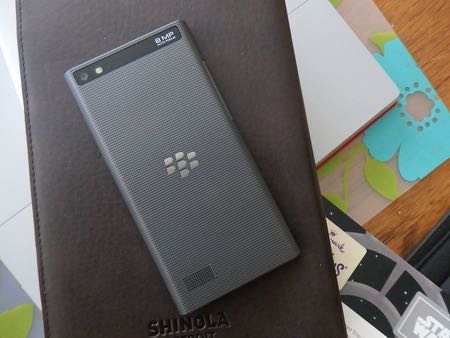 A bit heavier and thicker than most competing devices in the market, the Leap's big feature is really its  2800 mAH Lithium Ion battery which is designed to last for 25 hours on a full-charge.
I found the battery life to be more than adequate for heavy use with a lot of Twitter, Facebook and Instagram access plus mail and instant messaging as well as various voice calls.
The BlackBerry leap comes with 16GB of storage but can be expanded via a microSD card, I popped in Samsung branded 64GB card with music and a few episodes of Game of Thrones and I was able to access my files without any problem.
It features a 5-inch display with 1280 x 720 and 294 pixels per inch, the display isn't a higher quality AMOLED display like the one on the Z30 but it bright and clear enough.
Using BlackBerry Hub, which is the best all-in-one solution for managing all your accounts from one place, was efficient and easy. I prefer to use my BlackBerry Classic but the Leap's larger display does manage to offer up more information and multi-touch is quite intuitive.
The 8 megapixel camera is just okay, photos are generally crisp even if the camera does suffer from lag and is no quick draw affair. Since this device isn't really designed to cater to consumers, the 8 megapixel camera will more than suffice for most user's needs.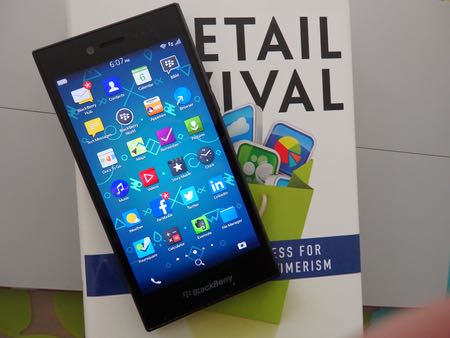 Software and apps has been BlackBerry's huge struggle, there simply aren't as many top-tier apps on BB10 and even if you've opted to sideload Android apps (which you can do using .apk files and installers or through third party app stores like Amazon or 1 Mobile Market), your mileage will vary. Some Android apps will work, others will not.
If you fall within the Leap's designated target market, which is a busy entrepreneur or a startup maverick  then the no frills styling, so-so camera and lacklustre third-party app offerings shouldn't faze you.
If you're like most users, you probably have an iPhone or an Android  for all the fun stuff and use the BlackBerry Leap as your go-to business phone.
This is really what the Leap is, a hard-nosed, no nonsense work device that's been tuned for messaging and slicing and dicing through email as well as keeping in touch with teams and partners.
Throw in the baked-in enterprise-grade security, the power of BBM messaging and a clever array of cases and docks that are similarly thoughtful and business-focused and you have the perfect standard issue work device.
BlackBerry seems to have almost completed their BB10 device lineup. They now have a superphone with the BlackBerry Passport, a loyalist-pleasing BlackBerry Classic, emerging-market focused Z3 and an affordable yet capable midrange  device with the BlackBerry Leap.
The Leap is available contract free from BlackBerry or Amazon for an SRT of  CAD $349. It is also available through Rogers, TELUS, Bell, Wind, Sasktel, Wireless wave and T-Booth wireless.