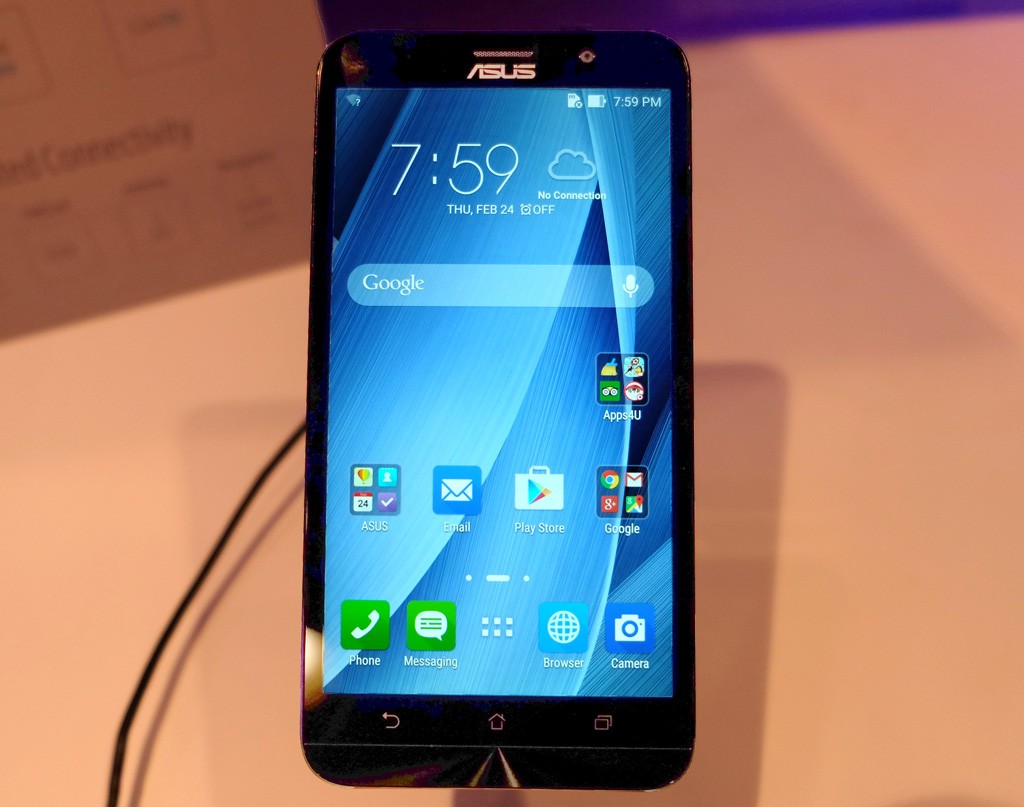 The prospect of paying upwards of $700 or more for a smartphone might seem like a hill too steep to climb, but it doesn't have to be that way when there are compelling options for much less. The Asus Zenfone 2 only sells outright and unlocked, and packs in a number of features that are on par with handsets available for double the price.
Asus isn't a company synonymous with smartphones — at least in Canada. There have been some tablets, but this is the first time the company has released a smartphone in North America. In doing so, Asus also aimed to essentially woo consumers by offering more for less. At $250 for the base 16GB model Zenfone 2 and $380 for the high-end 64GB model, the aggressive price points undercut a number of competitors.
Both have the same 5.5" 1080p display, 13-megapixel rear camera, 5-megapixel front-facing camera and a 3000mAh battery (that is not removable, despite the phone's back panel coming off). The 16GB version runs on a 64-bit 1.8Ghz quad-core Intel Atom Z3580 processor with 2GB of RAM. The 64GB version upgrades things to a 2.3Ghz quad-core Atom processor with 4GB of RAM. This is the first smartphone released to have 4GB of RAM.
They each have dual-SIM capability, making it one of the only handsets to offer the option to use two SIM cards interchangeably. LTE and AWS support means that customers of all the major carriers in Canada, plus newer entrants like Wind, Videotron and Mobilicity, are capable of running the device. Note that the SIM card slots have their limitations. The main one handles LTE/3G connections, while the second one sticks to much slower 2G connections.
There are four colours: black, silver, gold and red. Newegg, NCIX, Canada Computers and Memory Express are all carrying the device, selling it directly to consumers both online and in brick-and-mortar.
As good as the price is, is it worth going for? We dive in to find out.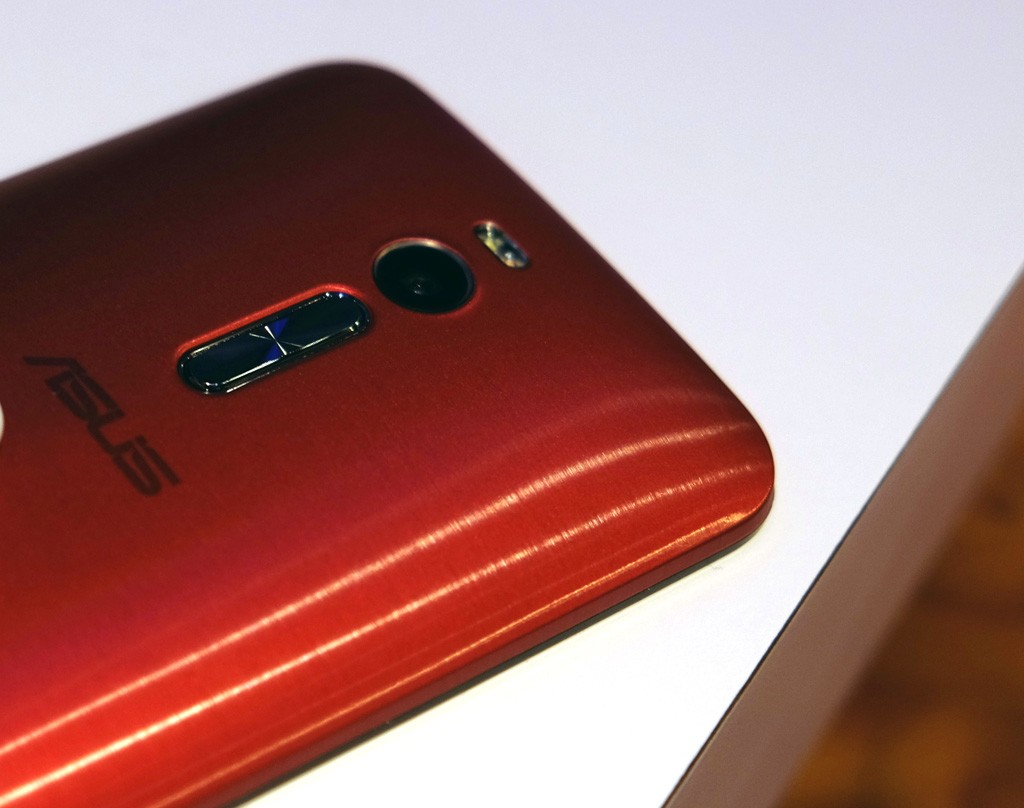 Design
The Zenfone 2 doesn't feel cheap, even if the materials it's made from may not all be premium. The back is a brushed aluminum with a machined finish that looks elegant, though it feels more like a plastic and metal compound mixture when the back is removed. The back also has the volume buttons under the rear camera, matching the design technique used by LG in its G2, G3 and G4 flagship devices over the last few years. The power button at the top is recessed and essentially part of the backplate, so pressing it doesn't offer much tactile feedback.
On the front, the phone doesn't look too distinct, though the three Android navigation buttons are visible at the bottom. The display resolution may not match certain flagships on paper, but that likely won't matter to most users, since higher pixel densities aren't always noticeable on a 5.5-inch screen. It's vibrant, has good colour balance and solid brightness — all perfectly suitable for a phone at this price point or higher.
Software and performance
Asus' ZenUI overlay on top of Android 5.0 Lollipop figures prominently here, but we didn't find it overbearing enough to dislike. What we did notice was the considerable amount of bloatware preloaded onto the device. There are numerous Asus apps, plus others that we've either never seen before, or ever considered using. The Apps4U folder that came stocked on our home screen included popular ones like Amazon Kindle and TripAdvisor, but also curiously included others like Clean Master and 50+ Games. Clean Master's presence almost seemed comical, given the fact it's designed to weed out useless or dormant files and delete them to help free up space. Had Asus reserved its excesses in the first place, it probably wouldn't have to regularly sweep up the crumbs.
The third-party apps that were added can be uninstalled and deleted, but the Asus-branded ones can only be disabled. Depending on what kind of user you are, a little app organizing may be required after first turning it on and setting it up.
The Zenfone 2 does support a double-tap on the screen to wake it up or put it back to sleep, which turned out to be a convenient alternative to pressing the power button at the top.
We found overall performance to be fine once we got past the bloat. The Intel Atom chip seemed to do its job, but it's fairly clear that it won't measure up to the high-end chipsets Qualcomm has been producing. We look at it as a serviceable processor that is above-average and more than capable of handling mixed usage. The 4GB of RAM on the higher-end model doesn't make its presence uniquely felt until multitasking or switching back from app to app. The fluidity of moving things around or having apps run in the background never seemed to hamper the device. Picky users may have reservations going in, but the average user will feel right at home swiping away at anything on the Zenfone 2.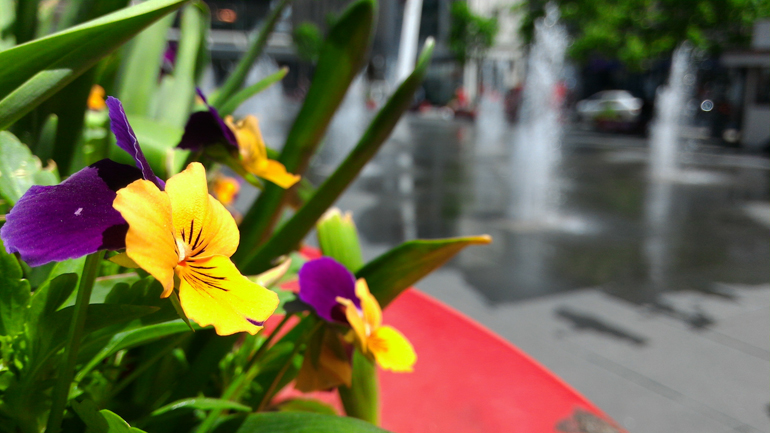 Camera
The camera has no less than 17 dedicated modes, including a Super Resolution mode that processes a scene to create a monstrous 52-megapixel image capturing very fine detail. Some may come across as a bit gimmicky, but others like Time Lapse, Depth of Field and HDR are certainly more attractive to test out. Performance is mostly mixed, but shows signs of being more than viable enough to take great photos. We liked testing out some of the different modes, and felt photos taken in good lighting conditions turned out perfectly fine. Things get tougher at night or in low-light, but with the low-light or manual modes, it is possible to get something good.
The front-facing camera is limited to nine modes, but includes a panoramic feature that allows users to stitch together a wider and longer image around them. We'll leave it to you to determine what you find useful among these modes, but either way, the front camera is decent for selfies.
Battery
Asus packed in a sizeable 3000mAh battery here, but we would hesitate to consider this phone having good battery life. It's not bad, but not great. Of course, this is subjective because it also depends on what you're doing with the phone. More demanding users will notice less life per charge than basic ones, and in either case, lasting a full work day is not a problem. Whether or not you reach for the charger at bedtime is another matter.
Asus does include a power saver app to help the cause, which does allow for some customization, except we did also rely on some third-party power saving apps to see the difference. By default, Smart Saving is turned on, and it can be turned off by sliding down the notification shade from the top of the display. In a crunch for life, opening Power Saver and toggling Ultra-saving mode on is one way to squeeze out considerably more out of the battery.
Conclusion
In one launch, Asus has attempted to address both the high-end and mid-range, offering different configurations that compare well to others already on the market. The internal components are far from pedestrian and the features do show some initial promise. The Zenfone 2 is certainly not perfect, showing some fraying in various respects, but it's never terribly disarming.
The level of performance and features are worth the price of admission, especially given that the phone is sold unlocked and works with almost every carrier in Canada. If you've just become free of your contract, this may be one handset that keeps you from signing up for a new one.