By Gadjo Cardenas Sevilla
Finding a common focus, Samsung and Red Hat are teaming up to tackle next generation mobile enterprise solutions that power mobile-first strategies.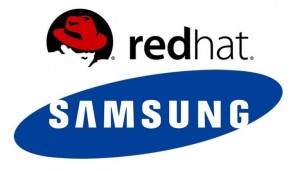 Mobile devices in the enterprise are becoming more important than simple Bring Your Own Device (BYOD) plays. While consumer demand has recently dictated which smartphones and tablets are adopted into the enterprise, and companies like Apple and IBM have even teamed up to build scalable and managed tools and enterprise grade applications for iPhones and iPad.
We're also seeing Google pivot towards businesses with its Android for Work initiative of more secure and managed solutions as well as seeing Microsoft change its tune to becoming an open and available productivity solutions provider by placing Office 365 within reach of competing devices and platforms.
So, it is no surprise that Samsung, who has been tracking enterprise in its sights for some years now, would seek out a partner like Red Hat to form a similar alliance that could leverage each company's strengths.
Announced earlier this week, the alliance will see Samsung's mobile device portfolio combined with Red Hat's open source middleware, mobile and cloud technologies.
"As the leader in enterprise mobile and open source solutions, Red Hat brings flexibility, community credibility, and world-class support for application development and deployments on premise and across private, public, and hybrid cloud environments," a Red Hat representative said. "Building on its leading position in consumer products, Samsung Business Services, part of Samsung Electronics America, provides a diverse portfolio of technologies targeted for business from smartphones to wearables, tablets, digital displays, hospitality TVs and printers."
The key focus of this synergy is mobile. Mobility is huge for many businesses as a means to drive innovation, streamline operational efficiency, and develop new business models.
The next generation of mobile business solutions is expected to be defined by greater levels of openness, agility, and access to critical business information, while still maintaining required levels of security. The joint mobility solutions from Red Hat and Samsung Business Services intend to deliver on those needs and help partner businesses advance and accelerate their mobile initiatives.
Samsung has enjoyed popularity as a consumer solutions and device provider. It has tried to bolster its reputation in enterprise and business, where it hasn't managed to penetrate the market as much. Samsung has teamed up with BlackBerry to improve its focus on enterprise solutions, so taking on Red Hat makes sense as a natural next step
"Effective and successful enterprise mobility strategies take into account both platforms and devices, and how they come together to help enable powerful end-to-end mobile solutions," said Craig Muzilla, senior vice president, Application Platforms Business, Red Hat.
"We believe deeply in the power of collaboration, and we're excited to join with Samsung in not only delivering a new generation of mobile solutions for the enterprise, but in empowering customers to achieve new levels of innovation in mobile."
Together, Samsung and Red Hat plan to collaborate and deliver on the following
Business applications: A series of enterprise-ready industry-specific mobile applications that will run on the Red Hat Mobile Application Platform and address key workforce management and business tasks, such as business intelligence, field and customer service, inventory management and sales catalog, pricing, ordering, and invoicing. The applications will be designed so that they can optionally be customized and tailored to fit the needs of an organization's unique needs. The mobile applications will run on Android and other operating environments via the Red Hat Mobile Application Platform, and will be configurable to integrate into common enterprise back-end systems
A developer ecosystem: Tools and resources to build and nurture a new ecosystem of enterprise partners and developers to promote rapid innovation and availability of solutions that meet both current and emerging needs in mobility.
Support services: Integrated support for customers and partners, Enterprise Mobility Management (EMM), and global delivery and support services for the Red Hat Mobile Application Platform.
Business collaboration: Red Hat and Samsung Business Services plan to actively engage in joint go-to-market activities for the solutions developed through the alliance.