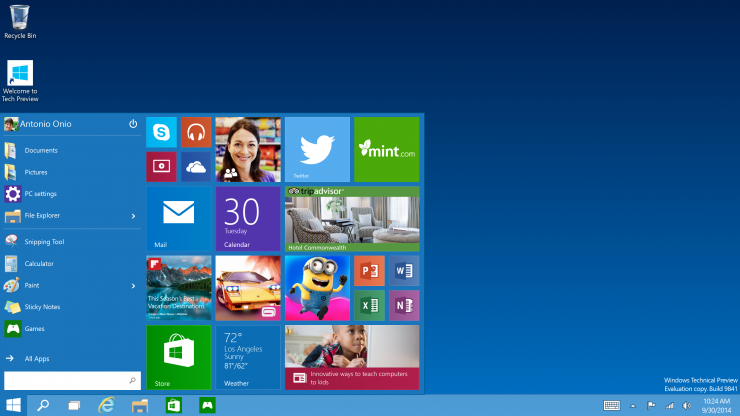 Windows 10 is now officially out of beta and launched to the masses, ushering in a new era for Microsoft that will see the company use the operating system as a multi-device platform that will run on computers, smartphones, tablets and the Xbox One gaming console.
Moving away from past practices of selling a new Windows version, Microsoft is instead offering it for free on most Windows 7 and Windows 8 machines in 190 countries. There will be some select stores selling it on a USB. Users would have to opt in for the update and also meet the hardware requirements to be able to run it. Those who already reserved their upgrade to Windows 10 will receive notifications to install it. Those who recently bought a PC or are buying a new one now will also eventually receive the update.
The major feature that could be the main driver for the kind of record adoption Microsoft is looking for is Continuum, optimizing Windows 10 to run as best it can on whatever hardware it's running on. This would make the OS highly scalable, and capable of running on a wide range of devices that include not only desktops, laptops and mobile devices, but also the Xbox One, Raspberry Pi and other non-traditional products like Microsoft's HoloLens.
If the integration is as seamless as the company believes, it could give Windows Phone a shot in the arm to be more competitive, while Windows 8 tablets would feel more natural. It might be too late to save Microsoft's mobile business (at least on the consumer side), but this integration is fairly widespread if it works the way it should.
Part of this includes an app strategy wherein traditional desktop Windows apps, but also "universal" apps available on the Windows Store that could run on anything that Windows 10 supports, are mixed together. This would effectively fuse both types of apps under one trusted umbrella.

Then there's Cortana, Microsoft's voice assistant designed to compete with Apple's Siri and Google Now. To this point, no voice assistant has been integrated in such a way where a command from one device could lead to action on another. Time will tell if Cortana will be that deep an assistant, but for now, it's built-in to Windows 10 and is listening for commands. It can search for documents stored on the device and also do web searches, on top of its ability to launch apps and answer queries of various types.
The return of the Start menu is likely to please many users who hated losing it in Windows 8. Windows 10 merges the list design seen in Windows 7 with the tile interface of Windows 8, adding two elements that are both immediately familiar and user-friendly.
The Groove music app replaces Xbox Music, and is now also a service that can import and play iTunes and Google Play music libraries.
Internet Explorer is no more on Windows 10, having now been replaced by a lighter and cleaner browser called Edge. No extensions are currently supported, but it does allow users to write or type notes onto web pages and share them with others.
As it stands, most devices with Windows 10 pre-installed are launching to market in the coming months, so you don't have to rush right now, if you don't want to. But with Back to School starting in earnest in August, expect to see a number of new computers and mobile devices be released.
Related Articles: