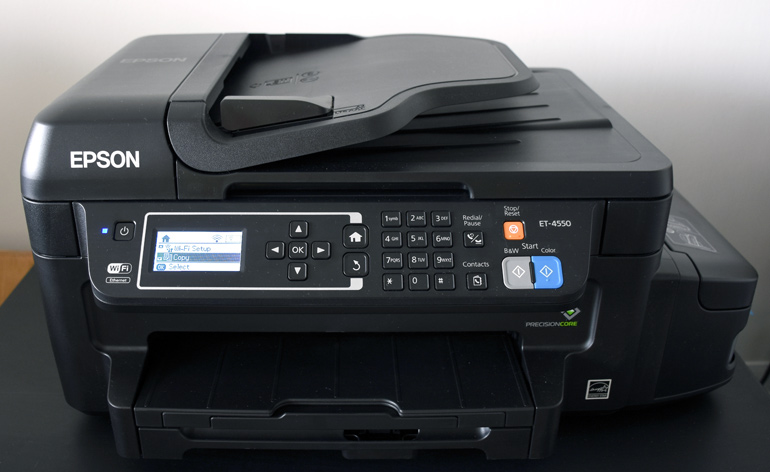 For those who print a lot of documents, Epson thinks it has the right answer with its WorkForce ET-4550 EcoTank all-in-one printer. Not a true inkjet, nor a laser printer, it uses ink tanks with enough inside to output documents for up to two years.
Ink has long been the key to any printer purchase. More recently, manufacturers would lower the price of the hardware to incentivize consumers, only to have replacement ink cost more. Epson's ET-4550 is the top of the company's EcoTank line, costing $600 in retail. The higher upfront cost is supposed to be offset by the ink's longevity and reasonable price for replacement.
Basically, the printer is supposed to last for years — something that seems counter to what manufacturers, including Epson, have been doing. But here, the numbers are hard to ignore. Quantifying the two years worth of ink should amount to 11,000 black or 8,500 colour pages, according to the company's estimates. These figures are reportedly equivalent to about 50 ink cartridge sets, an astonishing amount with a price tag to match.
It's a compelling message, even if the printer is $600, because two years worth of ink also comes with it. The only catch is what you're printing and how much you're printing.
Like many all-in-one printers, the ET-4550 isn't the smallest footprint, and the ink tanks off to the side do push the frame a little wider. Printers that are made for small and home-based businesses tend to have a little extra girth and heft to them, and this one is no different.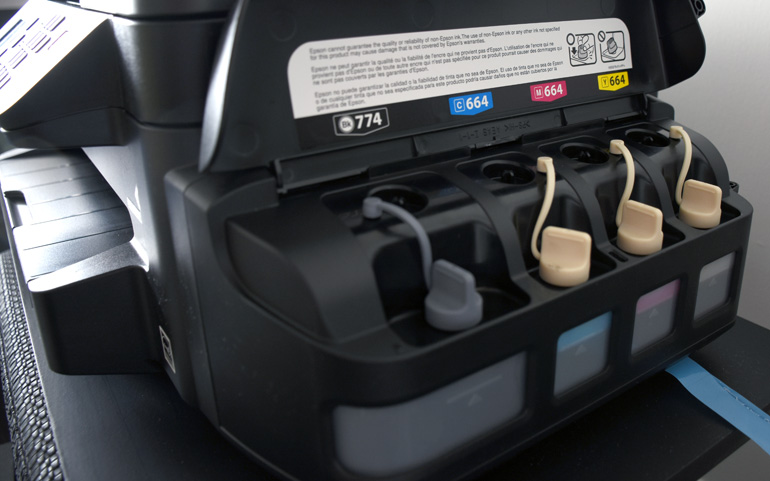 Filling up the ink is a cross between pumping gas and feeding a baby. The ink bottles need to be carefully opened, and then poured into the corresponding tanks. A pair of plastic gloves did come in the box of our review unit to help ensure setup doesn't become messy. Epson's manual even references this by stating the obvious: ink that gets on your clothes may not come off. It also warns against drinking the ink, in case anyone was inclined to do something that foolish.
There are four tanks in all — black, cyan, magenta and yellow. Eight bottles come in the box with the printer, with both black bottles being 140ml, and the colour ones 70ml each. Only one of each is necessary to fill up each tank initially, making the others spares for refilling later. All told, this is a significant amount of ink. Inkjet cartridges vary in size, though have substantially less ink, to the tune of between 5ml-16ml. These bottles trounce those figures.
Without ink cartridges, there is nothing to align, so the setup process here is different — and faster. On the back, there is a USB port for an ad hoc wired connection, as well as Ethernet to network the printer, if close to a router. Wi-Fi support is built-in for wireless printing, including the ability to print directly from mobile devices using the Epson Connect app for iOS and Android. This does also include mobile scanning, directly to Dropbox, Box, Google Drive and Evernote.
There is a 30-sheet automatic feeder for legal size documents at the top. The bottom tray maxes out at 150 sheets, which is low compared to laser printers, so the ET-4550 is more about overall volume than single output. Two-sided printing works here, too.
Scanning and copying are pretty standard features here with no real surprises. It can also be used as a fax, in case you have a need for that.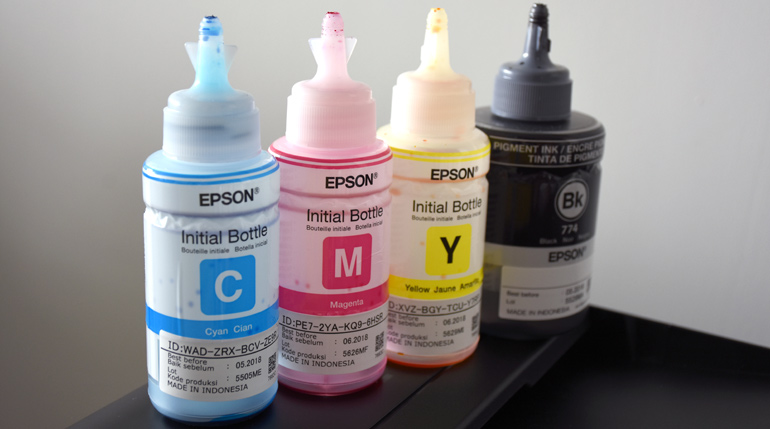 Despite its ink credentials and all-in-one design, the ET-4550 isn't a clearly defined printer. It doesn't have a unique specialty outside of how long the ink lasts. It's not particularly adept at photos, colour documents or highest-quality prints. It's a utilitarian printer that can print whatever you need, with an emphasis on volume over time.
The ET-4550 is capable of printing just about anything on any paper stock, save for a few exceptions we noted. Glossy photo paper seems to be a problem for this printer — not because it can't be fed through it — but more because images don't look good enough on it. Matte photo paper offers much better results, though the colours that appear onscreen may turn out a little different in the finished page. With a little time, you get an idea of how to manage the disparity between the two.
More often than not, this printer will be used to churn out a large number of regular documents. Plain white paper is fine, and documents will generally look good on them, but we became mindful that printing at higher quality didn't always deliver the precision we were looking for in specific documents. The issue seems to be that smaller font sizes and tighter legibility pose a challenge for the ET-4550. The text comes out fine, except it doesn't appear to have the depth that is common in high-quality laser and inkjet printers.
For most monochrome documents, this is a non-issue. But for resumes, published reports and important business reports, it can be a cause for concern. We recognize that print quality is largely subjective, so what might have been mediocre for us might be more than suitable for others.
The point of the ET-4550 is to print in large amounts, particularly over a 24-month span. There is no guarantee the ink will last two years. Printing a mix of thousands of black and colour documents and photos could see the ink last well below that mark.
It's for that reason that we would only recommend the ET-4550 for users who have high-volume printing needs, especially when running a small or home-based business. Students who need to go through a lot of paper may also benefit from the added output as well.
Epson does have the ET-2500 ($460) and ET-2550 ($480) for lower yields and added colour, topping up at 4,000 black and 6,500 colour pages.
If you seldom print, than you don't need to go with any of the EcoTank printers. A standard inkjet will serve your limited need just fine. But if volume is something you need and want to avoid the range anxiety of ink levels, Epson's EcoTank printers are worth a look.