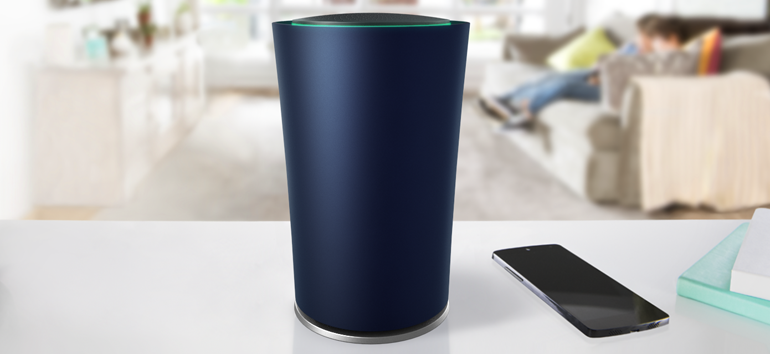 Google's OnHub is a router designed to simplify setup and maintenance in a way that wouldn't befuddle the average user. Its design inside is also aimed at pushing out a better Wi-Fi signal over a larger area to improve connectivity around the home. With this combination, the OnHub is ideally suited for novices, but at the expense of alienating more advanced users.
The OnHub's cylindrical form factor may seem new, but it isn't. D-Link has been making similar designs for the last few years. The purpose of going with a build like this is two-fold: it's easier to put anywhere a regular router wouldn't fit, like a bookshelf or exposed table, and the 13 antennas inside can spread out more evenly.
The LED ring light at the top is a visual indicator of the OnHub's status. White means it is on and active, blue is ready for setup, teal saves settings and orange indicates a problem. It's a small thing, but a big concession for users who might otherwise be intimidated at setting up a router themselves. With a light and an app holding one's hand, it surely can't be that hard, right?
It's true that it isn't. This was the easiest router setup we've experienced to date. We had already downloaded the free OnHub app for Android and iOS. We then plugged in the router's power cord and an Ethernet cable coming from the modem. After logging into the default Wi-Fi network (the details are on the bottom of the router), the app immediately recognized the OnHub and set about providing step-by-step instructions. We were up and running with a new network name and password in under five minutes.
Once devices were connected to the new network, they appeared in the map on the app. It also broke down how much bandwidth was going to each device. The one issue we had with this was that it didn't always reflect the specific names we gave to the devices. The iPhone was simply listed as "Apple," while the PlayStation 4 was listed as "Sony." This becomes problematic when multiple products from the same vendor are connected. The iMac, MacBook Air and PC laptop we were using were all named properly, whereas it was a mixed bag with mobile devices.
We could prioritize bandwidth to a specific device over an allotted time — ideal for Netflix binging or online gaming — and also restrict access to a device within a set time, which is essentially parental control. In cases where there is a bottleneck, the app is supposed to identify where it's coming from, yet we encountered mixed results with that.
The OnHub has two Ethernet ports in the back: one for the incoming connection from the modem, and another for outbound connections. Routers, especially at this price point, usually have four LAN ports, not one. So, connecting various components that may need a wired connection will require using a switch. These have come down in price, but it is something to consider as an addition to that of the OnHub for a truer cost, if you need it.
Smart home devices generally have hubs that connect directly to a router. Philips Hue, Wink, Sonos and Ooma are a few examples we have laid out. In addition, we had a powerline adapter route the Internet connection through the home power lines to the home theatre in another room.
With a switch, the OnHub worked fine, but when connecting a powerline adapter directly to the router, it recognized the devices, yet couldn't funnel any bandwidth over to them. We tried to troubleshoot and figure out the reason, but got nowhere. When we connected the adapter to the switch, we were up and running. It's also fully compatible with Wi-Fi extenders from other manufacturers, which we confirmed.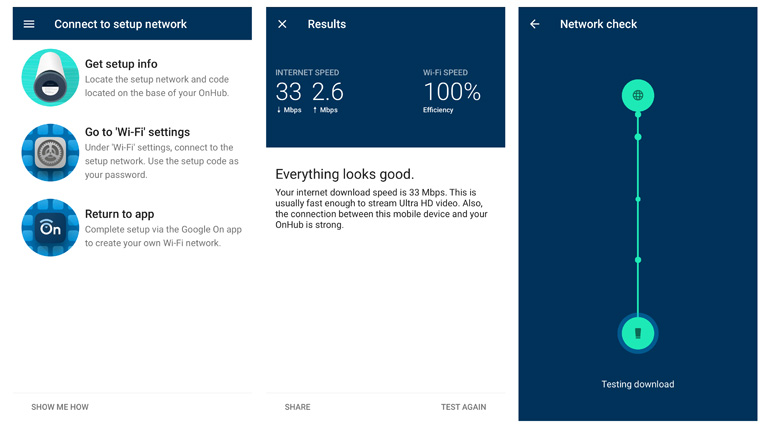 Wi-Fi performance was superb in our testing. Where we would struggle to get a solid connection with other routers we've tested, the OnHub maintained a steady stream — as much as an extra 10Mbps download speed in some areas. Part of the reason for this may be the extra antenna inside. The OnHub has six 2.4GHz antennas (802.11n), six 5.0GHz antennas (802.11ac) and 13th one for tracking interference from other devices and networks. Navigating that clutter makes the OnHub automatically settle on a channel that nearby networks aren't using, thereby facilitating a smoother consistent connection.
With 3×3 MIMO and a total theoretical bandwidth of 1900Mbps, as well as Bluetooth Smart Ready and wireless protocols for connected home products, the OnHub is not quite on par with all the other routers in its price range, but it is the easiest to set up and use.
The reason for that falls squarely on the app and Google's On management system. By automating and cutting down steps, the OnHub's setup feels a lot like a plug-and-play situation — something routers have generally never been. The quality build by router manufacturer TP-Link and Google-infused design certainly doesn't hurt, either.
But, as noted, this all comes at a price: $270. That's right up there with top-flight routers that offer more advanced controls. For that reason, the OnHub is not the most ideal for seasoned networkers who want to have unrestricted access to a router's various functions. That's not to say there isn't enough to appreciate here, but it's clear who Google is vying for with the OnHub, and it's not consumers who know their routers.
The OnHub is available now in blue or white, exclusively at Best Buy and the Google Play Store.