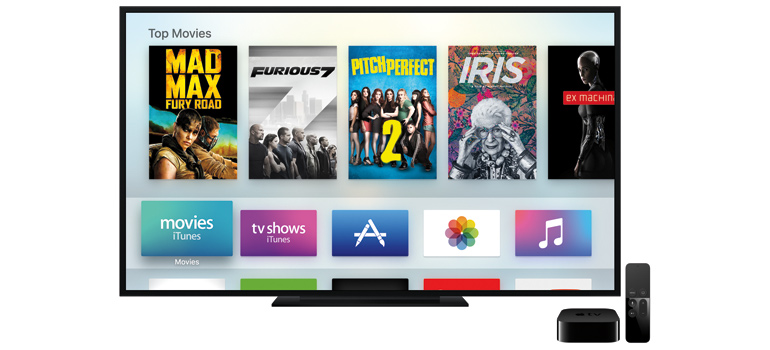 With the new Apple TV now having been unveiled, the device that was once famously coined as a "hobby" is evolving to become a device that may play a role in changing how consumers view their content. Its future isn't entirely clear, however, and that has a lot to do with what's missing out of the gate.
When Apple CEO Tim Cook stated, "The future of TV is apps," he was merely stating the obvious. The Roku is a testament to how impactful an app-driven platform can be in making streaming video easy and user-friendly. Except Roku isn't Apple, and as such, doesn't have the install base of users who are already using iOS devices, Macs or buying content from iTunes.
A new operating system, tvOS — effectively a subset of iOS — will be driving the Apple TV's software experience, and already, a number of developers have signaled they will be supporting it (which should come as no surprise). The company never took the previous Apple TVs seriously enough to offer something akin to what this one will reportedly provide. There was a smattering of apps, like Netflix, YouTube, Plex and others, but never a truly wide spectrum. And certainly no games.
This sea change in direction is a response to the old cable TV model's slow death march to irrelevance and Apple's attempts to steer that ship to the 21st century. Missing from the company's announcement was a streaming service that would meld live TV with on-demand content — something that has been rumoured for some time. As Apple never publicly comments on products or services it's working on, the only logical conclusion is that negotiating rights deals proved too difficult to nail down in time for launch.
This omission, at least for the moment, is crucial. Apple has the opportunity to truly change how live TV channels are distributed to viewers. That's not to say they can't do it, only that not being part of the new Apple TV is disappointing. It was natural to assume that this new box would trounce its predecessors in performance, but the expectation included a trouncing of the feature set, too.
The apps will have to do for now. The new Apple TV's open-door policy means now that they've built tvOS, the apps will come in droves. Roku has already proven the app-centric interface works really well, currently touting more than 1,700 streaming "channels," as Roku calls them. The almost endless supply covers a lot of ground, even if live TV remains a tough nut to crack, especially with sports.
Apple had Major League Baseball show off its Apple TV app at the keynote on Sept. 9. Impressive, to be sure, and it's easy to imagine that NHL GameCenter will present a similar experience. Except these will be vulnerable to local blackouts. U.S. consumers who subscribe to Sling TV may benefit greatly if or when that app is made available on the new device.
Despite the fact the new iPhone 6s and 6s Plus can record in 4K, the new Apple TV doesn't support the higher resolution. That not only cuts out the 4K clip of a baby's first steps, but also Netflix in Ultra HD, all but ensuring you will be upgrading to the next iteration of the device whenever it comes to market amidst a greater breadth of 4K content.
Apple also rolled out voice search and a motion-sensored remote (that looks and performs better than Roku's). That opened up all sorts of prognostications about the box's viability as a gaming platform.
Suggestions that the new Apple TV will be a 'console killer' are premature at best, shortsighted at worst. This device is not going to run the latest Call of Duty or Batman Arkham title for PlayStation 4 and Xbox One. Casual gaming — the kind that Apple helped cement in peoples' everyday routines — appears to be the primary focus. Even with a motion-sensored remote, will consumers flock to play games on it? We can only speculate, but it does have some stiff competition to contend with. The Nvidia Shield Android TV Box is slated to be a capable streamer that will do 4K and include streaming high-quality games direct from a PC or the cloud. And it comes with a proper gaming controller.
More than likely, the Apple TV will be a nice part of a home theatre or bedroom TV setup, but its long-term implications on the entertainment business are still up in the air. It will finally shed its "hobby" image, though it may be another year or two before we see what the Apple TV will be capable of.