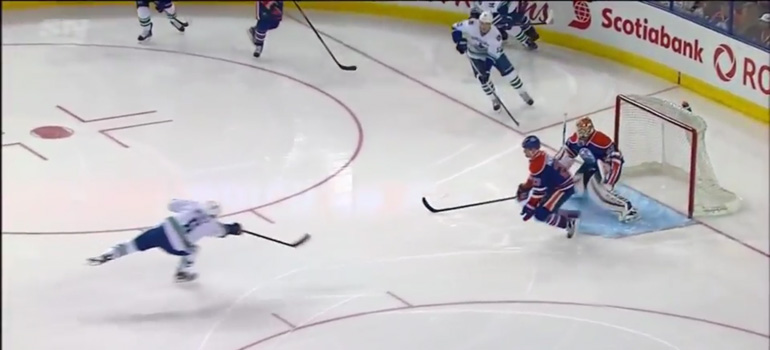 The puck drops on the 2015-16 NHL season, and the NHL GameCenter Live streaming service continues into its second year under Rogers branding. Not much will change in the presentation, but access to more games continues to creep up.
Somewhat surprisingly, perhaps, GameCenter Live offered more games than the service did prior when it was entirely under the NHL's auspices. Nationally televised games, the Winter Classic, Stadium Series and All-Star Game were all blacked out before, but were made available to subscribers last season.
The Rogers branding for GameCenter is part of the 12-year, $5.2 billion deal signed with the NHL in 2014 for national broadcasting rights in Canada. With those rights locked up, the company looked to broaden the scope of content GameCenter could offer beyond games and replays.
In prior years, subscribers wouldn't be able to stream games of the team in their local market. For example, someone in Montreal looking to stream Canadiens games would be blacked out because the TV broadcast rights took precedence under agreements with the NHL. For that reason, the service was primarily aimed at fans of out-of-market teams, so that a Vancouver Canucks fan living in Halifax would run into few issues streaming the team's games.
After Rogers paid a fortune to snatch the national rights, games that were otherwise off-limits opened up last season. Hockey Night in Canada broadcasts on CBC, plus the Wednesday Night Hockey broadcasts on Sportsnet, were readily available on GameCenter, despite being national (if you had these channels on your TV package). And for the first time, the entire Stanley Cup Playoffs run was available to stream last season.
Blackouts still apply to regional broadcasts, particularly those from TSN or other local broadcasters. Rights agreements take these games away from GameCenter Live, though using a VPN can circumvent the restrictions and make games entirely viewable, technically making the entire 1,230-game NHL schedule available.
Rogers also released details regarding game availability here. The gist of it is that subscribing to Sportsnet, TSN, RDS and TVA Sports as part of a monthly TV package guarantees access to the games those channels broadcast on GameCenter Live. If you have these channels with Bell, Shaw or another TV provider, those games will be blacked out on GameCenter. Those on Telus Optik and Videotron are exempted, meaning their customers will get access to those games as GameCenter subscribers.
Sportsnet, TSN, RDS and TVA all offer their own streaming apps for live games to subscribers who already pay to get those respective channels through a TV provider.
As far as GameCenter's features go, not much has changed. As a subscriber, you can choose between the home and away broadcast (or French, when available), pause, rewind in-game action and check out highlights that have been posted in the game stats.
Multi-game viewing can split four games onto one display on a PC or Mac computer when logging in through the Rogers GameCenter Live website. Social media is also figuring in more prominently this season, with the ability to share directly from the app.
Rogers customers get exclusive access to GamePlus, which includes a number of specific camera angles from different parts of the rink, as well as behind-the-scenes content. Not every game offers GamePlus, however.
Device support is extensive, with the most notable addition for this season being the Google Chromecast. Having just launched a new version, the timing could be ideal for those wielding Android or even iOS devices. The Apple TV, Roku, PC, Mac, PlayStation 3 and 4, PSVita, Xbox 360 and Xbox One all round out the rest of the device compatibility.
Rogers is throwing in GameCenter Live for free for Share Everything and Ignite Bundle customers. Customers with "ineligible" plans or non-Rogers customers will have to pay $200 for the full season or opt to go $30 for month-to-month, cancelling at any time. Fido customers don't get any perks when it comes to GameCenter, and aren't considered Rogers customers.