Sports fans hearing about some new apps in the online stores at Apple and Google, a sudden influx of thousands of new users, a year of substantial growth for the developer and $1 million in funding can be forgiven if they think there's a new eGaming or fantasy sports app.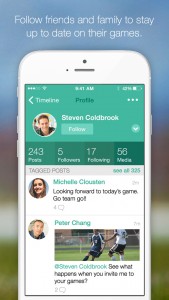 Fantasy sports and gaming apps are getting a lot of attention these days, but it's another kind of sports application from Canadian developers that's turning heads and attracting both followers and funders.
Eyeball is the name of a new mobile app, the company in Halifax that created it, and a growing online community of coaches, fans and players in amateur sports that now has a new way to connect, communicate and celebrate at any time, from any location.
Anyone who's into organized sport knows there's a lot to keep track of – managing schedules, scores, stats and the like – and that players, coaches or fans need to access the information at almost any time.
So Eyeball offers features like instant chat and real-time scorekeeping, and people in amateur or community sports activities can stay up-to-date on time changes for games or practices, find the hotels nearest to a tournament, check what team is winning a game and even who scored the big goal.
Not surprisingly, the two developers were at least partly motivated by personal experience with amateur sport. Very appropriately, they also had direct experience with the high tech mobile sphere, having sold two of their earlier companies to BlackBerry.
"I have two girls in amateur hockey," describes Jay Steele who, along with partner Shaun Johansen, founded the company. "Between the two, there's ten years of hockey. I love to watch, to go to the rinks, and the whole experience is great. But trying to text my wife, to coordinate schedules and keep connected was frustrating, especially during a tournament down in Boston. We were cobbling together tools that were not really intended for what we needed to do. I figured there's got to be a better way."
As tech guys, they saw a way to extend the underlying connective fabric created by popular social networks into the sports realm, adding tools to keep stats up-to-date, to tap a player's name and immediately see or 'eyeball' important information, and to support in-game communications without having to phone or email.
With an important game going on, the underlying technology that keeps all the special sports tools working smoothly had to be "as invisible as possible" for the end-users, Johansen said. "Tech only gets in the way."
It's a solution that resonates with all the sporting constituents – fans, players and team officials, like Terry Sydoryk, head coach of the Calgary NWCAA Minor Midget AAA Bruins: "Our team is often on the road, and our fans and the parents are always eager to know the score. Eyeball takes the pain away… Keeping people up to date on the scores at live amateur sports has never been easier."
That's what officials with the Central Nova Scotia Minor Hockey Federation (CMHF) are saying, too.
Eyeball and the Federation have partnered for the current 2015-2016 hockey season on a major project to get the Federation's 15,000 players – along with their coaches, managers and fans – on the platform.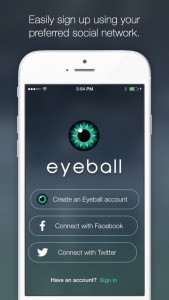 Users can tap into and communicate with a community of players, managers and parents/fans from one place, either individually or collectively, without often costly phone calls or sometimes confusing email threads.
Beyond the benefits gained from using the app itself, CMHF teams can get help from Eyeball in funding their seasons, based on app participation: at the end of each specified month, a qualifying team with the highest participation on the app (a combination of followers and usage) will be awarded a cash sponsorship.
(Now, puckheads will know, but many may not: the CMHF is a star-making machine: its alumni include hockey greats Nathan MacKinnon, Brad Marchand and Sidney Crosby.)
So hockey of course makes perfect sense as the starting point for the app's development, a natural entry into the market, but as the Eyeball partners say, "By no means is hockey the end game."
There's pull for the product in sports arenas they never imagined, including badminton, volleyball and swimming. Loads of people are participating in these sports at the community and scholastic level, and the amateur sports are just as important to them as 'the big sports'.
Over the past decade, amateur sports have grown tremendously in both popularity and profit, with one study by Sports Events Magazine showing that a family with two kids playing amateur sports will spend around 14 per cent of its income on the costs of playing.
"We know the teams and their fans need to stay on top of what is going on at any time, in any place," said Steele. "Eyeball has features for real-time discussion, photos and live crowd-sourced scorekeeping and statistics, and users are creating their own interactive communities around the players and teams they care about."
Creating community is critical for the company, too: the app is free, and while there is a path to monetizing its usage eventually, right now, the goal is getting the app into as many hands as possible, and making sure it is making it easier than ever for sporting communities to enjoy their sport and share their successes.
Another important community is 'eyeballing' the app, too: the investment community.
Earlier this year, a leading seafood company in the Maritimes, Clearwater Fine Foods Inc. (CFFI), extended $1 million in support to fund future development of the company and the Eyeball app.
Based on the impact of the app so far, and the promise of the amateur sports market in future, that's little to gamble on in that game.
-30-