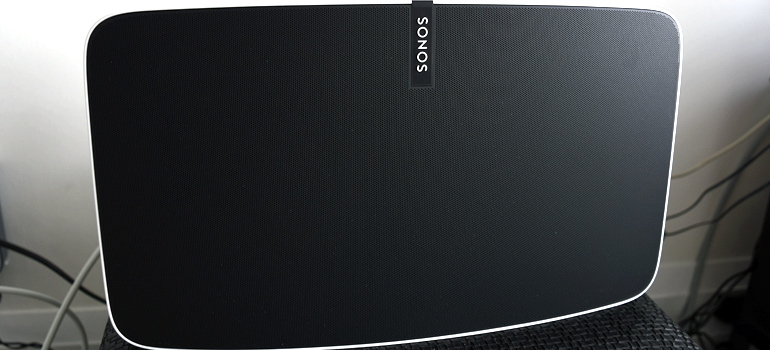 Sonos is back, and it has brought a new-and-improved Play:5 speaker to market that promises to deliver bigger, bolder sound in an elegant package that could fit in almost anywhere. The results are highly encouraging, and may be good enough to woo both current Sonos users and newcomers.
It's a rarity in the consumer tech space that a product can go six years before its successor comes to market, and yet, that's exactly what Sonos has done with this new Play:5. The previous model released in 2009 was unique for its time — a wireless speaker with solid performance and the foundation for what could grow into a multi-room sound setup for any home.
Since then, Sonos has become a more widely recognized brand, and with greater Wi-Fi proliferation, has become the de facto standard-bearer for wireless, multi-room audio. The Play:5 is an important piece of that puzzle because it's the best Sonos has produced to date, making it the company's flagship.
If you're not familiar with Sonos, connecting the dots isn't too difficult. Essentially, Sonos speakers can wirelessly communicate directly to a home Wi-Fi connection, or through the Bridge, a small box that connects directly to the router and distributes a specific wireless signal to the speakers. The Boost is a similar device with an amplified signal.
Through the free Sonos Controller app (iOS, Android, Windows Phone, PC and Mac), a number of music streaming services are supported. Popular ones, like Spotify, Rdio, TuneIn, Google Play Music, Songza and Tidal are mixed with others like SoundCloud, Napster, Deezer, 22Tracks, Bandcamp and Groove. You can add any you have accounts with, accessing whatever songs, albums, playlists or favourites you may have for each.
In a scenario where there are multiple Sonos speakers, you can have different songs playing on each one, or the same track on all of them. Group certain speakers together, and make adjustments to the EQ and volume.
The Play:5 is the new king of the hill for Sonos, and the company made sure to fill it up. It sports three tweeters, three woofers and amplifiers for each inside the chassis. The outside is a prettier picture than its predecessor, despite looking bigger. Clean lines and a simple layout make the speaker look uncomplicated. New to this model are touch controls at the top, where swiping up or down controls volume and left or right switches tracks. A tap will play or pause the music.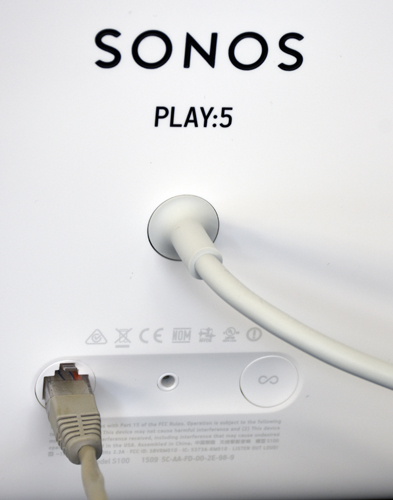 The neutral colour schemes of black/white and grey/black may not be flashy, but they are more elegant, fitting in nicely to any home décor in any room.
The 3.5mm line-in port in the back is a welcome addition because it opens up the Play:5 to anything that can play audio through a headphone jack. I was able to play tunes from Apple Music (Sonos support coming soon), as well as from video sites and even my TV — all by simply connecting a line-in cable at both ends.
Still, the name of the game here is wireless and sound quality. The flexibility of going wireless has always been crucial to enjoying Sonos speakers, and it helps the cause when the audio gets a boost or two.
I immediately noted a cleaner, more balanced sound clarity coming out of the Play:5, with bass that started to roar the further up I went in volume. The key, at least for me, has always been mid-range volume. Living in a condo, or in a home with others, being respectful of others and the fact music is largely a background presence for me, it was the Play:5's performance at those lower volumes that I was curious about.
The good thing was that, in true Sonos fashion, it didn't discriminate across musical genres. It lacked a little punch on the lower-end for some tracks, but with the help of some tuning, things started turning out better.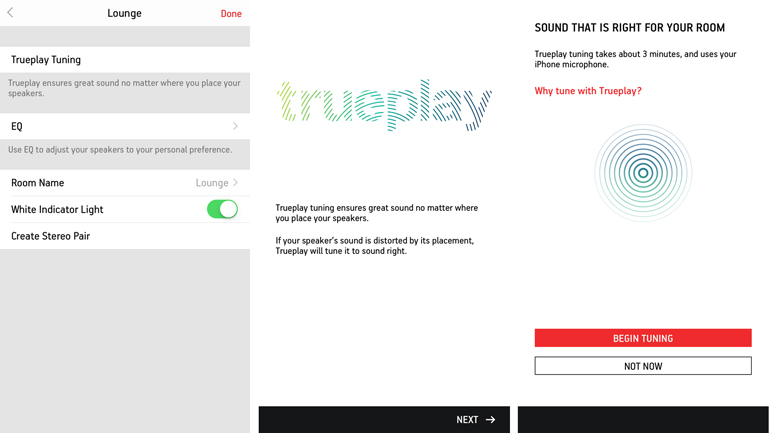 Sonos recently rolled out a new software feature called TruePlay that runs off of the app. It plays a set of sounds and has you wave your phone around the room with the microphone facing out to measure the acoustics and the speaker's position. When done, it tunes and calibrates the speaker's output based on the feedback for what should be a better overall sound experience. So far, it currently only works on iOS. Android is said to be "coming soon", but no date has been confirmed.
The result did improve frequency response on the lows at lower volumes, indicating that the feature does have some merit in what it purports to do. But it just sounded better overall because of it, and since it can work on the previous Play:5, plus the Play:3 and Play:1, it's not a feature that is stuck on only the newest member to join the club.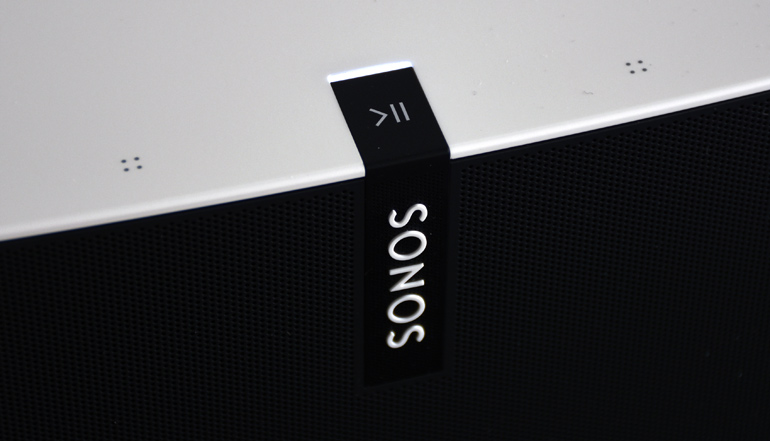 I could always raise the bass or treble through the EQ settings for each speaker as I saw fit. I always keep "Loudness" turned on because its effect is actually more pronounced at lower volumes. At least for me, anyway.
The Play:5 never truly disappointed me to the point where I shook my head or winced in disapproval at what it was doing. I found it interesting how different tracks would sound from different sources, too. Sonos' app is one of the few I've seen where it's possible to create a mixed playlist of tracks. I had a playlist of songs, from no less than eight different streaming services, plus some stored on my iPhone. This isn't a new feature, mind you, but it's one I have appreciated since the company first released it in beta.
The Play:5 is powerful enough to easily fill a larger room, but its size shouldn't necessarily be synonymous with where it should go. It's fine in a large living room or a small bedroom, provided you have a good spot for it. The consistently good sound quality at both lower and higher volumes makes it more than just a big speaker capable of big sound. This is an all-around driver that fits anywhere you want it to.
At $550, the Play:5 doesn't come cheap, though I do feel this is a matter of getting what you pay for. The issue is that getting the most out of a Sonos speaker (or system) means adopting the streaming services it supports. Apple Music is still missing, yet is on its way. If you don't subscribe to any of them, and prefer to only use the ones that are free, like TuneIn, Songza, SoundCloud and Spotify with ads, you will be better served when you have a subscription to at least one streaming service from the whole lot. Even better if you have a lot of music stored on your phone, tablet or computer to complement that.