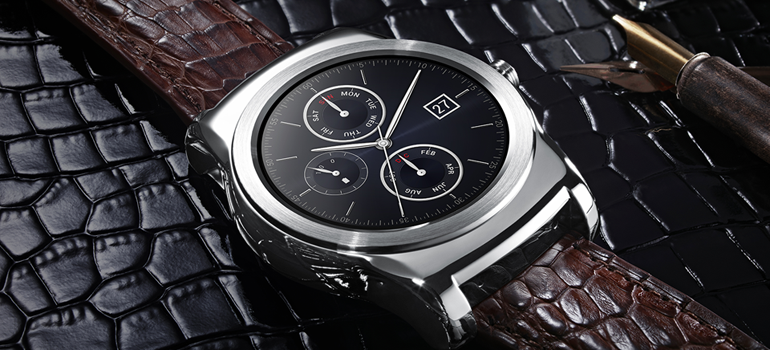 Whether or not you actually need a smartwatch is another question. It fills a want more than a need, and leans further toward convenience and practicality than it does changing how you interact with your phone (or your life) in any profound way.
Still, they are cool, and the current crop is a fairly solid grouping.
Motorola Moto 360

Arguably the best-looking smartwatch of 2014 is back with a newer model that just came to market in the fall. The new Moto 360 comes in various bands in both 42mm and 46mm sizes, including an easier way to switch bands from the lugs. The same Horween leather is used from last year, as is the heart rate monitor underneath.
Running on Android Wear, the improved software experience, coupled with the better hardware design, makes the this one of the best smartwatches available. It can work with the iPhone, albeit with limited functionality, so you won't be able to use apps, respond to messages by voice or control music playback.
The Moto 360 varies in price from $380 to $430, depending on size and band.
Samsung Gear S2
This is, by far, the best smartwatch Samsung has made to date. And that's saying something, considering the company released no less than six failed models in less than two years prior to the Gear S2. Coming in the Gear S2 Classic and the more sporty Gear S2, the former has a leather band that is easy to replace, while the latter has a more fixed rubberized band that can handle sweat better.
The best part of the watch is the Tizen-based interface, which makes great use of the rotary bezel around the 31mm watch face. It's not an Android Wear watch, but can work with non-Samsung Android smartphones. Our recommendation, however, is that you only consider the Gear S2 if you are wielding a Samsung handset.
The Gear S2 is available now $400, and the Gear S2 Classic is $430.
Huawei Watch
This watch stakes a real claim to being one of the prettiest smartwatches available, given its classic look. This is the company's first attempt at a smartwatch, and is a good debut, any way you look at it.
It has a nice metal body with different options for colours and straps. You can go leather or steel. There is a heart rate monitor, yet strangely, no ambient light sensor to control screen brightness automatically — a curious omission for a smartwatch at this price point. It also doesn't come with a wireless charging cradle because the watch itself doesn't support it. A separate cradle to simplify charging is available for $50.
The Huawei Watch itself starts out at $500, making it among the most expensive on the market.
Asus ZenWatch 2
For Asus, the ZenWatch 2 has a better look than its predecessor, going for a more refined feel. It doesn't go with the rounded watch face of other competitors, using a rectangular form factor instead. There are 45mm and 49mm models to choose from, with leather bands that use a clasp instead of a hook.
Being Android Wear-based, the ZenWatch 2 doesn't do anything differently from a software perspective when compared to others running the same operating system. There is no heart rate monitor embedded in it, which may also be a usability factor for you.
It does come at a good price ($230) though, and may be worth a look if you're on a tighter budget.
LG Watch Urbane
A much better design than LG's previous smartwatch attempts, the Watch Urbane is a nice mix of aesthetics and functionality. The metal body surrounding the round face looks nice with the leather band, combining for a good-looking timepiece.
It has 2.5GB available for storing data and music for offline playback or via Bluetooth to wireless headphones. It runs on Android Wear, so won't do anything differently from other Wear-enabled smartwatches. There is no built-in GPS, but there is a heart rate sensor and the watch is water-resistant with an IP67 rating.
It currently sells for $400, which is a little pricey compared to competitors with more features, but few look better than the Urbane.
Sony Smartwatch 3
The Smartwatch 3 is arguably "sportier" than some of the others in the list because it uses a rubberized band that's not easy to replace. A major improvement from its predecessor, this smartwatch is a bit dated compared to some of the other Android Wear models currently available, but is no less capable.
It has built-in GPS, which is great for tracking runs or movement over the course of a day. The built-in 4GB of storage (2.5GB that is actually free) is great for storing some music to play directly to Bluetooth headphones at the gym or on a run, leaving the phone at home. A waterproof body is also nice, though having a heart rate monitor would've been the icing on the cake. Sadly, there isn't one here.
The Smartwatch 3 can be found for under $250 at various online retailers. A metal version is also selling for over $300.
Pebble Time Steel
Pebble smartwatches can be credited for truly kicking off this category, and they continue to chug along with some nice models. The Pebble Time is one option, along with the Pebble Time Steel, which comes with a steel body and bezel instead of a plastic one.
As it doesn't run on Android Wear, Tizen or Apple's software, the Pebble Time Steel stands on its own a little, but still has plenty of apps and the best battery life of any smartwatch at a week or longer. It can function with either iOS or Android devices, so it does offer nice cross-platform features.
The Pebble Time is $250, the Time Steel is $300 and another Time Round model is exclusively available at Best Buy for $300.
Garmin VivoActive
You may recognize Garmin more for its GPS and mapping products, but the company has a pedigree in wearables, too. The VivoActive is a pretty rugged and robust smartwatch that packs in some solid features. The 2.5GB of extra space is great for storing data and music to listen to without a phone required.
It has GPS built-in, plus a heart rate sensor and is water-resistant enough to withstand sweat, showering and quick dips in the pool (or freshwater, not saltwater). Battery life is very good, but can drop like a brick if GPS is used regularly.
The VivoActive is selling for about $330, though has been on sale recently leading up to the holidays.
Microsoft Band 2
Having not even seen the Microsoft Band 2, we can't attest to how well it works, but it is available for $330 if you want something that is a cross between a smartwatch and fitness band.
Apple Watch
The Apple Watch is the best option for iOS users, and there are already plenty of accessories available for it. Having not tested it, we can't say much about how good it truly is. You can see more of its features here.
Like this article?  There's more!