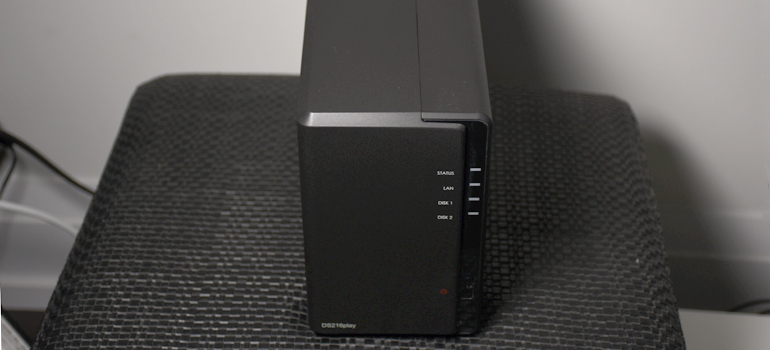 Whether the concept of network attached storage (NAS) is familiar to you or you have no idea what it is, the usefulness of having such a device can pay dividends many times over. Synology is a stalwart in the category, and the DiskStation DS216play is designed to appeal to consumers of all stripes, simplifying its scope and purpose.
Not surprisingly, the DS216play sports the same look Synology generally applies to its 2-bay NAS boxes — a relatively narrow frame with indicator LEDs on the front and all the key ports in the back. Able to hold two 2.5-inch or 3.5-inch SATA II/SATA III hard drives (HDD) or solid state drives (SSD), they aren't hot swappable, meaning you can't just slide one out and another one in on the fly. It requires unscrewing them from their housing and then replacing them.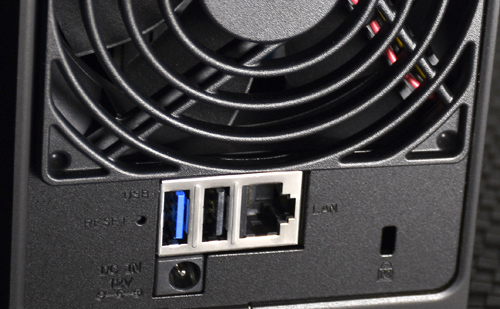 All told, the unit can handle up to 16 terabytes. Missing in the layout is an SD memory card slot — a pretty big omission — and a third USB 3.0 port that could have been positioned in the front. Cost-cutting measures to be sure, much like the lack of hot-swappable drives.
Running on a 1.5 GHz dual-core STM STiH412 Monaco processor and 1GB of RAM, the main feature Synology has pushed with this box is the ability to transcode 4K video and stream it to whatever devices you have, like computers, smartphones, tablets, streaming boxes, game consoles and TVs. The catch is that the H.265 (HEVC) transcoding only works with Synology's DS Video app (free on iOS, Android and Windows Phone), meaning that a popular media app like Plex isn't supported. More on that a little further down.
If you're confused, it basically comes down to this: The DS216play can store terabytes worth of media files in whatever format they may be in, and then hardware transcode and stream them to compatible devices. For example, the unit is very easy to find on a Windows PC or Mac, and pretty much any video or music file is playable on a free app like VLC, which is capable of reading a vast array of codecs to transcode the video itself, if necessary.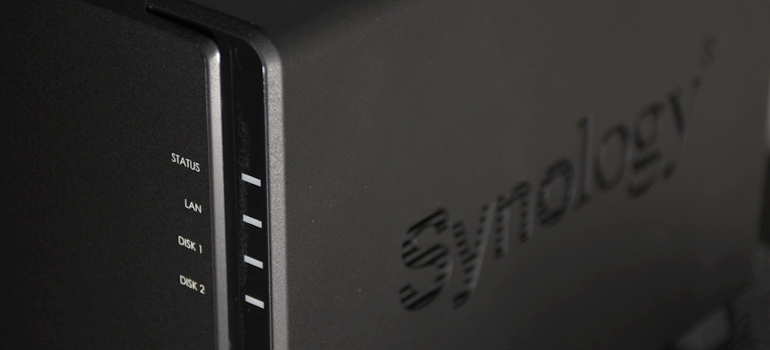 With smartphones and tablets, the resolution and quality is determined by what each device can handle. Apple's iOS devices, by default, only handle MP4, MOV and M4V files, though the VLC app on iOS (there are others too) helps transcode other formats to work. Resolution is limited to what the specific iPhone or iPad model can handle, which is also the case with Android and Windows Phone handsets too.
Without going into too much technical detail over what will play on what, the key takeaway after reviewing the DS216play is that it is more flexible than it seems on paper because of the software transcoding apps on computers and mobile devices can handle. Streaming boxes are a bit different. Synology will likely offer a DS Video app for the new Apple TV, and there already is one for the Roku. Chromecast support is also included here, allowing you to cast content from the DS Video app to a TV using the small dongle as the conduit.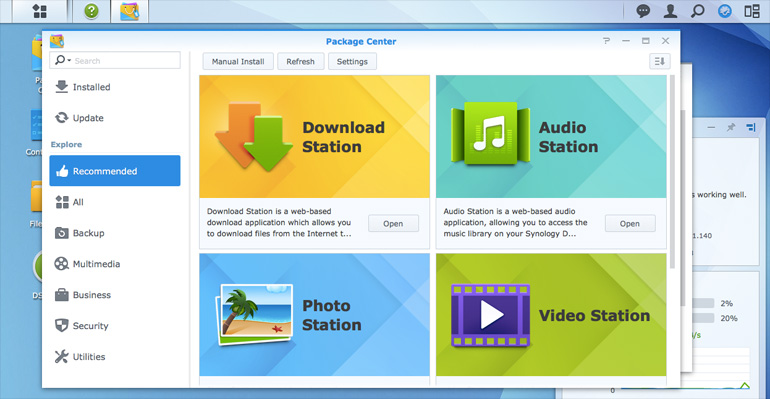 Beyond all this, there is an entire operating system, called DiskStation Manager OS, that lives within a Web browser to control and manage the various aspects of the DS216play. Nicely laid out and with a user-friendly interface, it's good at pointing you in the right direction. Despite offering a Basic and Advanced mode, the issue for novices is that there's a lot to look at, and it's not always clear what does what. Seasoned users will adore the precision involved because of what can be tinkered with.
In either case, inside DSM OS there are a number of Synology-based apps in the Package Center, like Video Station, Audio Station, Photo Station and Media Server. These are the main ones that enable the transcoding and streaming I've referred to. There are plenty of others that can come in handy for backing up data, managing an email server and even hosting a WordPress blog using the DS216play as the storage vehicle and server to do so.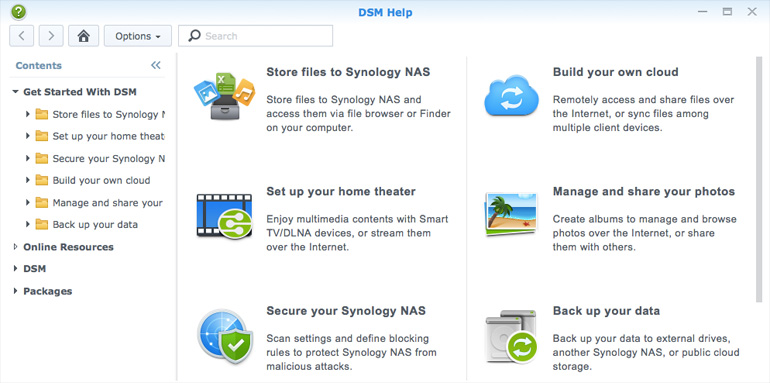 Conspicuously absent is a Plex Server, which would make for a wonderful combination in that the NAS would store all the content, while the Plex Server app would handle the transcoding, indexing, distribution and presentation of all that content through the apps available on almost every entertainment device, including mobile, game consoles and streaming boxes. It's a shame, and the one workaround I've always utilized was to use a computer to run a Plex Media Server and point it at the specific video folders on the DiskStation NAS. It's not a perfect solution, but it does work, especially for streaming within the home.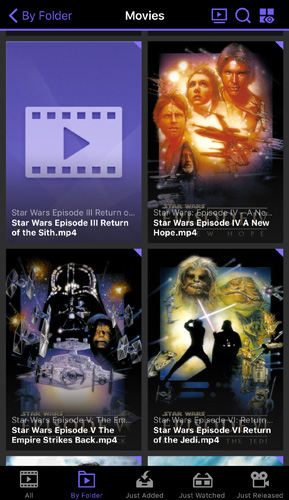 Remote access is also possible. Using Synology's apps or the right URL in a Web browser, you can stream content away from home, retrieve documents or upload stuff to the DS216play. There are also tools for syncing and backup too. And if you want to use the NAS as a backup, like Time Machine on a Mac, for example, it's not a problem.
If you're concerned about losing any data or hard drive failure, the DS216play can be configured to "mirror" the two drives (called RAID1), so that identical copies of everything are saved to both. This way, if one drive fails, the other has all the data anyway. It limits how much overall storage you may have, though does offer good peace of mind, and may be essential if the box is part of operating a small business.
Needless to say, there is a lot here, which may beg the question of who such a device is actually for. It can be used almost entirely as a vessel to stream entertainment content and store your own videos, photos, music and documents. It could also be used to store and backup all the files you have to work with, especially in photo/video editing and production. It can act as a backup for a computer to ensure nothing is lost. And it can be a business-oriented tool with the apps available.
Ultimately, this is mainly a multimedia NAS focusing more on storing and consuming content, rather than acting as a daily repository with files coming and going every day. It can do that, mind you, but Synology has other NAS models better suited to the small business user.
It still doesn't come really cheap though. At $400 without any drives at all, the full cost is only realized when you add in the storage you want to put in it. There is a two-year warranty that comes with the unit, which is great, and it is a box that is supposed to last for years, so the cost can be mitigated by the lifespan in using it. Even if you were to upgrade to another box later on, this could still be used as a server for something.