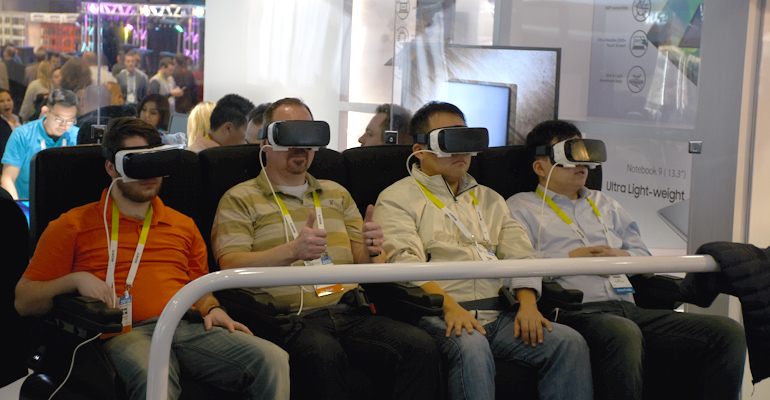 For the first time in years at CES, TVs were relegated mostly to being props in a different conversation. For over a decade, the emergence of HD, various TV technologies, the Blu-ray/HD DVD battle, 3D TV, streaming content and 4K resolution put the big screens at the forefront of the show's media coverage. That changed in a big way this year.
New smartphones and tablets make cameo appearances, and the biggest handsets to come stay behind the curtain until Mobile World Congress in Barcelona, the de facto largest mobile device conference in the world today.
Instead, it was the new, smart and connected technologies and categories that ruled the roost at CES, and that will have implications moving forward in 2016.
Wearables
Almost anything is becoming a wearable product, it seems. Wristbands and smartwatches are becoming old hat, now that items like socks, insoles, jewelry, textiles and health-related products are pushing the concept further. And increasingly, fashion is traversing function with these items.
Sensoria has a smart sock. Under Armour unveiled a smart shoe and in insole with the Gemini 2. Swarovski has worked with Misfit on bringing some bling to wearables. Hexoskin and Athos, among others, are tackling connected clothing. And unique items like Skulpt, Quell and Muse target the health-conscious consumer.
More well-known brands, like Fitbit, Withings, Misfit, Polar, Mio, Qardio and TomTom all showed off new or newer products that were all about measuring daily metrics. Here, too, fashion is starting to become more important, with designs that complement one's tastes.
Smart home
One of the most interesting products I saw at the show was a smart bed from Sleep Number called the It Bed. Rather than foam and springs, the bed is held up by air pockets, and inside are various sensors to measure quality of sleep through breathing, heart rate and movement. And each side of the bed can have different levels of firmness (a sleep number between 0-100) set up via the smartphone app. The bed and app are designed to be smart enough to suggest a sleep number if you worked out earlier and may need to sleep earlier to recover
But everything and anything in a home is becoming smart. Bulbs, door locks, doorbells, cameras, slow cookers, appliances, shower heads, and on and on. Centralizing all of them into one interface is something the industry has to solve, including the fact that some work on the Zigbee standard, whereas others are on Z-Wave. CES 2016 was no closer in streamlining that battle.
Virtual reality (VR)
Now that headsets like the Oculus Rift, HTC Vive Pre and PlayStation VR are coming to market this year, it will open the door to a great deal of movement in this category. We already had some things come out with Samsung Gear VR and Google Cardboard, but those are entry-level experiences that run off smartphones. The full-on VR headsets offer far more computing power and better imagery.
I tried the Vive Pre once again (I had first done so back in October) and came away impressed with the immersive nature of the content, despite being in a small physical space. VR will continue to improve and offer both sit-down and more active stand-up experiences. Pre-orders are already live for the Rift, costing just above $900 (Cdn.) before tax. The Vive Pre pre-orders begin on February 29. Of course, worth noting here is that the headsets are useless by themselves; they need a high-powered PC to run the games it plays with.
PlayStation VR, which will work with the PlayStation 4, isn't going to be quite as high-end as the other two, but should be an interesting device when it makes its debut this year.
Connected cars
Never before has there been such an automotive presence at CES. No less than 10 automakers were on hand: BMW, Volkswagen, Audi, Toyota, Ford, Chevy, Kia, Mercedes-Benz, Hyundai and Mitsubishi. All of them have embraced the concept of a connected car, even if they aren't outwardly developing self-driving cars.
Telematics, mapping and infotainment are slowly melding into one big digital display, and more of that information is going to the cluster right behind the steering wheel. This goes beyond just the basics of starting a car or locking doors using a smartwatch, it's about vehicles will have such sensitive sensors on them that they will have proximity-awareness of each other. In other words, an autonomous car would know how far vehicles in front, behind and on either side are. Using GPS mapping, particularly with pilot projects from TomTom and HERE, these cars could also know what's waiting for them after making a turn.
As the North American International Auto Show (NAIAS) is underway now in Detroit, expect to hear even more about these initiatives. We won't see a self-driving car hit a dealership this year, but it's a safe bet that the technology driving it (no pun intended) will be smarter by CES 2017.
Drones
It's unassailable that more people will fly drones this year than last. This is already a hobbyist category, and with lawmakers weighing in on what is or isn't allowed in keeping them in the air, the public's attention span continues to grow. A number of vendors at the show either unveiled new models or finalized conceptual prototypes.
Parrot, as one of the top consumer drone manufacturers, showed off its new fixed-wing Disco drone, resembling a stealth bomber, plus the Bebop 2 quadcopter. DJI had its Phantom 3 turning heads, even though the unit has already been out. Hexo+ has come to market with one of the first drones to pan around the pilot for cinematic-style shots. The Yuneec Typhoon is the only drone with a camera gimbal that can pan a full 360-degrees without having to tilt the drone.
Others were on display, too, and it was evident that build quality and intelligence are getting better. Mind you, this is also a matter of scale. Units that are more durable with tougher bodies are already above $1,000 at retail, but there will still be plenty to shop for under that this year.
Other trends to watch:
3D printing
I personally didn't have the time to cover this category at the show but there was a whole section devoted to it. It's still early days in seeing where 3D printing technology can take us, but expect more movement in that regard over the course of the year.
Wireless charging
There is no clear winner between the two competing standards: Qi (run by the Wireless Power Consortium) and PMA (run by the AirFuel Alliance). It seems doubtful that this stalemate will teeter one way or the other this year, but for wireless charging to truly take charge (pun intended), there has to be one horse to ride on this one.
Streaming music
This wasn't widely discussed at the show, but there was enough movement in 2015 to suggest some big things will happen in 2016. With Apple in, Rdio out and Songza swallowed up, the playing field will only get smaller this year, not bigger.
HDR
HDR, or high dynamic range will be a buzz acronym this year, and the reason why is because it will make TV and movies look better. This isn't about resolution, like the jump from 1080p to 4K, for example, but rather about how lifelike colours, shadows and highlights appear onscreen. Netflix is expected to lead the charge on this in 2016, but look for Rogers and Bell to push it forward in Canada, too.