In 2013, Preeta Sinha and Nil Zacharias left successful careers to fulfill their passion for redefining what it means to be "green," and paired up to launch One Green Planet. This week, the company launched its Food Monster app in Canada (worldwide release is April 22), providing iOS device users with access to more than 5,000 vegan recipes, including many from prominent Canadian food bloggers.
New York-based One Green Planet went north of the border to launch the app first because Canada is a very "vegan-friendly" country, says the company, and thus a great place to gauge consumer reaction before proceeding with a worldwide release.
About the App
The recipes were collected from bloggers from around the world, including a number of influential Canadian bloggers and chefs. Most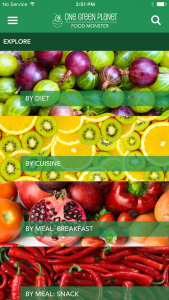 notable is BC-based Emily von Euw, creator of the popular vegan blog ThisRawsomeVeganLife.com, and author of The Rawsome Vegan Cookbook. Others include Jesse Lane Lee (JesseLaneWellness.com); Nikki and Zuzana (ActiveVegetarian.com); Elsa Brobbey (TheWhinery); Shanna Laychuk ( kissmybowl.com ); Taylor Kiser (FoodFaithFitness.com); and Priscilla Soler (Gastrawnomica.com), and more.
Recipes range from scrumptious cheesecakes, to hamburgers, and pasta. Each day, 10 or more new recipes are added, arguably making this one of the most comprehensive online libraries of vegan dishes.
Within the app, visitors can search for specific dishes, or browse by seasonal favourites, ingredients, dietary restrictions (e.g. gluten or nut-free), type of cuisine, occasion, and more. Once you select a recipe, you'll see the ingredients, preparation instructions, similar dishes, and discussions from those who have tried to make it already.
If you make a recipe and love it, or just want to flag it to try later, there's a bookmarking feature. Need some inspiration for dinner tonight? Check out what recipes are trending.
Aside from the abundance of mouth-watering dishes from which to choose, what really makes this app stand out is the accompanying 3D, touch-enabled high-definition photos. It's difficult to flip through the library of gorgeous images without feeling a hunger pang coming on, vegan or not.
Vegan or Flexitarian?
And that brings up an interesting point. While the recipes are purely vegan, they aren't geared solely towards those who have completely cut animal and/or dairy and/or eggs from their diets. They may also appeal to the growing number of so-called "flexitarians" who still eat meat and dairy, but have simply made a life choice to cut down, and opt for healthier options now and then.
And this represents a larger segment of the population than you may realize. A recent survey by the Vancouver Humane Society and conducted by Environics found that 33% of Canadians, representing almost 12 million people, either classify themselves as vegetarian, or have made the decision to eat less meat.
The Co-Founder
What drove Sinha to do this? She has a successful background in digital media, publishing, and building online products, having previously worked at iVillage, which was acquired by NBC Universal, and for UGO Networks, acquired by Hearst Corporation. But she has always had a lifelong passion for green living and food, and, together with Zacharias, wanted to "challenge conventional thinking on sustainability by incorporating a broader spectrum of daily lifestyle solutions." Food, naturally, is a central part of that.
"With everyone using their smartphones in the kitchen these days," she says, "the logical next step was to translate One Green Planet's vegan recipe category into a cutting-edge, user-friendly mobile app."
Eat Up!
If consumer response to the app mirrors the Website, One Green Planet is poised for success. While the app has only just officially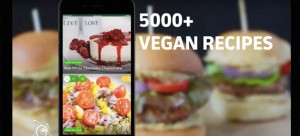 launched, One Green Planet's Website already has a loyal following of about six-million monthly visitors. In addition to recipes, the Website also features details about topics like animal activism, and overall environmentally-conscious living.
What drives the app's appeal beyond its core purpose of promoting sustainability, however, is the sheer breadth and depth of recipes, combined with the detailed photos that are enough to make even the biggest meat lover salivate.
The growing amount of content suggests that vegan eating isn't just for vegans, nor does it have to be bland or boring. As a meat and dairy eater with no plans to change, I'm personally intrigued at how a vegan cheesecake might taste; or how to make a traditional beef stew without the beef. And this app appears to a great new source to find out.