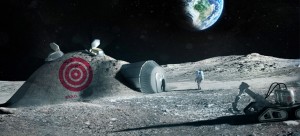 Fuelled by a passion to uniquely connect people to one and another and over time through memories, Ekko has created what it labels, "the world's first digital time capsule."
"Basically a time capsule is a container storing a selection of objects chosen as being typical of the present time, buried for discovery in the future," explains Zavosh Zaboliyan, Chief Executive Officer.
"Ekko is the world's first digital time capsule allowing people to stream, share and save any digital content from the past, present or future. Our platform acts as a live portal to connect people to one another and different moments in time to experience life from multiple perspectives. We are essentially a personal broadcasting application to log memories using live streaming of content."
On its mission to encourage people to create multi-perspective memories with one another on a global scale, the Ekko team includes its three co-founders, Zavosh Zaboliyan, Chief Executive Officer, Mahdi Olfat, Chief Technology Officer, and Tania Koulakian, Chief Communications Officer. Their concept originates from Zaboliyan's vision of live streaming memories in a way to easily share them with others now as well as in the future.
How does it work?
"Using our Ekko app, users instantly connect to one another's life moments in time. We allow users to sort and tag their memories and organize them by privacy, time, mood or type of content that helps them find it efficiently. A recorded moment becomes real time communication, and users can choose to express themselves by streaming video, audio, pictures or notes. Moments are saved to a real timeline and others can join that moment in the present or later in the future. What's more, a user can schedule him or her to be part of something that hasn't happened, yet. Moments can be shared privately between users or publicly." Even sad memories can be saved, deleted or edited as memories evolve over time.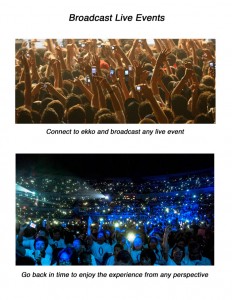 "We are the only platform with a long-term approach to revolutionize personal broadcasting," explained Zaboliyan, "We are pushing the boundaries of live streaming and cloud technology to allow users to instantly save memories into the cloud."
Ekko's target audience is broad. "Our target audience includes time travellers who like to visit the past and the future," began Zaboliyan,. "Mainly the media and entertainment industry," Zaboliyan, then explained, "with a unique focus on concerts, music, film, celebrities and fans. For example, many fans and celebrities at the Oscars® have their own perspectives and memories to share. All Oscar-related moments can be connected for people to access as they happen or at a later time. If you were to Google, Facebook or YouTube Oscar® moments of a particular year, you would have to sort through thousands of media footage, and there is no way to go back in time and revisit the past to experience that event from different people's points of view."
More commercially, Ekko hopes to persuade everyone to use its platform; to capture important moments in time and share his or her point of view, like a mother streaming her baby walk for the first time. "She can instantly share that memory with anyone in her family," described Zaboliyan,. "That memory can be saved securely in the cloud and when the baby grows up he or she can view that life moment along with everyone's reaction or point of view at that time."
Ekko is also testing wearable tech prototypes to further enrich its offering, including a wearable wifi camera. "We want to do all the thinking for the users and let them enjoy their experiences," explained Zaboliyan,. "By having a wearable wifi camera, users can just go about their daily life and when something exciting happens quickly tap and stream that moment without having to spend time opening the app or looking for their phone."
What about privacy and security for digitally encapsulated memories?
"We care a lot about privacy and security," said Zaboliyan,. "That's why we have teamed up with Microsoft to use their sophisticated cloud services. We ensure the highest level of encryption when it comes to user privacy. We also want users to be in control of their content. Any moment can be turned into public or private content based on the user's personal preferences."
In operations for just under 6 months and based in Toronto, Ekko is currently affiliated with MaRS Venture Services, a prominent incubator in Canada, and is in talks with many accelerators as they approach their beta launch scheduled for July, 2016. Ekko is also sponsored by Microsoft BizSpark and is using its $360,000 Microsoft services sponsorship to help fund its growth plans using cloud technology.
"Our vision of the future is transparency," added Zaboliyan,. "We want to bring transparency to the world and have everyone share [his or her] point of view. We believe life is precious and we want everyone to be able to save their memories to share with others."