Three killings every day.
And one potentially life-saving technology solution.
Rhinoceros, and many other remarkable animal species face serious threats and real dangers on a daily basis. According to the South African Department of Environmental Affairs, poachers killed a staggering 1,215 rhinos in 2014 in just that country alone.
That's more than three a day, and at that rate, rhino deaths could overtake rhino births by 2018, and the rhino could be non-existent in South Africa by 2025.
Now, two leading technology companies have come together to reverse the trend, and reduce the number of poaching deaths in South Africa in a project called Connected Conservation. It starts with the rhino, but as the project develops and expands, the high-tech protection could extend to other endangered species including elephants, lions, pangolin, tigers and even sea rays.
Over time, the system could be deployed in other land reserves around the world, the two companies report, and even in ocean refuges.
Cisco Systems and Dimension Data are using some sophisticated technology for the project, but to build in some protection for the system and security for its operation, as well as for the continued successful protection of illegally hunted animals, many specific details about the solution are being kept confidential.
South Africa is currently home to about 70% of the remaining rhinos in the world, most of which are located in the world-renowned Kruger National Park in South Africa, adjacent to the project deployment area. In close collaboration with Dimension Data (the company is headquartered in South Africa, and it has offices in Canada) and park officials, the companies built a highly secure digital solution that provides those who are protecting the rhinos with the valuable insights, transparency and visibility they need to make effective and informed decisions against poaching.
The Connected Conservation technology brought to bear by the two high-tech companies means the rhinos do not have to be darted with tranquilizers so sensors can be inserted into their horns, or so a chip can be inserted under their skin. It's a common-enough occurrence in many animal research and monitoring projects, but one that can still be stressful and risky for the animal, even causing injury, blindness, and in some cases death or euthanasia for affected animals.
So the goal is to proactively intervene and stop people entering the reserve illegally – whether it's cutting fences, being dropped onto the ground by helicopters, or simply driving in through the entrance gates.
It's not about tracking animals; it's about tracking people.
Broadly speaking, CCTV, Wi-Fi and LANs are being installed around the reserve and at every entrance gate to improve and strengthen the communication channels between security personnel and park rangers; the Cisco-powered network also supports sharing live video.
Remote network monitoring, routing and switching, and managed services from Dimension Data, with cloud-based storage and data analytics capabilities, are a key component of the system.
Phase Two of the project will incorporate drones with infrared cameras; thermal imaging, vehicle tracking sensors, as well as seismic sensors on a highly secure intelligent network. Biometrics will be included in the overall monitoring capabilities.
Eventually, data will be collected on every individual entering the reserve. This includes fingerprints of staff, contractors, suppliers, and rangers and trackers working in the reserve. As well, ID numbers or visitor passports will be scanned, and registration plates of all vehicles entering the reserve will be captured.
Using predictive modelling, the project's data analytics team is able to estimate when an individual or vehicle is expected to exit the reserve.
And if they don't, the tech-enabled remote monitoring capabilities can be brought to bear to find out why.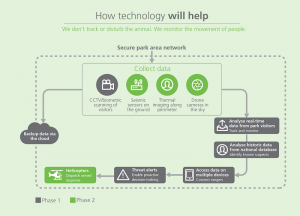 -30-