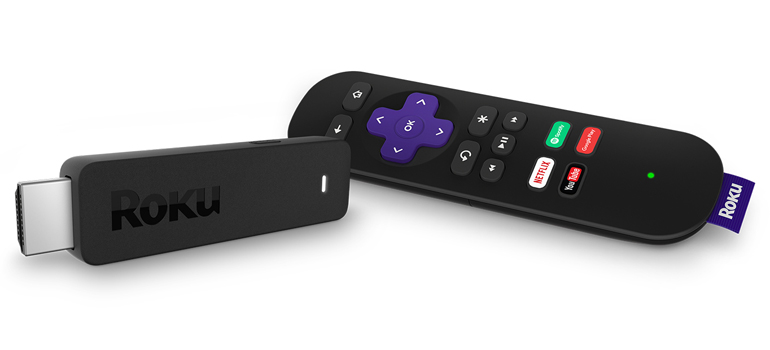 It's not the 4K-enabled Roku 4 that has already launched in the United States, but the company's new Streaming Stick is an example of a value product that punches above its weight and delivers more than might be expected of it.
The small dongle is a successor to the original stick that came to market two years ago, only it has been enhanced and bears a closer resemblance in performance to the Roku boxes. Not quite as powerful under the hood because of its diminutive size, the Streaming Stick still comes close, and its flexibility is the sort of thing that makes well worth the $60 price tag.
The only real caveat is that the Stick relies on a Wi-Fi connection to work, as it doesn't have an Ethernet port for a wired connection. It plugs in directly into a TV's HDMI port, and can either be plugged into an outlet or into a USB port on the TV itself for power. It also supports both the 2.4GHz and 5GHz Wi-Fi bands, albeit not Wireless-AC, so the latter is on the slower Wireless-N.
That would seem like a drawback, but it really turned out not to be, as the Stick proved adept at grabbing the connection and streaming with ease. The enormity of Roku's library of 1,400-plus channels, which are essentially apps by another name, is readily available through the Stick, ensuring there is no content disparity between it and the Roku boxes.
It helps that the new Stick is eight times faster than the original, according to Roku. It has the tangible benefit of being quicker in just about every way. Navigating menus, opening channels, closing channels, doing a search — it was all smooth.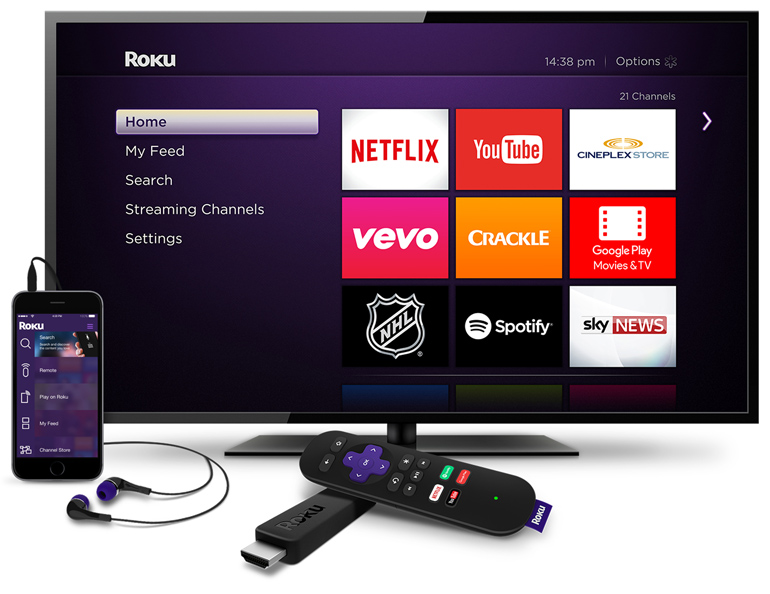 The "Follow" feature that was also introduced with an update to the Roku 3 is back, allowing users to tag a movie, show or actor and get notifications on when content is available to stream. Unfortunately, there is no way to filter this to indicate what would be free to stream versus a subscription, but that's not a deal-breaker.
Another example of a carryover in performance is the ability to use the free Roku smartphone app on iOS or Android to route the audio from the Stick to headphones connected to the phone. This was originally introduced in the Roku 3, which had a headphone jack in the remote to enable the feature. By doing it through the app, Roku has effectively opened the door to using Bluetooth wireless headphones, too. Most of the time, it's great, however audio syncing issues can sometimes occur for reasons that may be chalked up to lag. Using wired headphones never gave me any problems.
The app also opens the door to voice search — again, another feature plucked from the Roku 3's remote. The search functionality is among the deepest available on any streaming device, narrowing down a movie, show or actor from many of the most popular services, including Netflix, CinemaNow and Google Play. To be clear, search doesn't cover the full gamut of Roku's channel offering, so if a movie is available on a more obscure channel, the search wouldn't pick it up.
And last but not least is the "Hotel and Dorm Connect" feature that allows the Streaming Stick to connect to more restricted and shared Wi-Fi networks, like those in hotels and dorms. Roku goes into more detail on how to set this up, as there are some caveats.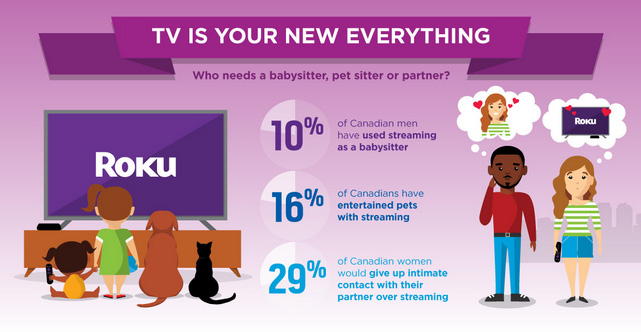 Incidentally, Roku has designated May 20 as Streaming Day in Canada, going back to launching its first device to stream Netflix on May 20, 2008. Roku and participating retailers are also offering a $10 discount on the Streaming Stick and all other Roku devices until May 20 as well.
Even at the regular $60 price, the new Streaming Stick is worth every penny. A great deal for a device that can open up a lot of content avenues — even more so if you use Plex and other channels to stream from network attached storage at home. It works with any TV that has an HDMI input, and is travel-friendly, too. Few other devices in this price range can offer the same depth.
Check out the contest giveaway for the new Roku Streaming Stick right here at WhatsYourTech.