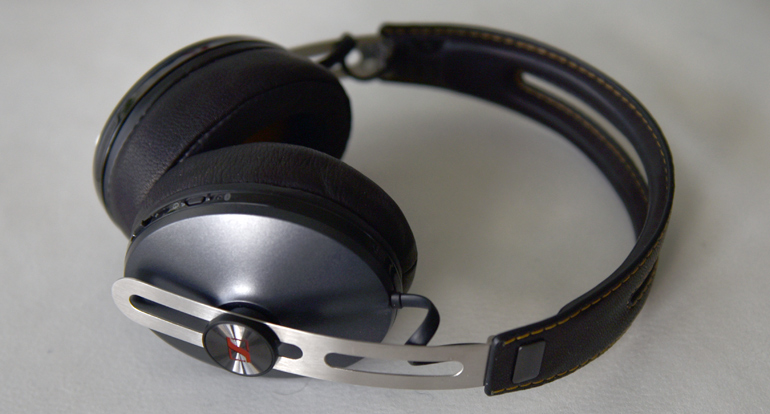 Good headphones are sometimes expensive, but not all expensive headphones are good. Sennheiser has maintained the excellent reputation of its Momentum line and produced a Bluetooth wireless version that offers superb sound quality and solid noise-cancellation — though it will cost you.
The headphone market isn't quite as flashy as it once was when anything with a bright colour scheme and celebrity endorsement was supposedly credible as a good product. Sennheiser is more of a traditional brand that way, having taken a more cautious approach on design and focusing instead on performance.
In addition to its already superb audio fidelity, there is Bluetooth 4.0 (with aptX for improved sound while streaming), active noise-cancellation and NFC (Near Field Communication) for quick pairing with compatible devices. The Momentum 2.0 Wireless also work perfectly fine when the included cable is plugged in. In fact, they are a little louder that way because the noise cancellation doesn't work to minimize ambient noise.
In smoothing out some past design bugaboos, namely foldable earcups that are also slightly bigger and softer, Sennheiser has made a more well-rounded pair of headphones — even if they aren't the flashiest.
The power button and volume controls are on the right earcup. Sennheiser made it so that using the headphones wirelessly automatically turns on noise-cancellation as well. This is somewhat unusual for any noise-cancelling headphone, but doesn't seem to have a major impact on battery life. I managed to get about 20 hours per charge, which was great for flying anywhere and listening to music while doing things around the home.
The wireless range tops up at 33-feet on paper, and that generally holds up in practice, though there are random blips of interference that cut the connection. They didn't happen often, but did pop up without warning.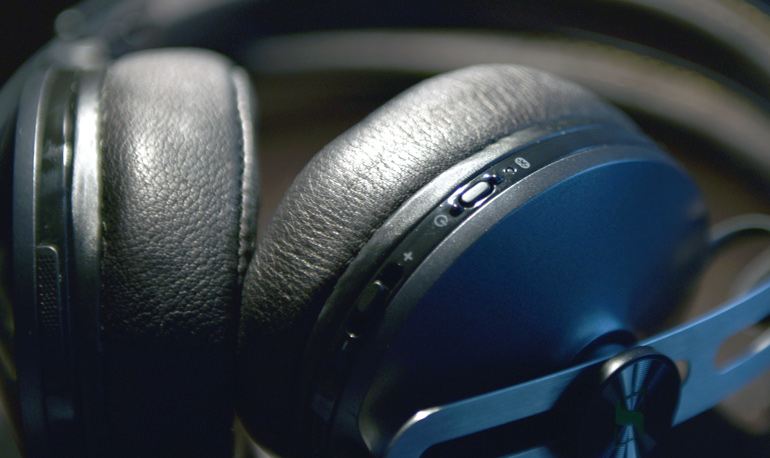 Like the balance in design, audio performance is nicely balanced. This is typical Sennheiser, which doesn't lean too far toward the treble or bass, aiming to produce sound that is more genre-agnostic. Unlike celebrity-branded headphones that flood the audio spectrum with bass, the Momentum 2.0 Wireless lets vocals and instruments breathe. While hip hop and electronica tracks may not have the same thump with Sennheiser's set, that doesn't mean they sound worse.
Having eclectic musical tastes myself, I've long appreciated that Sennheiser doesn't punish me for it by making one genre sound so much better than another. Whether it was a classic rock, smooth jazz, hip hop, pop or new age track, I wasn't disappointed while wearing these.
This includes live recordings, which have so much more ambience because of the crowds and reverb. Much of that comes through with the Momentum 2.0 Wireless, particularly when listening with a wired connection.
Phone calls were also clear and smooth. The dual microphones on the headphones helped reduce background noise, with the added effect of hearing my own voice while talking, ensuring I didn't raise my voice needlessly.
The comfort was also appreciated. Where my ears pinched with previous Momentum headphones, this set was a better fit over a longer period. Being foldable also made them easier to stow away when I didn't need them while travelling. With headphones, even the little things matter.
All of this comes at a price, however, and it could be a tough one to swallow. At $550, the Momentum 2.0 Wireless are clearly in premium territory for most consumers, and perhaps a little too pricey compared to others on the market. But if you have the money to spend, you may very well be pleased with the results.