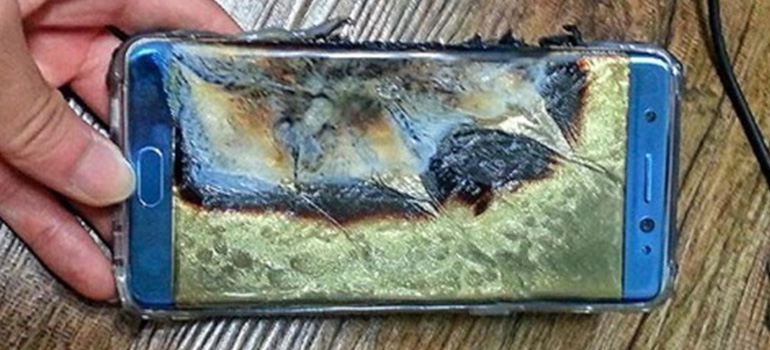 In what can only be described as one of the worst 30-day stretches a consumer electronics company has endured, Samsung's troubles with its flagship Galaxy Note 7 smartphone have hit another low with calls to stop using the device entirely, even if it is a replacement.
It's a bad scene, to say the least, and primarily because of new reports of replacement units catching fire and going up in smoke. The initial global recall of 2.5 million units issued in September, including efforts to repatriate 22,000 sold in Canada up to that point, has now been changed to an outright appeal from the company to stop using the device, period.
A report from U.S. tech site, The Verge, cited a Note 7 that had caught fire on a Southwest Airlines flight forcing an evacuation. Other incidents have been reported since, including a viral video at a battery laboratory test facility in Singapore that triggered a fire after pressure was applied to a unit.
The immediate culprit for the device's unstable build appears to be the lithium battery the phone uses, according to various reports. For its part, Samsung stated this to be the sole cause for the units damaged in the original rollout, though has not confirmed whether it is also to blame for the current wave of defective units. Initially, it wanted to verify whether these latest incidents were, in fact, with replacement units, but as other reports have come in since, it appears the previous issue wasn't resolved.
After 48 hours of uncertainty, the company has swiftly chosen to cease Note 7 production and urge consumers to stop using them and power them down. All Canadian wireless carriers have asked their customers to do the same, allowing for full refunds or exchanges with other devices. In other words, if you have a Note 7 still, call 1-800-SAMSUNG to get more information on what your options are. Each of the carriers is looking to post information, such as FAQs, to respond to general questions customers may have as well.
This, in effect, kills the Note 7 as a product, and at this point, the damage done to Samsung's brand is immeasurable, but not insurmountable. Cryptic and confusing correspondence from the company soon after the latest reported fires won't help instill confidence. It's what happens in the next few months that will matter more.
Questions will now be raised over how much of an outlier the Note 7 truly is. Lithium batteries are commonplace in smartphones, yet fires aren't regular occurrences. Still, are other phones at risk too? Probably not. Once the problem with the Note 7 is fully diagnosed and revealed, it will likely point to more than just a battery issue, thereby raising yet another question on whether Samsung rushed to market and crammed too much into the unit.
The likelihood of a reconstituted Note 7 between now and the spring, much less the holidays, seems entirely remote. Had the recall been successful, the defective units would be no more than an embarrassment. Now that the replacement units are potentially defective makes all this a terrible humiliation for a company that is supposed to be competing at the top echelons in the smartphone category.
Incidentally, the Note 7's failure opens the door wider for the Galaxy S7 Edge (or the regular flat version), a device that Samsung now sells unlocked for $1,000 direct to consumers. Given that it uses similar internals and software, including the exact same camera, it's not a bad trade-off.
Inevitably, competitors can also step in to take what they can get. This month alone, Motorola's Moto Z, Google's Pixel and Huawei's Nova Plus have either launched or are available already. For Android users, the options are abundant. Not to mention the newest Apple iPhones launched last month as another option, if you can get your hands on one.
If this happened to another brand that didn't have Samsung's success, it wouldn't have received this kind of attention and scrutiny, yet would still have decimated any competitor fighting for relevancy. Samsung's large existing user base will probably not see a mass exodus away from the brand because of this fiasco, however it can ill-afford another debacle that it may not be able to recover from. That basically means the company is on a short leash for the foreseeable future, while a glimmer of potential creaks open for other brands to gain some traction.