Local charity organizations often operate on tight operating budgets and, as such, rarely have the resources to take advantage of digital solutions and top-tier technology talent. That's why Capital One Canada is launching its first-ever Hackathon, named Gift the Code.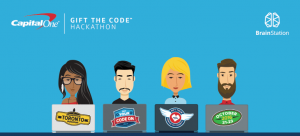 "Through this Hackathon, we are taking meaningful action to help our charity partners bridge the digital divide and continue to expand and grow into the future," said Nathalie Clark, Managing Vice President, Capital One Canada.
This 40-hour coding sprint, taking place from Friday October 21, 2016 to Sunday, October 23, 2016, will bring together over 100 participants in downtown Toronto to brainstorm and build technology solutions that address digital challenges faced by a select group of charitable organizations. The Hackathon will take place at BrainStation's Toronto campus, a global leader in technology training and the official location partner of the event.
Hosted by technology expert, Marc Saltzman, Gift The Code will showcase the talents of volunteers and Capital One Canada associates as they break into teams of 4 to 6 experts to identify digital solutions to meet the needs of the charities.
"I'm excited to be part of an event designed to show how technology can help charities can do more with less," said Marc Saltzman, technology expert, journalist and author. "It's not secret there are many hundreds of worthy charities all vying for support for their cause, and so I think it's exciting to see how coders can show charities way to cut through the clutter, reach a larger audience and hopefully bring in more dollars."
I asked Mr. Saltzman to describe some of the ways in which charities are using technology solutions, today.
"Some charities leverage technology more than others," began Saltzman. "Some charities have an active social media presence or they've streamlined their website to make donations an effortless activity for donors. Others have created an app to educate Canadians. Many use technology to run their business, whether it's productivity tools, cloud back-up, and so on. Generally speaking, however, many of the small businesses are so focused on fundraising initiatives, and stretching their limited resources to reach goals, they often aren't embracing technology as much as they could. This is where the Capital One Canada #GiftTheCode hackathon comes in."
With 100 participants at the ready to be part of Gift The Code, it is clear that the technology community is ready to share its talents.
Mr. Saltzman remarked, "Like you Yasmin, I've been covering the tech (and gaming) industry for a long time, and I've found it's made up of some very passionate, talented and driven people — and many of them are only too eager to give back to the community. Over the years I've seen many folks devote their time and expertise to making a difference to those less fortunate, whether it's to battling disease or homelessness; getting more kids into STEM studies (Science, Technology, Engineering and Math), including girls, to better their chances of a great job in the future; or helping to bridge the digital divide, narrowing the gap between those who can afford technology and those who cannot. After working with Capital One in the U.S., and seeing the amount of tech innovation and talent there, it's a thrill to now work with Capital One Canada, in my own country, and see the amount of work they're pouring into this #GiftTheCode hackathon."
"Six charities have been brought forward for this unique opportunity, based on their smaller size and accessibility to technology and innovation," explained John Cavan, Senior Manager of Software Engineering at Capital One Canada.  "Capital One Canada has also had a previous relationship with all of them in different capacities so we were able to identify their need for technology solutions."
The six charities benefitting from Gift The Code include:
As well, Capital One Canada helped these charities to identify possible tech opportunities to be solved at the Hackathon. John Cavan acknowledged, "We created a guide that described what makes a good hack challenge and then we brought all of the organizations together for a workshop to go through the nature of the challenges and help start the process of firming them up. From that point, we supported each charity through Hackworks to help refine and finalize the challenges that they would bring forth."
As well as Marc Saltzman, the Hackathon judges include Dan Makoski, founder of Garage Partners join us from San Francisco and Jim Jagielski, a Capital One Fellow and a founding member and director of the Apache Software Foundation. Mr. Cavan added, "We also will have judges from Capital One Canada, the charities, and from other technology companies in Toronto. Our aim was to select judges who have appeal to the tech community, and people whose feedback and support would be something they would value and respect."
Judging will be based on merit badges. "Each of the judges will be representing a particular focus badge, such as 'Pushing Tech'", remarked Mr. Cavan. "The judges will get an opportunity to see what every team has created during a big expo on the Sunday of the hackathon. If they feel that the submission by the team meets the criteria for the badge, such as using new technology in an innovative way, the team will get that added to their award list to be presented in the final awards ceremony with representatives from each of the charities."
As the first Hackathon, will Capital One continue its support for future Gift The Code Hackathons? "It's certainly my hope," began Mr. Cavan, "that this is just the start of something that becomes really huge over time! We plan on taking stock of the outcomes of this event, especially around the impact on the charities, and then assess what makes sense for the future. I know that there has been interest from other charities, so this has clearly tapped a real need out there."
To learn more about the Gift the Code Hackathon or to participate, visit: giftthecode.ca. "The food," teased Mr. Cavan, "is going to set a new standard for hackathons; it's a great menu. We're also going to have lots of fun events during the course of the weekend, and, of course, there's some great swag to thank everyone."