If you use an iPhone 6 or up, you may have noticed some pretty cool new features with iOS 10. But there are a couple that you might not even have realized existed.
Here are 7 of the coolest new features that will probably be getting plenty of use by owners of compatible devices.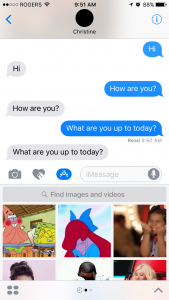 1.Send animated GIFs directly from Messages
Who doesn't love to share funny memes, photos, and animated GIFs within messages? Typically, you'd access ones you previously saved to your iPhoto library, or run a Google Images search in your Safari browser, find the pic you like, save it to your image library, then add to the conversation. So much work! It can actually be much easier. Tap the arrow button to the right of an iMessage window, tap the app button ("A"), then select from the images that appear below the message window, or run a search right into the message window to find the perfect pic to express your sentiment. Neat!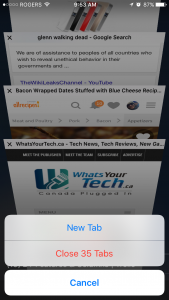 2.Close all Safari tabs at once
If you're like me, you often have multiple Safari windows open, sometimes without realizing it. Every few weeks, you to tap the windows button (on the bottom, right in Safari) and tap the "X" in the top, left corner of each window to close them down, one-by-one. Did you know you can close them all at once? When in the windows view, long press "Done," and a window will pop up, allowing you to open a new tab, or close all the ones that are currently open, saving valuable seconds of your precious time.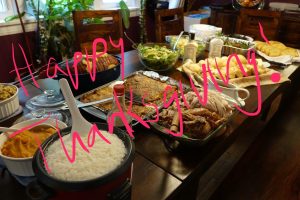 3.Markup a pic
Bring out your inner Perez Hilton with the ability to mark up photos with doodles and drawings, both within the Photos app as well as in Messages. In Photos, select the Edit option, then additional options (the icon with a circle and three dots inside), Markup, then have fun drawing. Within a Message, select a photo to insert into the missive, tap the image to preview it, and you'll see the Markup option in the bottom, left corner, where you can doodle before officially sending it off.
4.Be told when it's time for bed
You may already have noticed the new Bedtime option within the Clocks app. What is that?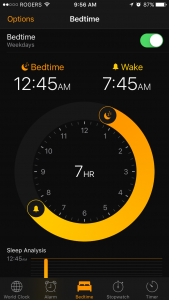 The feature is meant to help you get the sleep you need. Tell the device what time you want to wake up in the mornings, which days of the week the alarm should go off (e.g. Monday-Friday), and how many hours of sleep you need each night in order to feel refreshed. Once parameters are set, select when you'd like a bedtime reminder (e.g. at the time you should go to bed, half an hour before, etc.) and what sound you want to be woken up to, like a birdsong or springtide. Then, view Sleep History bars that align only when you go to bed and wake up at the same time every day.
5.Built-in magnifying glass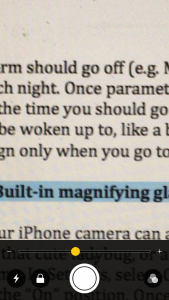 In iOS10, your iPhone camera can be used as an instant magnifying glass to zoom in on that cute ladybug, or a document's fine print if you forgot your reading glasses at home. In Settings, select General, then Accessibility, Magnifier, and slide the switch to the "On" position. Once activated, triple-press the Home button quickly to instantly bring up an adjustable magnifying glass.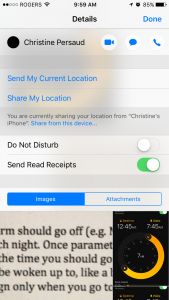 6.Be sneaky with read receipts
Want your significant other to know you've read her messages but would prefer that your boss doesn't know when you've read his? In iOS 10, you can hand-pick who receives read receipts and who doesn't. In each individual message window, tap the "i" on the top, right then slide to turn the Send Read Receipts option to the on or off position.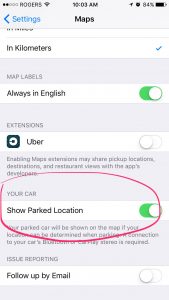 7.Never forget where you parked again
As long as you have a GPS signal and your phone is connected to your car's Bluetooth or Apple CarPlay, you can use the device to keep track of where you parked. In Settings, select Maps, then turn on the Show Parked Location feature. Open the Maps app, and you'll be able to see exactly where your car is. This won't work in underground locations where a GPS signal isn't accessible. But if you're parked in the lot of a busy shopping mall during Christmas time, you'll appreciate some help in remembering where your car is amidst the sea of others, not to mention mountains of snow.